Jenny Gilruth, the SNP transport minister, said the 2025 deadline for finishing work on the entire 110-mile road between Perth and Inverness was "simply no longer achievable". She said a revised timetable would be set out "as soon as possible, seeking to minimise delay as far as possible".
Fergus Ewing, the SNP MSP for Inverness and Nairn, said the news would be met in the Highlands with "shock, incredulity and anger". He demanded to know why there was still no revised timetable to replace a deadline "that every single person in the Highlands knows was never going to be achieved".
Mr Ewing, who was a senior minister until 2021, previously said he would eat his hat if the deadline was met.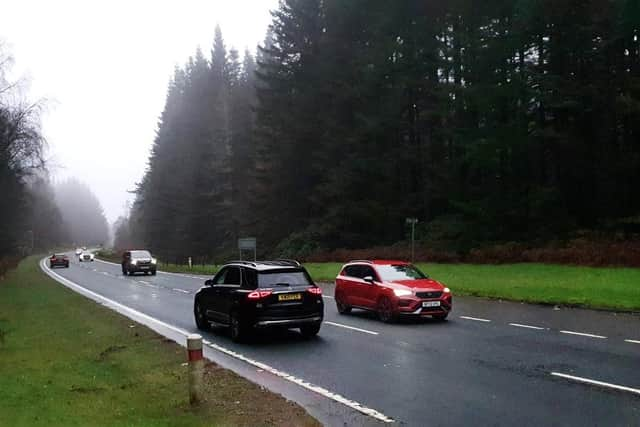 Conservative MSP Murdo Fraser said 12 people lost their lives on single carriageway sections of the A9 last year, and warned more would die.
MSPs received an update in Holyrood months after work on the six-mile Tomatin to Moy section of the scheme was due to start.
Ms Gilruth said the procurement process for this phase had coincided with the pandemic, disruption caused by Brexit and the war in Ukraine. Only one tender submission was received, and this was rejected because it was significantly higher than the anticipated £115 million cost.
Ms Gilruth said the contract would be re-tendered "with pace and urgency", with the aim of achieving a contract award before the end of 2023, and she will update MSPs again later this year. She said: "I fully appreciate that this will be disappointing news for many people.
"However, I want to be absolutely clear to members in this chamber, and to the communities and businesses served by the A9 between Perth and Inverness, that the Scottish Government's commitment to dualling the section between Tomatin and Moy remains absolute.
"This has been a difficult decision to make, but we believe it to be the only responsible one to take given the circumstances presented."
She said the wider A9 dualling programme comprises 11 projects covering around 80 miles of new dual carriageway, with an estimated cost of £3 billion at 2008 prices. It is one of the largest infrastructure projects ever undertaken in Scotland.
However, only two of the 11 projects, covering around ten miles, have been completed since the SNP came to power in 2007.
Ms Gilruth highlighted work on road safety the Government is carrying out on the route. Around £5 million of investment in additional safety measures was announced in December, including the installation of eight electronic signs to display safety messages at key locations between Perth and Inverness.
Mr Fraser said: "Communities along the A9 in Perthshire and the Highlands have been waiting now more than a decade for this Government to fulfil its commitment to dual the A9 in its entirety from Perth to Inverness. In that time, we have seen barely ten miles completed, out of a total of 80.
"Today we might have hoped for some positive news, some detail on a timetable for long-delayed completion. Instead, all we have is more bad news, with a further delay to the Tomatin-Moy stretch.
"The minister could tell us nothing about progress or a timetable for completing the remaining sections, no details, no timescales, no hope, just empty words repeated over and over about 'an unwavering commitment'.
"Last year 12 people lost their lives on single carriageway sections of the A9. More will die this year, and next, and the one after, as this SNP promise is not delivered. The minister must urgently tell us when this commitment will actually be met and this long-delayed, and vital, road safety project completed."
Scottish Labour MSP Rhoda Grant said: "This is a total betrayal of the Highlands, a broken promise which I wonder if the Government ever intended to keep."
SNP MSP Emma Roddick said she shared the disappointment many people in the region would be feeling. She said: "I can't overstate how difficult it will be for locals to believe that this project will be carried out in the face of another delay."