SNP minister accuses the UK Foreign Office of undermining Scottish devolution
The SNP says recent advice from the foreign secretary is "endangering" overseas investment in Scotland
The UK Foreign Office is being accused of undermining Scottish devolution and "endangering" overseas investment in Scotland.
In April Foreign Secretary James Cleverly said all meetings between SNP ministers and overseas governments had to be done through the Foreign Office and overseen by UK diplomats.
He also asked British diplomats to ensure the Scottish Government wasn't using these international visits to promote independence or to undermine UK policy.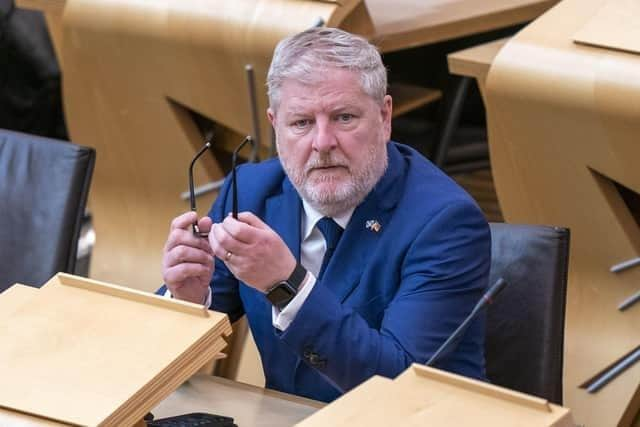 At the time the SNP group in Westminster criticised the move at Prime Minister's Questions, and said it demonstrated Scotland was in an unequal union.
Now the SNP in Holyrood say this approach is hampering direct foreign investment north of the border.
External Affairs Secretary Angus Robertson said he has written to the foreign secretary asking him to withdraw this advice to diplomats, but has not yet received a response.
Speaking in Holyrood Mr Robertson said: "Two weeks later I have not received a reply, which shows everything about the disrespect being shown by the UK Government.
"There's nothing in the Scotland Act that precludes Scottish ministers from discussing any issues with other governments or international organisations."
He added this is an attempt by the UK Government to undermine Scottish devolution.
Mr Robertson has in the past come under fire from opposition parties for the amount of overseas visits he undertakes as external affairs secretary.
Some of his most recent visits include a trip to discuss Scotland's energy and space sectors in Vienna, and a trip to New York to mark US Tartan Week.
His comments came after Bill Kidd, SNP MSP for Glasgow Anniesland, said "condescending Westminster attitudes" to Scottish foreign affairs were costing "real jobs and real investment" in Scotland, particularly in places like the Highlands.
He stated foreign investment in Scotland rose by 14 per cent last year compared to just 1.8 per cent across the UK as a whole.
Mr Kidd added: "We should all get behind Scottish business and the economy rather than meekly accept this blatant contempt for Scotland's interests."
The Foreign Office said any suggestion it is suppressing Scotland's voice is "absurd".
A spokesman said: "The 800 staff based at the Foreign, Commonwealth and Development Office's joint HQ in East Kilbride are at the very heart of shaping and delivering UK foreign policy.
"Angus Robertson recently praised the Foreign, Commonwealth and Development Office at the Scottish Affairs Committee for its strong record of supporting the devolved governments. Promoting every area of the UK is part of our DNA."
They added the foreign secretary's guidance does not change the UK Government's commitment to working with the Sottish Government or Scottish ministers.
Comments
 0 comments
Want to join the conversation? Please or to comment on this article.