SNP members to vote on clamp down on 'disinformation' around 'faulty statistics' at conference after Humza Yousaf 'breach' claims
It comes after Humza Yousaf was accused of knowingly misleading Holyrood over a renewable energy statistic
SNP members who knowingly spread false information, including "faulty statistics", will be disciplined under proposed changes to the party's code of conduct.
The proposal, brought to the party's conference by its ruling body, the National Executive Committee, says members will be expected not to "knowingly redistribute disinformation on matters of public import".
It comes after Humza Yousaf was accused of misleading Parliament over a dodgy statistic around Scotland's renewable energy resources.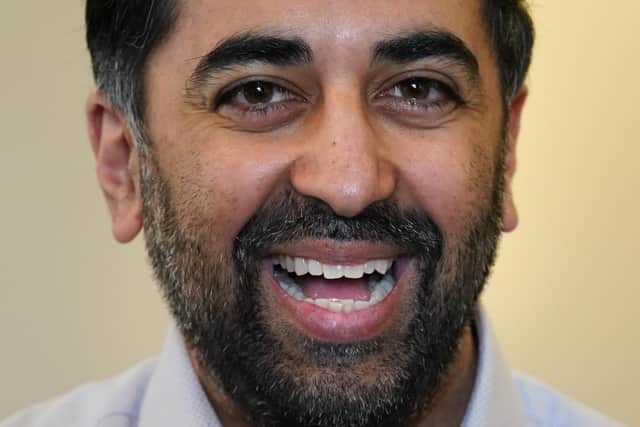 He told MSPs during First Minister's Questions in June that Scotland had the majority of the UK's renewable energy resources, instead of the 26 per cent quoted by officials retrospectively.
It took several weeks for officials to calculate a different figure, only for Mr Yousaf's spokesperson to claim the First Minister knew what he had meant to say when he initially made the mistake, denying a cover-up.
Opposition MSPs have urged the SNP leader to refer himself to the independent adviser on the ministerial code, accusing him of "manufacturing" the facts.
Scottish Liberal Democrat leader Alex Cole-Hamilton, referencing the motion to SNP conference, said it would be "embarrassing" if the party passed the motion and then "immediately have to suspend the leader of their party".
He labelled the SNP a "fountain of disinformation", repeating his demand for Mr Yousaf to refer himself to the adviser on the ministerial code.
Mr Cole-Hamilton said: "The reality is that the Government have been caught inventing a post-facto justification for the First Minister's misleading statement and he has chosen to double down rather than fess up."
The Scottish Conservatives labelled the motion ironic and said it was "rich" of the SNP to be talking about misinformation when they "put out shameless spin, dodgy data and bluster on a daily basis".
Party chairman Craig Hoy added: "If senior nationalists stopped peddling misinformation themselves, then this motion would have a lot more credibility."
Scottish Tory MSP Liam Kerr said Mr Yousaf's response to concerns he had misled Holyrood was "one of appalling deflection".
He said: "This is not a niche issue about process or protocol. This is about the First Minister twice being rumbled for misleading Parliament – and by extension the country. His integrity and credibility is on the line. That's why he has to answer these questions."
Mr Kerr said he expected answers to key questions about whether civil servants were "forced" to find a statistic that worked for Mr Yousaf to "try and save face", and warned the First Minister he would write to Permanent Secretary, John-Paul Marks, to ask for an investigation into whether civil servants were being asked to carry out political activities.
This scandal is the latest around renewable energy statistics.
Lorna Slater, the Scottish Green minister, was accused of misleading Parliament over when the Government knew a key wind energy statistic was false.
Comments
 0 comments
Want to join the conversation? Please or to comment on this article.