At the launch of the SNP manifesto, Ms Sturgeon addressed the issue that has seen her party divided and lose some female members to the newly-formed Alba Party.
She said she remained committed to the "necessary changes" to the Gender Recognition Act "that takes away the trauma and anxiety and stigma of a trans person gaining legal recognition".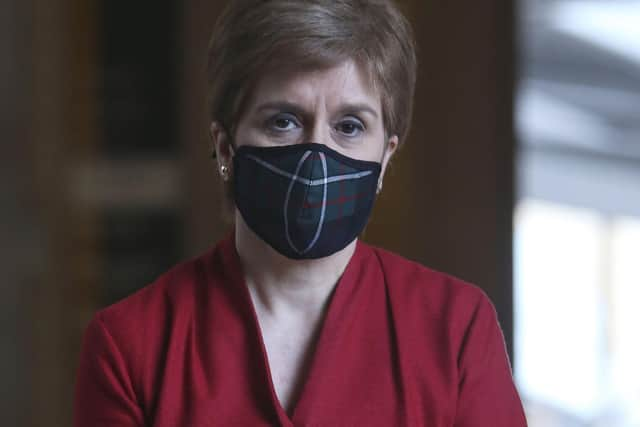 In the 2016 manifesto, her party committed to "review and reform gender recognition law, so it's in line with international best practice for people who are transgender or intersex", as well as improve the protocol for people seeking gender reassignment.
Her government then brought forward a reform Bill, which would have removed the need for a medical diagnosis of gender dysphoria before someone could legally change their birth certificate.
However, the Bill was shelved after concerns were raised by new women's organisations that it could impact on women's rights to safe spaces under the Equality Act.
A further consultation on legislation was held, but the results have not yet been published.
In the latest manifesto, the SNP has pledged to tackle transphobia "head on" through education and committed to make changes to the Gender Recognition Act, in consultation with trans people, women, equality groups, legal and human rights experts, to identify the most effective way to improve and simplify the process of applying for a Gender Recognition Certificate.
However, the document adds: "We will ensure that these changes to not affect the rights or protections that women currently have under the Equality Act."
Ms Sturgeon said: "I am not proposing a third full-scale consultation, but given how polarised this debate has become, and I think polarised in a way that has been harmful, particularly to trans people, then I think some period of discussion with trans people, with women, with human rights and equality groups to look at just exactly what we need to do to reform this legislation to achieve what we trying to achieve, would be sensible and appropriate and we want to make those changes at the earliest possible opportunity and I do believe we should aspire to best international practice."
She added: "I believe there are wider issues we have to address for trans people.
"The outcomes for trans people in terms of health, as well as the stigma and prejudice and discrimination they face is deeply unacceptable, so we have to look at better healthcare and support more generally and that's a package of things we will take forward.
"I also recognise we also have to reassure any woman who thinks that making life better for trans people is a threat to women's rights. I'm a feminist to my fingertips and nothing in what we have proposed or what we are proposing in any way diminishes or removes the protections women have under the Equality Act.
"All of us should resist getting into a position where we play one set of rights off against another – I want a Scotland where everybody feels safe and valued and that's what we should be coming together to achieve."
A message from the Editor:Thank you for reading this article. We're more reliant on your support than ever as the shift in consumer habits brought about by Coronavirus impacts our advertisers.
If you haven't already, please consider supporting our trusted, fact-checked journalism by taking out a digital subscription.