SNP Lib Dems coalitions: Labour expected to win general election, but bargains may need to be struck
Labour swept the local elections in England, but the polls are predicting a hung parliament.
Most of Westminster thinks Sir Keir Starmer is likely to be the next prime minister, even if Labour are playing it down. They point to polls being wrong before, which is exactly what Tory spinners did before devouring Corbynism in 2019.
This cautious optimism is tempered only by a concern among backbenchers that Labour are doing well because of Conservative failings, rather than their own offer.
As a result, the expectation is a hung parliament, a belief growing after Labour became the biggest party at the local elections in England, with the Tories losing 48 councils and more than 1,000 councillors.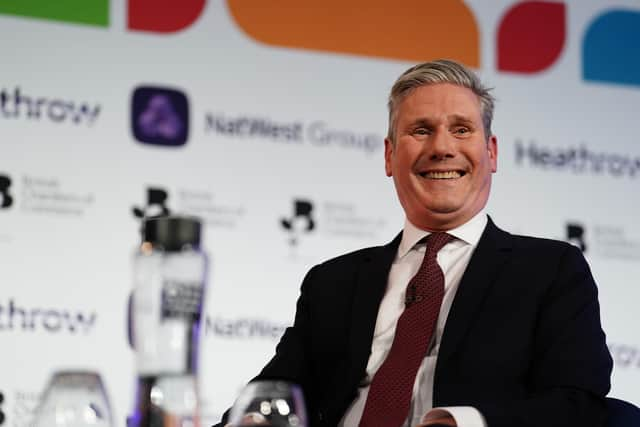 In the event of a minority Labour government, the party would need support from other parties to pass legislation, or risk another election. It is clear SNP Westminster leader Stephen Flynn sees this as an opportunity, telling this newspaper in the event of a hung parliament his party would work with Labour in exchange for more powers.
Sir Keir has repeatedly ruled out a coalition, but that isn't quite the same as not working together, and the SNP are hopeful of an arrangement.
The SNP would likely ask for more devolved powers, with Mr Flynn citing energy, immigration, access to the single market, and, of course, the ability to have another referendum as key demands.
Sir Keir has repeatedly ruled out a second vote. If that's a red line, any agreement is dead in the water.
Instead, there could be compromise, small areas where the parties can agree. Labour may not devolve policy, but it could pander more on the areas of common ground.
Even demands such as access to the single market, as outlandish as they seem given Labour's position now, could soon change if the party, as promised, renegotiates the Brexit deal.
Another option is Labour faces down the SNP, daring them to join the Tories in voting against them, with all the optics that entails.
But the SNP are not the only party who could play a role in enabling a Labour government, with the Liberal Democrats the under-the-radar winners of the local elections, winning 20 per cent of the vote.
While this is unlikely to see them become the third biggest party again, they are looking likely to take a series of seats back in the traditional former heartlands in the South West of England.
However, unlike SNP figures, the party seems to be actively avoiding discussing arrangements or deals, doing its best to speak only in the immediate terms. Those in the Liberal Democrats talk about the party being in its best position in a decade, but share no more than that.
From a Labour perspective, it is noteworthy Sir Keir has not ruled out a coalition with the Liberal Democrats, but also that the Tories are already seeking to weaponise. Deputy Prime Minister Oliver Dowden joked just this week that Sir Ed Davey was the Labour leader's deputy.
However, it is also notable the Liberal Democrats support electoral reform, something Labour are unlikely to want to change given they benefit from it.
David Cameron's warning of "chaos with Ed Miliband" was somehow eight years ago, but once again, hung parliament predictions are the talk of Westminster.
Comments
 0 comments
Want to join the conversation? Please or to comment on this article.