SNP leadership: Why Humza Yousaf was the establishment-backed candidate
Humza Yousaf has taken the reins of the SNP in a transfer of power that will be welcomed by the party's upper echelons.
Throughout the campaign, he was described as the continuity candidate – a label he simultaneously shied away from and embraced.
The 37-year-old's decision to run came after "careful consideration" of the impact it will have on his family, a fear that was borne out after two people were charged in relation to abuse that he and his family suffered.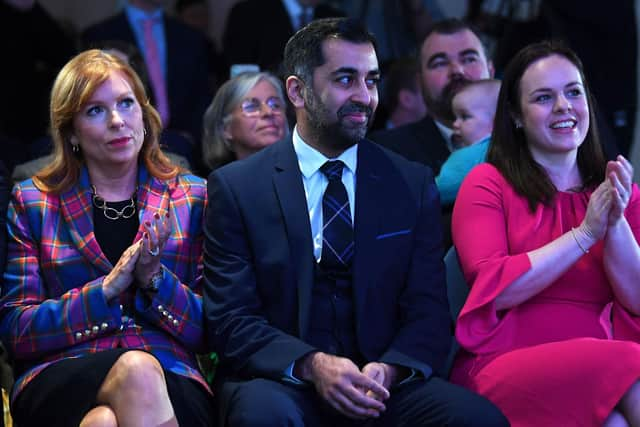 How he started in politics
After studying politics at Glasgow University, Mr Yousaf began working as an office manager for the SNP's Bashir Ahmad, the first MSP from an Asian and Muslim background.
Following Mr Ahmad's death in 2009, Mr Yousaf went on to work for other MSPs including Alex Salmond and Nicola Sturgeon.
Entering Holyrood
After being elected in 2011 as a Glasgow region MSP, he took his oath to the Queen in English and in Urdu. He did the same when re-elected in 2016, wearing both a kilt and sherwani to reflect his Scottish and Pakistani heritage.
His father, who is from Pakistan, and his mother, from Kenya, moved to the UK in the 1960s.
Early ministerial roles
Mr Yousaf's first ministerial appointment came under Mr Salmond's leadership in September 2012, when he became minister for external affairs and international development. He stayed on in a junior ministerial role when Ms Sturgeon became First Minister, though he was then promoted to the transport portfolio and later justice.
But his introduction of the Hate Crime Bill while justice secretary was not uncontroversial, with critics saying it put undue limits on free speech.
Health secretary
Perhaps his greatest challenge has come as Health Secretary, with Mr Yousaf taking over the post from Jeane Freeman in 2021 as she stood down from Holyrood. The coronavirus pandemic was still affecting Scotland at that point.
He revealed that the first call he received after being made Health Secretary was from his mother, who was keen to find out what job he had been given in the Cabinet reshuffle. Upon being told he had been given the health portfolio, she said: "What have you done to annoy Nicola?"
Throughout his time in the role, he has faced opposition attacks over the performance of the NHS, particularly A&E waiting times. These reached a nadir in December 2022, when performance against the four-hour target for admission, transfer or discharge fell to just 62 per cent.
Mr Yousaf has always emphasised the impact of the pandemic on the health service and the support being provided by the Scottish Government.
Sturgeon ally
Mr Yousaf has stood by Ms Sturgeon throughout his time as a minister and MSP. On the issue of gender recognition reform, which has seen rare divisions emerge in the SNP, he has pledged to fight the UK Government's blocking of the legislation.
How did his campaign play out?
Mr Yousaf announced his plans to stand in the same Sunday newspaper as rival Ash Regan, becoming potentially the most dynamic of the candidates by holding regular events in different parts of the country.
In hustings and TV debates, Mr Yousaf was repeatedly challenged for being the "continuity candidate" – a label he simultaneously shunned and embraced.
He told audiences he would be his "own man" as first minister, but added that continuing the election success of Nicola Sturgeon would not be a negative.
He also regularly took veiled swipes at his rivals by stressing the need to continue the party's "progressive agenda".
Mr Yousaf's campaign, however, was not without challenge, with the early part taken up by questions over his vote on equal marriage in 2014, with former first minister Alex Salmond and former health secretary Alex Neil claiming he had been excused from the stage three vote over religious pressures – accusations Mr Yousaf has continuously denied.
His campaign for leader was also punctuated by testy exchanges with his fellow candidates, most notably during the first televised debate when Kate Forbes hit out at his record in government.
Comments
 0 comments
Want to join the conversation? Please or to comment on this article.