SNP leadership: Humza Yousaf win 'good for Scotland' and ensures LGBT+ rights will be 'protected and enhanced', Ian Blackford claims
Humza Yousaf winning is "good for Scotland" and will see LGBT+ rights "protected and enhanced", Ian Blackford has claimed.
The SNP health secretary is expected to be declared Scotland's sixth first minister after a vote in the Scottish Parliament on Tuesday, having seen off Kate Forbes and Ash Regan in the leadership contest.
Now Mr Blackford, the party's business ambassador, has hailed the result as he claimed Mr Yousaf "grew" over the course of the campaign and was ready to lead. It came as opposition MPs urged Mr Yousaf to "step up" and deliver for Scotland, and warned the SNP their problems were only just "beginning".
Speaking to the Scotsman, Mr Blackford said Mr Yousaf's victory was "a really good result for the SNP and for Scotland". He said: "There's been talk about Humza Yousaf being the continuity candidate, but if talking about continuity means being a party that won eight elections in a row, that's no bad thing.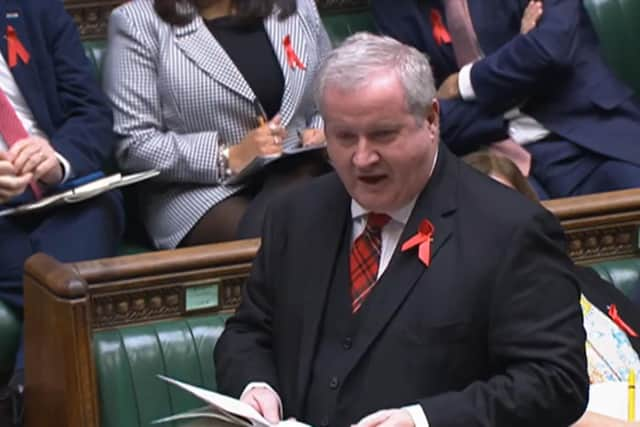 "He will be his own man, but a team player, making sure his Government is focused on delivering for the people of Scotland."
Mr Blackford also insisted the party could come back together, despite a series of attacks on Mr Yousaf's record by Ms Forbes. He said: "In an election contest you are perhaps going to have some critical words from time to time. Now the party will come together to make sure it delivers on its manifesto, continues its successes and builds the case for independence."
Mr Blackford will now continue in his role as business ambassador, focusing on leading Scotland's green strategy, and meet with Mr Yousaf in due course.
Asked about the message Ms Forbes losing sent to the LGBT community, after the finance secretary said she'd have voted against gay marriage, Mr Blackford said Scotland can be "proud".
He said: "We can be proud of Scotland's journey, the freedoms of people that were hard fought for and won will now be protected and enhanced, and there will be a sense of purpose whether you are talking about the party more widely."
The former SNP Westminster leader, who supported Mr Yousaf, also claimed the winner had impressed him as the campaign went on. "I think what you've seen is Humza visibly grow over the course of the campaign and he's demonstrated he's ready for this position of leadership," he said.
However, opposition parties were less impressed, with Liberal Democrat MP Alistair Carmichael claiming the result was "the beginning of problems for the SNP rather than the end".
The Orkney and Shetland MP said: "In any other circumstance somebody who had won 48 per cent of the vote in a leadership election would expect a senior job in government, but after everything that she said about Humza Yousaf, it is difficult to see how Kate Forbes could credibly accept any role in his Cabinet.
"The SNP are now in a position in Edinburgh which is strikingly similar to the position of the Conservatives at Westminster. The psychodrama in the party may make compelling television, but it does not make for good Government.
"Kate Forbes has spent the campaign trashing the SNP's time in Government, which is apparently a view shared by 48 per cent of the party membership. How does Humza Yousaf now reconcile these two diametrically opposed views about how Scotland should be governed?"
Scottish Tory MP David Mundell wished the new leader well, but claimed his own experiences with Mr Yousaf were not reassuring.
The Dumfriesshire, Clydesdale and Tweeddale MP said: "He'll have to up his game because his performance in the portfolios he's held has not been good. As transport minister, he came to Dumfries and Galloway to hold a transport summit in 2016 and in the subsequent seven years, nothing has happened.
"I think Kate Forbes has provided the script for the opposition parties. He has not delivered in all the jobs he has held."
Mr Mundell urged Mr Yousaf to deliver for all of Scotland, but hinted a win for Ms Regan may have been more fun. He said: "Obviously Ash Regan would have been more interesting in her capacity for random and forthright comment."
Comments
 0 comments
Want to join the conversation? Please or to comment on this article.