SNP leadership: Humza Yousaf pledges to 'reach across the divide' after bitter SNP race
Humza Yousaf has pledged to "reach across the divide" after he was elected the new SNP leader following a bitter leadership contest that exposed deep divisions in the party.
Mr Yousaf said he felt like the "luckiest man in the world" after winning the tight race to succeed Nicola Sturgeon. He will be formally elected by MSPs as Scotland's sixth first minister on Tuesday, with the support of the Scottish Greens, who have a power-sharing agreement with the SNP.
Members of the Scottish Green Party council had unanimously agreed their MSPs would support Mr Yousaf becoming first minister and to continue with the power-sharing agreement, guaranteeing the pro-independence majority at Holyrood remains intact.
The coalition was guaranteed as Mr Yousaf said he would ask for a section 30 order "right away", just hours after he took over in the top job. However, the UK Government quickly reiterated its opposition to the request, with a spokesperson saying: "I think you know our well-established position."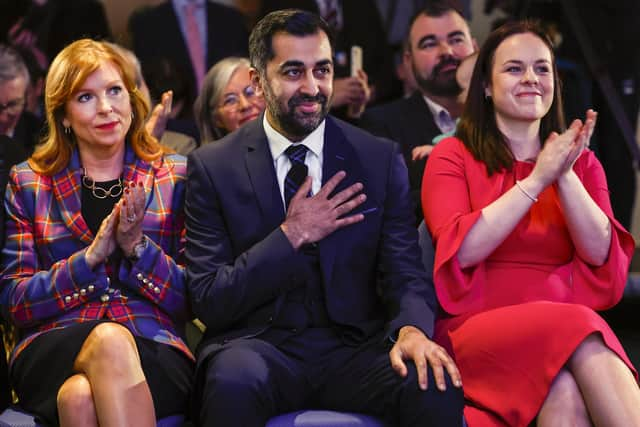 Mr Yousaf will be the first person from an ethnic minority background and the first Muslim to lead the country – as well as the youngest ever first minister. The 37-year-old will also be the first Muslim to lead a major UK party.
He ran for the party leadership against finance secretary Kate Forbes, who returned early from maternity leave to stand, and former community safety minister, Ash Regan.
Mr Yousaf was widely seen as the "continuity" candidate and the choice favoured by the SNP establishment. He secured a number of high-profile backers, including outgoing Deputy First Minister John Swinney, who is a close ally of Ms Sturgeon.
Congratulating Mr Yousaf on Twitter, Ms Sturgeon wrote: "He will be an outstanding leader and first minister and I could not be prouder to have him succeed me."
In a speech after his victory was announced, Mr Yousaf sought to move on from the damaging contest, which involved bruising exchanges between the candidates during television debates. Peter Murrell, the SNP's long-serving chief executive and Ms Sturgeon's husband, was also forced to resign in the wake of a row over membership numbers.
"Leadership elections by their very nature can be bruising," Mr Yousaf said. "However, in the SNP we are a family.
"Over the last five weeks we may have been competitors or supporters of different candidates. We are no longer Team Humza, or Team Ash, or Team Kate. We are one team, and we will be the team, we will be the generation that delivers independence for Scotland.
"Where there are divisions to heal we must do so quickly, because we have a job to do. As a party we are at our strongest when we are united, and what unites us is our shared goal of delivering independence for our nation."
Mr Yousaf failed to win a majority in the first round of voting, but won 52.1 per cent of the votes after second preference votes from Ms Regan, who came third, were redistributed. Ms Forbes came second, with 47.9 per cent of votes, when second preferences were included. Just 2,142 votes separated her from Mr Yousaf.
A total of 50,494 SNP members voted out of 72,169 eligible members, meaning there was a turnout of 70 per cent.
Underlining the historic nature of his victory, Mr Yousaf recalled how his grandparents had moved from the Punjab to Scotland more than six decades ago.
"As immigrants to this country, who knew barely a word of English, they could not have imagined in their wildest dreams that their grandson would one day be on the cusp of being the next first minister of Scotland," he said.
Mr Yousaf added: "We should all take pride in the fact that today we have sent a clear message, that your colour of skin, or your faith, is not a barrier to leading the country we all call home. From the Punjab to our Parliament, this is a journey over generations that reminds us that we should be celebrating and always celebrate the migrants who contribute so much to our country."
Ms Forbes said the tight result vindicated her warning that continuity would not cut it. Speaking to journalists at Murrayfield Stadium, where the result was announced, she said: "It demonstrates, I think, the message of continuity not cutting it is actually a really critical message and all of us need to build on the SNP's excellent track record over 16 years of listening, of serving and of maintaining the trust of the Scottish people, building on that track record."
However, she said she would "certainly" support Mr Yousaf. Ms Forbes's campaign suffered an early blow when a row erupted over her socially conservative religious views, including on gay marriage.
She rejected claims the party was divided – despite the close vote – describing it as "united as one, standing together to serve Scotland", but adding: "Unity is not uniformity."
Mr Yousaf said serving as first minister would be "the greatest privilege and honour of my life", insisting: "I will be a first minister for all of Scotland."
He told voters he would "work every minute of every day to earn and re-earn your respect and your trust". Mr Yousaf added: "I will do that by treating you, the people of Scotland with respect. There will be no empty promises, or easy soundbites when the issues in front of us are difficult and complex, because Government is not easy and I won't pretend it is."
Mr Yousaf said his "immediate priority" would be dealing with the cost-of-living crisis, as well working to "recover and reform our NHS and other vital public services". But he also pledged to "move quickly" on campaign pledges made to extend childcare, improve rural housing and provide greater support to small businesses.
He also repeated his pledge to challenge the the UK Government's decision to block Ms Sturgeon's gender reforms.
Mr Yousaf pledged to "kickstart" a grassroots campaign that would "ensure our drive for independence is in fifth gear". The new SNP leader added: "The people of Scotland need independence now more than ever before, and we will be the generation that delivers independence for Scotland."
Taking questions from journalists, he was asked about the party's finances, which are the subject of a police investigation. "What I would say is that our party will be transparent in terms of the finances," he said. Mr Yousaf said he could not comment on a live investigation, but added: "I suspect it will be one of the very first conversations I have as party leader, to understand the financial health of the SNP."
Scottish Green co-leader Patrick Harvie said his party's council and MSPs had voted unanimously to continue their power-sharing agreement with the SNP.
Scottish Labour leader Anas Sarwar called for an election. Scottish Conservative leader Douglas Ross said the SNP were moving further and further away from the real priorities of the Scottish people to "obsess over independence".
Scottish Liberal Democrat leader Alex Cole-Hamilton said he would be putting himself forward in the vote for first minister.
Ms Sturgeon's predecessor, Mr Salmond, who now leads the pro-independence Alba Party, said: "I thought both Ash Regan and Kate Forbes fought brave campaigns against the full force of the SNP establishment, and given that together they received over half the votes, the new leader would do well to listen to what they had to say in the campaign."
Comments
 0 comments
Want to join the conversation? Please or to comment on this article.