SNP leadership: Humza Yousaf inherits divided party, but relief was overwhelming emotion
If the past five weeks of senior figures of the SNP knocking lumps out of each other is anything to go by, one would assume Humza Yousaf has inherited an almost impossible job.
The challenges facing the new First Minister are as large as they have proven intractable under the leadership of Nicola Sturgeon. They range from a struggling health service to a cost-of-living crisis biting at the wallets of voters.
The fundamental question for Mr Yousaf is whether he is able to tackle these issues, something that his record in government suggests requires a healthy dose of scepticism. His record is also what the opposition are no doubt due to use against him, with one senior Scottish Tory source telling The Scotsman they were "very happy" with the outcome.
Insiders within the main opposition party in Holyrood have believed from the get go that Ms Forbes posed the biggest risk to the independence stalemate. Now, they say, "much of the attacks on him in the coming weeks will be reading out what Kate and Ash said to him".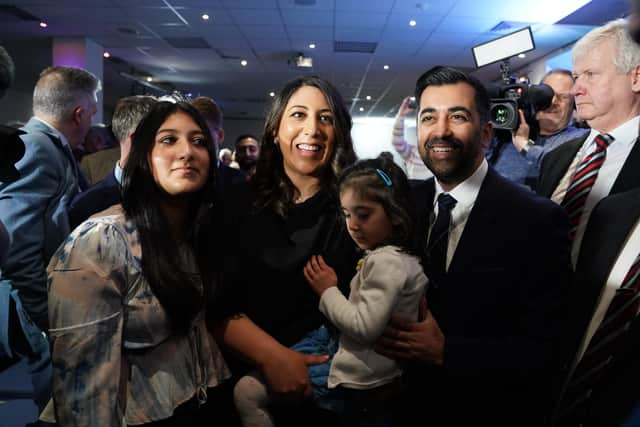 It is worth noting Mr Yousaf did not win out of the blocks and by no means won by a canter. This was an election where those who voted – 70 per cent of the 72,000 members – chose change over self-described continuity.
The finance secretary Ms Forbes, who received 48 per cent of the vote after transfers from Ash Regan, was bullish afterwards, claiming her campaign for change had been vindicated. To a degree, this is fair comment.
But also, the SNP membership has been a complex and fundamentally opaque blob of political activists for several years, with the received wisdom driven by polarising impressions of social media activity rather than any actual data.
It also demonstrates a disconnect between the MSP and MP group and the party faithful, one Mr Yousaf will have to cope with. The vast majority of parliamentary endorsements were from him, well over half, but the membership did not agree.
There will be a tendency to predict these divides will never heal, that Mr Yousaf's job of bringing the party back together is mission impossible.
One senior SNP source said they had had to re-evaluate their belief the party was no longer as factional as the pre-devolution days and the 79 Group during the campaign, but was steadfast in the belief Mr Yousaf's new job was not as difficult as may be suggested.
"It is going to be different [from Nicola Sturgeon]," they said, pointing at the use of a John Smith quote to indicate Mr Yousaf's willingness to try to reach across the divide.
Another senior SNP party source said Mr Yousaf's tone at the lectern after his victory struck the right note. They accepted the soon-to-be First Minister had inherited a tough job, but suggested the development of a faction-based party was far from accurate.
It was inevitable the differences within the party would "bubble-up" during an election, they said, but that this was part and parcel of the exercise, particularly when one had not happened in 19 years.
Pointing at the near two-decades of "self-imposed discipline" under Alex Salmond and Nicola Sturgeon, the source said this was what needed to return, and that it was expected it will.
The question will now inevitably turns to exactly who Mr Yousaf chooses to sit around the Cabinet table, decisions that will likely define his time as First Minister above and beyond any other decision he makes.
There is a possibility he delegates well, appoints the right allies and internal opponents into suitable roles. This approach could see him quickly move away from his current reputation of incompetence among voters and, with improvements to public services, into a space where policy delivery can be used to strengthen him rather than weaken him.
Predictions are universally a mug's game, but it is highly likely Neil Gray, the culture minister, may receive a promotion, potentially taking on the constitution role from Angus Robertson.
Ben Macpherson, another ally, could also move into a senior role. With a track-record of focusing on local government, a slightly altered housing and local government role could materialise.
Mr Yousaf has also committed to a gender-split Cabinet and the Deputy First Minister role going to a woman. That could go to Shona Robison, potentially without a portfolio.
Promotions could come for Jenny Gilruth, Mairi McAllan and Maree Todd. Education secretary and Sturgeon ally, Shirley-Anne Somerville, and leadership opponent Ms Forbes may stay in their roles as much to help with stability as unity.
Who he picks for the key role of health, the portfolio he vacates, will be crucial to his overall success as First Minister. Key appointments for Government efficacy will also include minister for parliamentary business and the near-20 special advisers who make up the political appointees.
And, in classic Sturgeonite form, the pledge to appoint a minister for independence may well reduce the clamouring from those who voted for Ms Regan and Ms Forbes.
To a degree, the difficulties of a first week in office for the new SNP leader was always going to be tougher if Ms Forbes had won. In this scenario, the Bute House Agreement with the Scottish Greens would not have lasted the day.
There were threats of several MSPs leaving the party due to disagreements over social issues, something also now put to bed.
This is a political party that, ultimately, insiders are relieved will likely stick together despite the bruising contest, demonstrated no more so than one meme being shared around supporters of Mr Yousaf that read simply "thank f*** for that".
Want to hear more from The Scotsman's politics team? Check out the latest episode of our political podcast, The Steamie.
Comments
 0 comments
Want to join the conversation? Please or to comment on this article.