As the race to succeed Nicola Sturgeon in Bute House concludes, Ipsos Scotland released a survey of 1,023 Scots carried out between March 17 and 21 – 427 of whom voted for the SNP at the last Holyrood election.
According to the poll, Mr Yousaf is the most popular among SNP voters, with a net favourability of 11 per cent, compared to 6 per cent for his rival.
But Ms Forbes can lay claim to the highest net popularity among the general public with -8 per cent, compared to the Scottish Health Secretary's -20 per cent.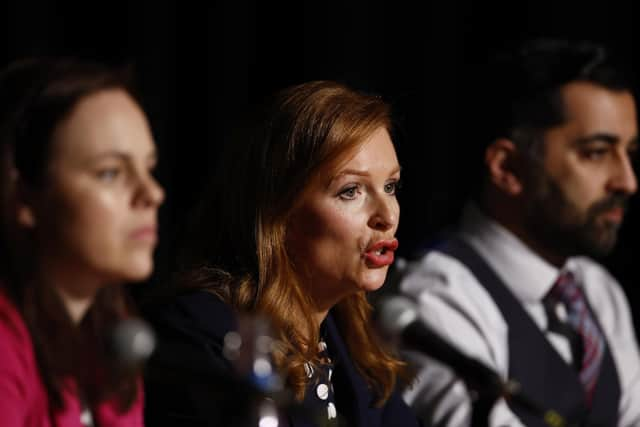 Former minister Ash Regan polled the worst of the three candidates.
Widely viewed as an outsider for the job, Ms Regan had a net favourability of -24 per cent among the general population and -7 per cent with SNP voters.
The SNP leadership contest will end on Monday, with the election of a new first minister slated for Tuesday.
Meanwhile, the outgoing First Minister's popularity has increased in the past month.
In the same poll in February, Ms Sturgeon's favourability was 4 per cent – and that rose to 8 per cent in the most recent survey.
The First Minister continued to be the most popular political leader in the UK, according to the poll, with Scottish Labour leader Anas Sarwar on -4 per cent, UK Labour leader Sir Keir Starmer on -9 per cent, Prime Minister Rishi Sunak on -37 per cent and Scottish Conservative leader Douglas Ross on -39 per cent.
But the SNP's popularity dropped into the negative in recent months.
The March survey put the SNP's net favourability at -1 per cent, compared to 0 per cent the month before and 1 per cent in October.
Regardless, the party remains the most popular in Scotland, with Scottish Labour on -4 per cent – a drop from 0 per cent last month – and the Scottish Conservatives on -42 per cent.
Responding to the poll, Mr Yousaf said it proved he had the "momentum" to win the contest.
"It's great to see that yet another poll has confirmed that I'm SNP voters' favourite to become the next party leader and first minister of Scotland," he said.
"Momentum is crucial as we head into the final days of the campaign, and importantly this poll demonstrates that support for my progressive campaign is growing.
"But there will be no complacency – I will be speaking to SNP members every day until voting closes on Monday to outline my vision to unite our movement and party through strong leadership and grow support for independence through radical policies in government."