SNP leadership contest: What policies has Humza Yousaf set out?
Humza Yousaf is set to become Scotland's youngest first minister after a full on leadership campaign.
Humza Yousaf has been elected as the new leader after facing off against finance secretary Kate Forbes, as well as Ash Regan, a former junior minister who quit in protest over the Gender Recognition Reform Bill.
The current Scottish Health Secretary is expected to be declared Scotland's sixth first minister after a vote in the Scottish Parliament on Tuesday.
Here's where Humza Yousaf stands across independence, gender recognition reform and domestic issues.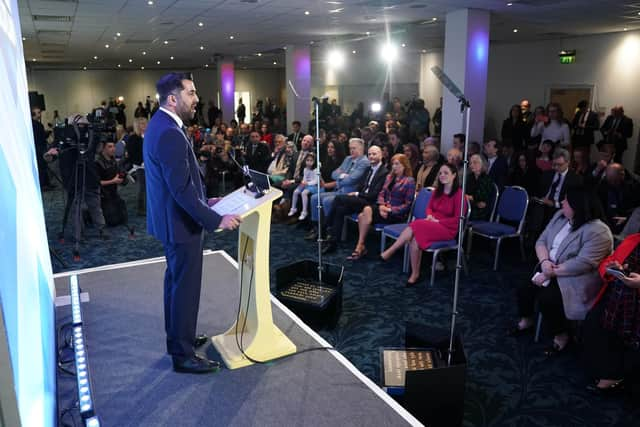 He has also sought to avoid talking about the process of how independence could happen, and instead focus on the policy he believes it will enable. Mr Yousaf explained: "If independence becomes the settled will of the Scottish people, then those political obstacles will disappear."
During his victory speech, Humza Yousaf said it is now time for the SNP to come together and deliver independence.
He said: "Leadership elections, by their very nature, can be bruising.
"However, in the SNP we are a family.
"Over the last five weeks we may have been competitors or supporters of different candidates.
"We are no longer team Humza, or team Ash, or team Kate, we are one team.
"We will be the team, we will be the generation, that delivers independence for Scotland."
Gender Recognition Reform
There are also clear differences on what to do next to the Gender Recognition Reform Bill after a section 35 order from the UK Government blocked legislation passed by the Scottish Parliament in December.
Mr Yousaf, however, said he believed defending legislation passed in Holyrood was a point of principle for any nationalist, and an example of the progressive policies that have put independence within "touching distance".
Despite holding the post, Humza Yousaf was often at his most vulnerable during debates on NHS issues, most notably over the National Care Service (NCS). Unveiled by Mr Yousaf, the NCS would bring adult social care under the control of a single, NHS-style service managed by local boards.
Criticised by opposition parties and organisations including the Scottish TUC, Parkinson's UK and Common Weal, Mr Yousaf has now said he is open to reforming the planned service.
Mr Yousaf has promised a massive rollout of free childcare if he wins, with universal early learning for one and two-year-olds to be included in his first Budget. He has also pledged a £25 million-a-year childcare fund for parents returning to work.
There would also be a £25m a year 'Helping Hand Fund' to offer parents a £500 loan towards the first months of childcare.
Mr Yousaf, who has suggested he would continue the progress on winding down the North Sea industry, pointing to "climate change not going away". It follows a YouGov poll of 1,000 SNP voters indicating strong support for a quicker move away from oil and gas and a shift to renewable energy.
Humza Yousaf said he would "exclude small businesses" from the scheme during the first year of operation.
Comments
 0 comments
Want to join the conversation? Please or to comment on this article.