Lorna Slater insisted highly protected marine areas (HPMAs) were "integral" to the Bute House Agreement. She also said she had been "distressed" by Ms Forbes's comments on gay marriage.
Ms Forbes is one of three hopefuls vying to replace Nicola Sturgeon as the next SNP leader and First Minister, with the winner due to be announced on Monday afternoon. The start of her campaign was dominated by a row over her social conservative religious views, after she said she would not have voted for gay marriage.
Earlier this week, Ms Forbes pledged to scrap controversial Government plans to ban all forms of commercial and recreational fishing in significant stretches of Scotland's waters. She said she would instead commission a feasibility study into devolving marine protection and inshore fisheries powers to local authorities if she is elected First Minister.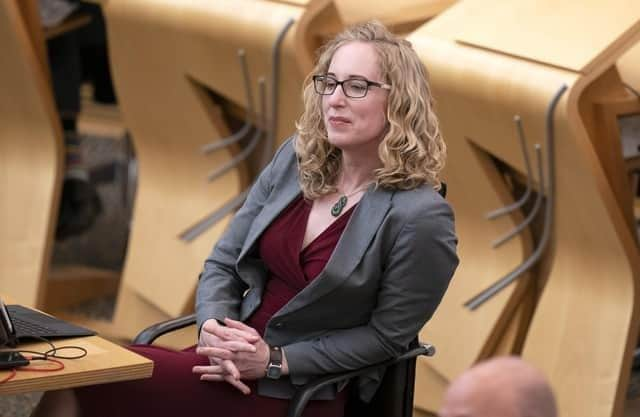 Ms Forbes said the existing proposals would "decimate" the seafood industry, adding: "It's an example of how not to do government."
But Ms Slater told The Scotsman: "Highly protected marine areas are a key part of the Bute House Agreement. They are integral to the Bute House Agreement."
She said they had been established in other countries and were "a really good way" of allowing marine eco-systems and fish stocks to recover, benefiting the fishing sector and communities.
Asked if the Greens could work with someone who scrapped HPMAs, Ms Slater said: "The Bute House Agreement is a collection of policies, including the highly protected marine areas, so the Greens serve in Government on the basis of that Bute House Agreement as a whole. If any First Minister were to break that agreement, take things out of it, then that would break that agreement."
The power-sharing deal, which was signed in 2021, commits to designating at least 10 per cent of Scotland's seas as HPMAs by 2026
The Scottish Greens are holding their party conference in Clydebank on Saturday. Patrick Harvie, who co-leads the Greens with Ms Slater, warned the Bute House Agreement would come to an end if the next First Minister decided to "rip out parts" of it.
He told the BBC: "We would not accept any Scottish Government simply vetoing parts of the Bute House Agreement."
Ms Forbes vowed to hold early talks with the Greens if she wins the leadership race. Speaking during her last campaign stop of the contest, in which she visited Zakariyya Masjid mosque in Wishaw, the finance secretary said she was committed to the Bute House Agreement and argued there was "scope" to work together.
She said: "I'm committed to continuing to work with the Greens and I'm committed to the Bute House Agreement. Clearly, the Bute House Agreement has mechanisms in place for where disagreements arise, but it also has mechanisms in place for excluding certain areas. So, for example, my big focus on economic growth and prosperity is an excluded area. So I think there's scope there to work together."
The agreement includes a commitment to reform the Gender Recognition Act. Legislation to make it easier for trans people to change their legal gender was voted through Holyrood before Christmas, but has since been blocked by the UK Government.
Humza Yousaf, Ms Forbes's main leadership rival, has made challenging this in the courts a key part of his campaign. Ms Forbes was on maternity leave at the time of the Holyrood vote on the reforms, but she has since said she would not have supported the legislation. She wants to have a "grown-up conversation" with UK ministers about how to reform the Bill.
Asked about the issue, Ms Forbes said: "Remember, to take forward the Gender Recognition Reform Bill, we have a decision to make about whether to take it to court or not. Ultimately that rests on legal advice. I would hope that the Greens, as respected members of government, would themselves be cognisant of the importance of following legal advice."
Speaking to The Scotsman, Ms Slater said equalities were a "devolved matter", adding: "I think that a legal challenge would have good grounds and should proceed on those grounds. I don't see any grounds by which that wouldn't be the case. The Scottish Greens have a very strong equalities agenda and we will always support LGBTQ+ rights, so we would be seeking to progress that agenda however we can."
Asked about Ms Forbes's views on gay marriage, Ms Slater said: "I certainly think I'm not the only person that was distressed by those views. People in other parties, I think, were also distressed by some of the views that were shared."
She said the Greens were a "values-led organisation" and equalities "are always going to be core to what we're doing".
Ms Slater, who is the minister for green skills, circular economy and biodiversity, said: "I would absolutely expect any new First Minister to uphold the values that we share in the Bute House Agreement. If we're going to co-operate in the Scottish Government, we need to have both co-operation partners signed up to a shared set of values and a shared set of policies. And I think that that's going to be the only way in which we'd be able to serve in a Scottish Government, is if we have alignment on those values and policies, which I think are represented well by the Bute House Agreement."
During her visit to Wishaw, Ms Forbes admitted the leadership race had been tough at times. She said: "It's not always been a pleasant campaign. I've certainly been on the receiving end of a fair share of challenges. So I think we now put the campaign behind us – we've had the frank conversations – and move forward to govern in a way that maintains the trust of the Scottish people."
She argued the party would unite behind a new leader. Ms Forbes said: "I think the party will unite, because the party has always been a broad church and it's always united behind its leaders, particularly leaders that are taking the party and the country to independence. And it's quite clear from polling and certainly from my conversations, that we need a leader who can reach across the political divide, reach out to Labour voters, to Conservative voters, to those who are not yet persuaded on independence, and persuade them to vote yes. And that's what the party will unite behind."