SNP leadership contest: Patrick Harvie says Scottish Greens will 're-evaluate' Bute House Agreement as Nicola Sturgeon successor appointment looms
Green Party co-leader Patrick Harvie has called for his party to re-evaluate its working relationship with the SNP – as they face the possibility of being kicked out of government if Kate Forbes is elected as SNP leader.
Speaking to BBC Scotland's The Sunday Show, Mr Harvie said his party and the SNP should re-evaluate the Bute House Agreement – which has led to Scotland being served by the first ever Green ministers in the UK – halfway through the parliamentary term.
"The agreement contains within it the mechanism for a review," he said. "And I think once the dust has settled, maybe, you know halfway through the parliamentary session or something, that might be a reasonable time for both sides to think 'what's working well, what could be improved? Could we go further on some of the policy content?'"
Mr Harvie made the comments in the wake of a strong rebuke by Ms Forbes, who said she can "govern Scotland without them [the Greens]".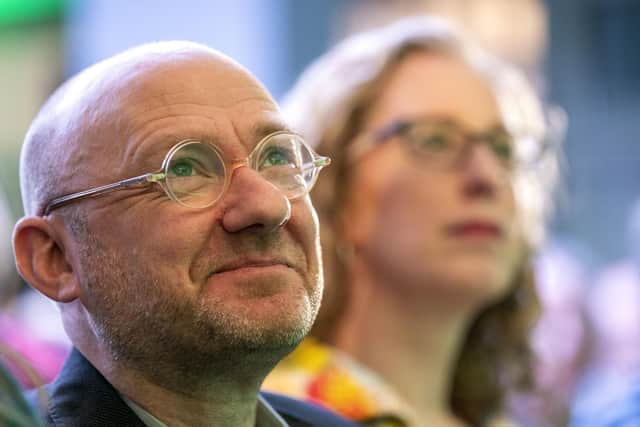 The finance secretary has been criticised by Green Party supporters over her views on LGBT issues, as well as her plans for the fishing industry and to scrap plans for highly protected marine areas. But Ms Forbes has insisted she would be happy to run a minority government if the Scottish Greens decided to leave the Bute House Agreement.
"'I'm relaxed about leading a minority government," she told the Scottish Mail on Sunday.
"I have always held out the hand of partnership to the Greens and it's for them to decide whether or not they can accept that. The SNP secured an independence referendum when we earned the public's trust from governing and delivering on their priorities.
"We do that by governing well and it matters more to govern well, even as a minority, than it is to dance to the tune played by another party."
Mr Harvie has since outlined how the Scottish Greens will react when the SNP leadership contest result is announced. "We hope to have a phone call with the winner," he said.
"Then we'll move onto a party council meeting, an online meeting, with the representatives of the branches of our national committees and so on. We'll discuss what our reaction should be.
"We've been really clear throughout that while the voting is open, it's not for us to tell SNP members to vote for this person, but don't vote for that person – that wouldn't be respectful of the fact that this is their election."
However, Mr Harvie said the First Minister is elected by all MSPs, and "whether we continue in the Bute House Agreement that we've made such a good success of".
The results of the SNP leadership election, with Ms Forbes, health secretary Humza Yousaf and former community safety minister Ash Regan vying to become Scotland's next first minister, will be announced soon after the vote officially closes as midday on Monday.
Meanwhile, Scottish Labour leader Anas Sarwar has repeated his calls for the next first minister to call a snap Scottish election, insisting the new SNP leader will not have a mandate to rule Scotland.
While Scottish Parliament elections normally take place every five years, with the next vote expected in May 2026, Mr Sarwar wants Ms Sturgeon's successor to go to the people of Scotland.
"If you look at what John Swinney said when Jack McConnell became first minister having not having won an election, he said it was a stitched up deal behind closed doors and a party arrogant in power," said Mr Sarwar, appearing on The Sunday Show. "I think that's a perfect description now of the SNP.
"If you look at what Nicola Sturgeon said when [Prime Minister] Rishi Sunak came to power without an election, she said it was a democratic imperative for him to have a mandate.
"This is an SNP that screams about mandates. Let's be honest, the next SNP first minister will not have the mandate.
"They'll have Nicola Sturgeon's record, they won't have Nicola Sturgeon's mandate – a mandate given to her in a pandemic election when she asked people to support her for five years to get her through the pandemic and lead us to a national recovery.
"National recovery hasn't even started yet and we've got this clown show happening right across our country."
Comments
 0 comments
Want to join the conversation? Please or to comment on this article.