Several senior SNP members said supporters of Mr Yousaf, who has been billed as the continuity candidate who will honour Ms Sturgeon's legacy, are increasingly worried he has not done enough to win the contest.
The outcome of the leadership election, which will be announced on Monday afternoon, is difficult to predict due to the voting system, which allows the SNP's 72,000 members to rank each of the three candidates in order of preference.
If Mr Yousaf fails to win more than 50 per cent of first preference votes, the second preferences of members who voted for Ash Regan, who is expected to finish third, will come into play, and might push Ms Forbes ahead.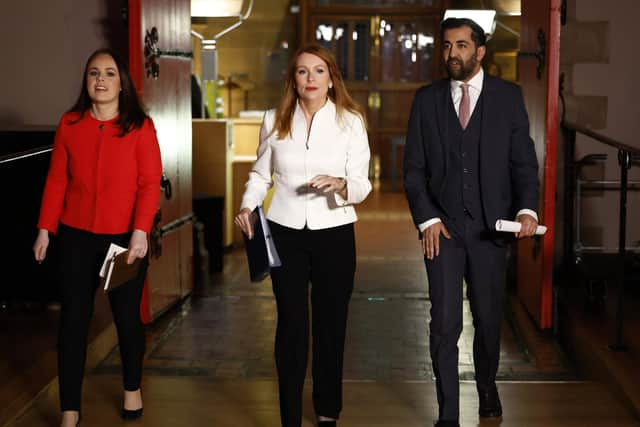 One SNP member said the "establishment frenzy" around Mr Yousaf, who is widely thought to be Ms Sturgeon's preferred candidate, had irritated some older supporters who bristled at the idea they should simply wave through the status quo.
They said some had voiced fears Mr Yousaf would prove to be a candidate for "managed decline", a phrase also used by another SNP member who is supporting Ms Forbes.
"For Humza to lose, having been given such evident establishment support would be greeted with significant dismay within some sections of the SNP," they said.
"But the opportunity for change presented by Kate is the only way to avoid managed decline – given even Humza himself has presented himself as the continuity candidate but not as effective as the former FM."
One veteran independence campaigner said there was also anxiety among Ms Sturgeon's closest allies that after years of stability, the party is on a precipice and could change rapidly under Ms Forbes.
"I think there's panic stations there. They've just lost control of the situation. Everything was comfy, they had a machine that just operated, and all of a sudden – boom – it's gone," they said.
"What you would call the 'old members' who joined pre-2014, I think the vast majority of them are going for Kate Forbes.
"The newer members who joined because of Brexit, and because they thought Nicola was the best thing since sliced bread, they tend to be going for Humza. I think it's going to be close."
The sense of the ending of an era has been reinforced by Deputy First Minister John Swinney's decision to leave the Scottish Government at the same time as Ms Sturgeon.
During an often bitter leadership contest, Ms Surgeon's husband Peter Murrell resigned as chief executive after being accused of misleading the media and public over the size of the party's membership, a row which also forced head of communications Murray Foote to quit.
Another senior SNP member said they thought the party had a "huge task of rebuilding trust with the public" after what they described as a "bruising" leadership campaign.
"This was the SNP's first leadership contest in 20 years, and it shows," they said. "All of the different leadership camps must revert to being team SNP next week – we cannot afford to allow internal division to fester ahead of the next Westminster election."