SNP leadership contest: New leader must 'pick up the pieces' of Nicola Sturgeon's 'woeful record' - Labour
Nicola Sturgeon's successor has been left to "pick up the pieces" of the First Minister's "woeful record", Scottish Labour has said, as the SNP today prepare to announce just their third leader in 16 years.
Scottish Labour leader Anas Sarwar urged the next SNP leader to address the Scottish Government's "overflowing in-tray".
That includes a focus on the NHS, with one in seven – 772,887 people – Scots on a waiting list for treatment, according to Public Health Scotland data.
It comes as Green Party co-leader Patrick Harvie called for his party to re-evaluate its working relationship with the SNP – as they face the possibility of being kicked out of government if finance secretary Kate Forbes is elected as SNP leader.
The voting window will close at noon today. Health secretary Humza Yousaf, viewed as the establishment-backed candidate, is the favourite to win with bookmakers, but Ms Forbes could yet emerge from a difficult first week of her campaign to triumph, particularly if second preference votes fall her way.
Any second preference votes attached to former community safety minister Ash Regan – the third candidate in the race – could yet prove crucial if no single person achieves at least 50 per cent of the vote on the first count.
Mr Sarwar said a focus on the cost-of-living crisis and the economy must be a key priority for the SNP's new leader, alongside reducing poverty, after new statistics revealed 24 per cent are in poverty – no improvement on data from 2017 to 2020.
The Scottish Labour leader said: "Nicola has left her successor to pick up the pieces of her woeful record.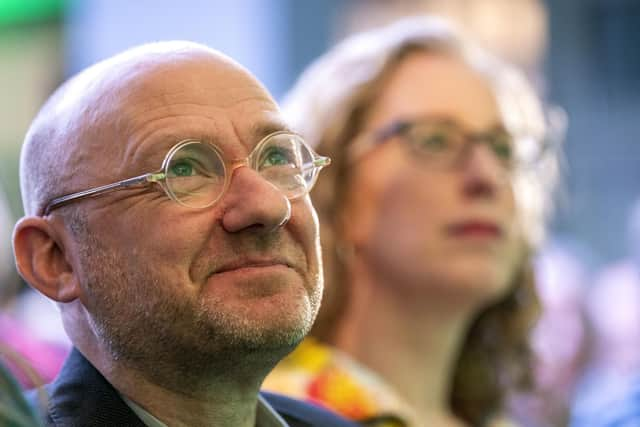 "From our flagging economy to the crisis in our NHS, 15 years of SNP failure has left the next first minister with an overflowing in-tray.
"Poverty is stuck at shamefully high levels and the attainment gap is growing. Everyone agrees that the same old mediocrity, continuity and incompetence won't cut it – but no one in this dire race has shown they're up to the job.
"Scotland is crying out for change, but a new SNP first minister isn't going to be enough."
Mr Sarwar has repeated his calls for the next first minister to call a snap Scottish election, insisting the new SNP leader will not have a mandate to rule Scotland.
While Scottish Parliament elections normally take place every five years, with the next vote expected in May 2026, Mr Sarwar wants Ms Sturgeon's successor to go to the people of Scotland.
"If you look at what John Swinney said when Jack McConnell became first minister having not having won an election, he said it was a stitched up deal behind closed doors and a party arrogant in power," said Mr Sarwar, appearing on The Sunday Show. "I think that's a perfect description now of the SNP.
"If you look at what Nicola Sturgeon said when [Prime Minister] Rishi Sunak came to power without an election, she said it was a democratic imperative for him to have a mandate.
"This is an SNP that screams about mandates. Let's be honest, the next SNP first minister will not have the mandate.
Scottish Liberal Democrats leader Alex Cole-Hamilton said: "These candidates are vying to be the last nationalist first minister of Scotland. The SNP are taking people for granted."
He said the leadership campaign had been "four weeks of bickering", adding the SNP were "tired and out of ideas".
"Health, the climate, and the cost-of-living have barely featured as three out of touch candidates debate how best to break up the UK," he said. "It's why the SNP are haemorrhaging fair minded, reasonable voters, who aren't fussed about the constitution.
"Despite her undoubted talents, Nicola Sturgeon left our health service and education in a worse position than she found them because she was fixated on breaking up the UK."
Speaking to BBC Scotland's The Sunday Show, Mr Harvie said his party and the SNP should re-evaluate the Bute House Agreement – which has led to Scotland being served by the first ever Green ministers in the UK – halfway through the parliamentary term.
"The agreement contains within it the mechanism for a review," he said. "And I think once the dust has settled, maybe, you know halfway through the parliamentary session or something, that might be a reasonable time for both sides to think 'what's working well, what could be improved? Could we go further on some of the policy content?'"
Mr Harvie made the comments in the wake of a strong rebuke by Ms Forbes, who said she can "govern Scotland without them [the Greens]".
The finance secretary has been criticised by Green Party supporters over her views on LGBT issues, as well as her plans for the fishing industry and to scrap plans for highly protected marine areas. But Ms Forbes has insisted she would be happy to run a minority government if the Scottish Greens decided to leave the Bute House Agreement.
"'I'm relaxed about leading a minority government," she told the Scottish Mail on Sunday.
"I have always held out the hand of partnership to the Greens and it's for them to decide whether or not they can accept that. The SNP secured an independence referendum when we earned the public's trust from governing and delivering on their priorities.
"We do that by governing well and it matters more to govern well, even as a minority, than it is to dance to the tune played by another party."
Mr Harvie has since outlined how the Scottish Greens will react when the SNP leadership contest result is announced. "We hope to have a phone call with the winner," he said.
"Then we'll move onto a party council meeting, an online meeting, with the representatives of the branches of our national committees and so on. We'll discuss what our reaction should be.
"We've been really clear throughout that while the voting is open, it's not for us to tell SNP members to vote for this person, but don't vote for that person – that wouldn't be respectful of the fact that this is their election."
However, Mr Harvie said the First Minister is elected by all MSPs, and "whether we continue in the Bute House Agreement that we've made such a good success of".
An SNP spokesperson said: "The SNP Government will continue to focus on the priorities of people in Scotland – including tackling the Tory cost-of-living crisis, improving public services and strengthening the economy.
"Under the SNP, we have record health funding, Scotland's A&Es are the best performing in the UK and not a single day has been lost to strikes.
"Family finances have been boosted with the Scottish Child Payment and the transformational expansion of free, high-quality childcare, allowing more people, particularly mums, to get a job.
"And from birth to adulthood, children benefit from the baby box, new school buildings, higher teacher numbers, and more kids from poor backgrounds going to university than ever before.
"In contrast, the pro-Brexit, pro-cuts Labour Party has become a pale imitation of the Tories. By imposing Brexit and backing Tory austerity cuts, it is causing long-term damage to our economy, cementing poverty, and offering no meaningful change at all."
Comments
 0 comments
Want to join the conversation? Please or to comment on this article.