SNP leadership contest: Mhairi Black says she wouldn't want to risk SNP split with Kate Forbes win
Mhairi Black has claimed she wouldn't want to risk the SNP splitting if Kate Forbes were to become first minister.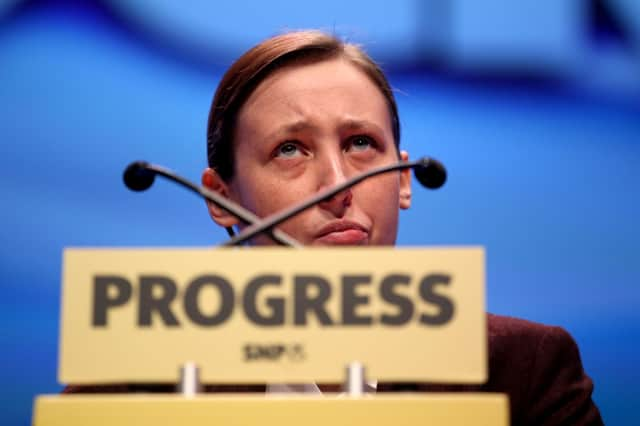 The SNP Westminster deputy leader has been an outspoken critic of the finance secretary, particularly over Ms Forbes's comments on gay marriage. Ms Black, who married her wife last year, previously wrote a lengthy Twitter thread saying she had been "incredibly hurt" by her colleague's comments after Ms Forbes said she would not have voted for same-sex marriage.
Speaking on the political podcast The Bunker, the Paisley and Renfrewshire South MP was asked if Ms Forbes becoming SNP leader would split the party.
She said: "Honestly I don't know, to tell you the truth. It's very much a wait-and-see what happens. I wouldn't even want to risk that, that's why I'm backing Humza.
"I think he's the best person to be able to band folk together again."
Ms Forbes has previously condemned the "illiberal discourse" around her faith, and released a statement saying she had been "burdened" by the hurt she had caused, assuring Scots she does not want to roll back equal marriage laws.
However, Ms Black rubbished the claims the criticism was unfair.
"The idea that Kate is being 'persecuted', or that there is a 'witch hunt' or 'unionist media plot' against her, is utterly fanciful at best and a dangerous conspiracy theory at worst," she said.
"Holding candidates to account, and scrutinising what they have said themselves – on camera, voluntarily, as a pitch to be the next FM of Scotland – is not abuse."
Ms Black went on to say how she and others could support a leader who believes her marriage should not be legally recognised is "beyond me".
She said: "Kate hasn't just jeopardised a lot of activists and members, she has alienated swathes of the population before she's even started. We need, and should expect, better judgement, communication and leadership skills if we are to ever convince others of independence."
Comments
 0 comments
Want to join the conversation? Please or to comment on this article.