SNP leadership contest: Kate Forbes still leads among SNP voters, poll shows, as Humza Yousaf forced to defend his record
Kate Forbes continues to lead the field among SNP voters in the race to become first minister, a new poll suggests, as she attempts the reset of her floundering campaign.
The finance secretary has faced a torrid week and was urged to quit by her closest allies on Tuesday evening. But in an attempt to move past social issues, Ms Forbes published a statement saying she was "heartsore" for her policy positions, which she conceded "have caused hurt".
It came as Humza Yousaf, widely considered to be the frontrunner, faced criticism for his record in government during a fiery session of First Minister's Questions.
Ash Regan, the third candidate in the race, is set to launch her candidacy on Friday morning, facing the media for the first time.
However, a new poll appears to show the controversies and backlash linked to Ms Forbes's statements on equal marriage, which she said she would not have voted for in an interview with The Scotsman, and on conversion therapy was yet to shift opinions.
The poll, undertaken by Opinion Matters for The BIG Partnership, surveyed 1,001 SNP voters at the 2021 Holyrood election aged 18 and over between the evening of Monday and Wednesday.
The finance secretary appeared to still be the preferred candidate on 28 per cent support, with Mr Yousaf on 20 per cent and outsider Ash Regan on 7 per cent. However, most SNP voters do not yet know who they will back.
The figures will be a boost to the Forbes campaign despite the survey just speaking to SNP voters, only some of whom will have a vote in the contest as SNP members.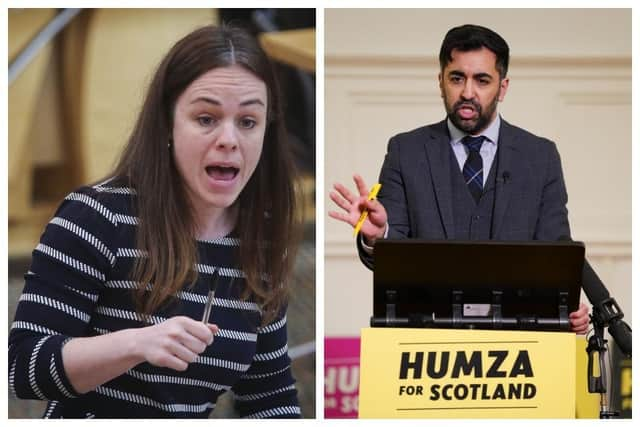 Ms Forbes took Wednesday and effectively Thursday off to regroup after the backlash over her social views, pledging in a statement intended to reset her campaign that she will defend the rights of all Scots.
Addressing the controversy, she said in a statement on social media: "I feel greatly burdened and heartsore that some of my responses to questions in the media have caused hurt, which was never my intention as I sought to answer questions clearly.
"I will defend to the hilt the right of everybody in Scotland, particularly minorities, to live and to live without fear or harassment in a pluralistic and tolerant society.
"I will uphold the laws that have been won, as a servant of democracy, and seek to enhance the rights of everybody to live in a way which enables them to flourish. I firmly believe in the inherent dignity of each human being – that underpins all ethical and political decisions I make."
Ms Forbes also said her Skye, Lochaber and Badenoch constituents were in "full knowledge" of her religious views and were "comfortable" knowing she would serve "faithfully and without prejudice". She added: "It is possible to be a person of faith, and to defend others' rights to have no faith or a different faith."
One source close to the Forbes campaign described it as "so disorganised", with no key messaging agreed upon as late as Friday last week – 48 hours after Nicola Sturgeon's resignation.
They painted a picture of a campaign, understood to be led by trade minister Ivan McKee and gender rebel Michelle Thomson, in disarray, bouncing from crisis to crisis after it launched on Monday morning.
The source added Ms Forbes had received offers of help from SNP figures who had previous experience of crisis communication, advice that ultimately was not called upon at the time.
It is understood the leadership candidate is likely to continue laying low over the weekend and attempt to continue her reset next week on the front foot. That is likely to focus on the economy, given her strengths around her finance brief, and independence.
Mr Yousaf's campaign is planning further events and media over the weekend, hoping to take advantage of his struggling rival. However, the health secretary faced fierce criticism of his record in government in Holyrood on Thursday, with First Minister's Questions focusing on his attempts to steer the NHS out of the Covid-19 pandemic.
Speaking to reporters, he confirmed he would have voted for equal marriage had he not been away on ministerial business, something he denied was an attempt to deliberately miss the vote in 2014.
Mr Yousaf also defended his record in the health brief, stating it was not "by coincidence or by chance" that Scotland was the only part of the UK to avoid strikes within the health service.
"That is because I have negotiated with the trade unions, brought them to the table, and managed to get a resolution", he added.
Asked whether he would have his closest rival in his Cabinet, the health secretary refused to answer a straight yes or no question three times. He said: "I think Kate's extremely talented, extremely able, I think anybody would want to see her at the heart of Scottish politics."
Asked for a second time, he said: "As long as we agree – and I think we do collectively – that collective responsibility is important for any government to function, and Kate has shown she is willing, and has been in her time in Government, to abide by collective responsibility, I think that's going to be an important question for all the candidates – myself included."
Pressed again, Mr Yousaf added: "I think she's got a lot to give to Scottish public life, including in Government."
However, Neil Gray, the culture minister and key ally of the Yousaf campaign, attacked Ms Forbes for her social views.
In a statement, he said she must recognise "her views don't chime with the majority of people in both the party and the country".
He added: "It's important that our party picks a leader who can be elected as First Minister to serve all of Scotland and who all voters know will have their back.
"The first days of this campaign have made clear that it is only Humza Yousaf who can unify our party, protect the independence majority in Parliament and build support for independence across all parts of our society."
Ms Regan, who remains a rank outsider, also faced questions over her judgement in hiring a former adviser for the Alba Party, Kirk Torrance, who claimed Ms Sturgeon was worse than Richard Nixon and had engaged in the "implementation and coverup of the #StitchUp", referring to the sexual offence charges against former first minister Alex Salmond, which he was acquitted of following a high-profile trial in 2020.
Mr Torrance had posted President Nixon, who famously was forced to resign over the Watergate scandal, "made a much more positive impact in the world than Nicola Sturgeon could ever hope for".
"Further, he was only guilty of the Watergate coverup, whereas Nicola is up to her dark eyes in the genesis, implementation and coverup of the #StichUp," he said.
Ms Regan, forced by Channel 4 to respond to the comments, said she believed in "hiring the absolute best".
Asked whether she agreed with Mr Torrance's comments, Ms Regan said "Kirk was advising the SNP I believe between 2010 and 2016, he was responsible for some of our electoral successes during this period", before walking away refusing to answer any questions.
Later asked again, she said: "Kirk is a strategist, he has worked internationally, he has worked for three parties in the UK, most notably the SNP, and in the last few days I've got him to go from attacking the SNP to fighting for the future of the SNP."
Ms Regan also said she had on Thursday secured enough nominations to go forward in the race. It is understood both Ms Forbes and Mr Yousaf secured their nominations earlier this week.
Want to hear more from The Scotsman's politics team? Check out the latest episode of our political podcast, The Steamie.
Comments
 0 comments
Want to join the conversation? Please or to comment on this article.