SNP leadership contest: Kate Forbes says she is 'greatly burdened' and 'heartsore' at hurting colleagues and Scotland citizens as she relaunches campaign
Kate Forbes said she is "greatly burdened and heartsore" that her responses to questions have hurt colleagues and Scotland's citizens as the finance secretary attempted to relaunch her leadership campaign to succeed Nicola Sturgeon.
In a thread posted on Twitter just minutes before the start of First Minister's Questions, Ms Forbes stressed she had "listened carefully" as she said the leadership campaign was about independence and who was "best equipped" to deliver that goal.
Her comments come after Ms Forbes said in an interview with The Scotsman on the first formal day of her campaign that she would have voted against gay marriage "as a matter of conscience" if she had been a member of Parliament at the time.
In the series of posts that argued her qualifications to become Scotland's next first minister, the Cabinet member said: "This election is about independence, who is best equipped, and who has the best plan to achieve it. It is also about the society we want Scotland to be – where tolerance is the ruling ethic, poverty becomes history, equality of opportunity is the birth right of every child.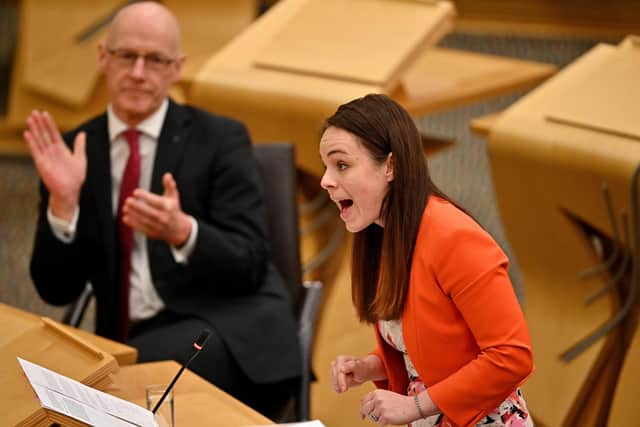 "Over the last few days, questions have focused on my faith. I feel greatly burdened and heartsore that some of my responses to direct questions in the media have caused hurt to friends, colleagues and fellow citizens. That was never my intention, but I've listened carefully.
"I will protect the rights of everybody in Scotland, particularly minorities, to live and to love without fear or harassment in a pluralistic and tolerant society. I will uphold the laws that have been hard won, as a servant of democracy.
"I will also seek to enhance the rights of everybody to live in a way which enables them to flourish. I firmly believe in the inherent dignity of each human being; that underpins all ethical and political decisions I make.
"I've represented my constituents for six years. In full knowledge of my faith, voters re-elected me with one of the biggest majorities in Scotland in 2021. That demonstrates that voters were comfortable knowing that I would serve them faithfully and without prejudice.
"Since 2018, I've served in the Scot Gov, making financial decisions for the benefit of all of Scotland's people. The Budget underpins all Scot Gov policies – serving everybody and upholding their rights."
The finance secretary had paused her leadership campaign on Wednesday. Health secretary Humza Yousaf is viewed as the frontrunner, with Ash Regan the other nominated contender in the leadership race.
Comments
 0 comments
Want to join the conversation? Please or to comment on this article.