SNP leadership contest: Kate Forbes campaign on the brink as gay marriage storm threatens to engulf her
Kate Forbes's campaign to become the next first minister and SNP leader is on the brink of collapse after she came under sustained fire for her socially conservative views on issues such as gay marriage.
The finance secretary, who was previously seen as a frontrunner to replace Nicola Sturgeon, began shedding support just hours after saying she would not have voted for same-sex marriage. Several MSPs, including three ministers, withdrew their backing.
Ms Forbes, a committed Christian and member of the Free Church of Scotland, later said having children outside of marriage "would be wrong according to my faith" and is something she would personally "seek to avoid".
Asked if she was still committed to seeing her campaign through, despite the loss of support, the 32-year-old told STV News: "At the moment, yes."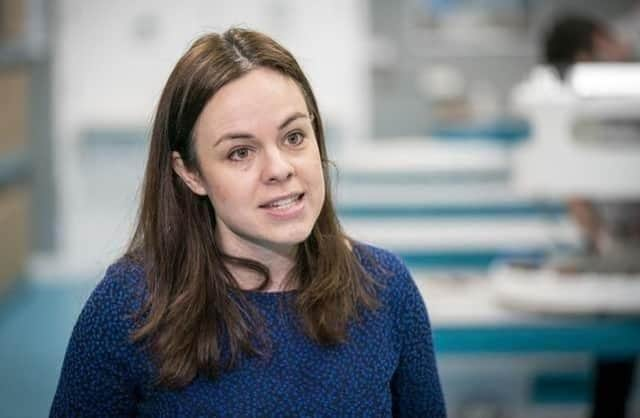 However, speculation mounted her bid was about to hit the buffers when Ivan McKee, the SNP business minister and one of her key backers, declined to say if Ms Forbes was still standing for the leadership, or if he would continue to support her. "All I've got to say is I'll be talking to Kate this evening about the campaign," he told journalists in Holyrood on Tuesday.
Ms Forbes, health secretary Humza Yousaf and former community safety minister Ash Regan are all running to replace Ms Sturgeon as SNP leader and first minister following her surprise resignation announcement last week.
Ms Forbes told Sky News that having a child out of wedlock "would be wrong according to my faith", but stressed it was a choice for people to make in a free society.
She also said she had "celebrated" babies born to family members and friends who were unmarried. She said: "We either live in a tolerant society where I can celebrate the birth of children, irrespective of the family, or not and do celebrate those lives being brought into the world."
Ms Forbes was on maternity leave following the birth of her first child last year when she launched her campaign to succeed Ms Sturgeon on Monday. Within hours, she was facing criticism for saying she would not have voted for same-sex marriage if she had been in Holyrood when the legislation was passed.
High-profile backers, including employment minister Richard Lochhead, public finance minister Tom Arthur, and children's minister Clare Haughey, all withdrew their support following a backlash over the comments.
Mr Arthur tweeted: "Equal marriage is amongst our Parliament's greatest achievements and one that I would have been proud to vote for had I been an MSP when it was passed. Consequently, I am unable to continue to support Kate's campaign."
Ms Haughey said: "I absolutely and completely support equal marriage. I am unequivocal on this issue. I cannot continue to support Kate's leadership campaign."
Gillian Martin, the convener of Holyrood's health committee, also said she could no longer support Ms Forbes as a result of her views on same-sex marriage. Ms Martin said: "For me that's a red line. Fulsome support for equal marriage or nothing."
Ms Forbes was asked if her campaign was over before it began on BBC Radio's Good Morning Scotland programme.
She replied: "Absolutely not. We have a large party membership, most of whom are not on Twitter. I understand people have very strong views on these matters.
"I think the public are longing for politicians to answer straight questions with straight answers and that's certainly what I've tried to do in the media yesterday. That doesn't necessarily allow for much nuance. My position on these matters is that I will defend to the hilt everybody's rights in a pluralistic and tolerant society, to live and to love free of harassment and fear."
Joanna Cherry, the high-profile SNP MP, later called for a senior party figure to "step in and call the dogs off", describing the "feeding frenzy" over Ms Forbes's views as "unseemly and bad for the party". Earlier, she told an event held by the think-tank Reform Scotland: "It's been a bit of a car crash for Kate over the last 24 hours."
Ms Sturgeon said Ms Forbes was a "hugely talented individual". Speaking to journalists in Holyrood, the outgoing First Minister said: "I trust my party to have a debate and come to the decision it thinks is the right one and I think that is the way to do it. The SNP has many times been accused, wrongly in my view, of not embracing debate on issues, so perhaps we are seeing the opposite of that right now.
"People look to the SNP as the Government of Scotland to be very clear in its values about the kind of Scotland we are – fair, inclusive, open, tolerant country. And also people look to the SNP and how we conduct ourselves to make judgements about how an independent Scotland would look like and I think that's a responsibility people in the SNP carry very heavily and rightly so."
Former SNP Westminster leader Ian Blackford, who is also a member of the Free Church of Scotland, said he did not share Ms Forbes's views, and lauded same-sex marriage as a "marvellous thing". He told The Scotsman: "Everyone who wants to stand for office has to have an appreciation of where Scotland stands."
Ms Regan stressed her own support for same-sex marriage, while Mr Yousaf stated he would "always fight for the equal rights of others".
Asked what he thought of Ms Forbes's views, he told BBC: "It's for her to defend her views, I've made my views very clear. I think my track record on equality issues speaks loud and clear.
"I'm a minority in this country, I have been my entire life and my rights don't exist in some kind of vacuum. My rights are interdependent on other people's rights and therefore I believe very firmly, in fact with every fibre in my being, that your equality is my equality, therefore I'll always fight for the equal rights of others regardless of who they are."
Ms Forbes has also said she would not have voted for the Scottish Government's controversial gender reforms. As she was on maternity leave, she did not participate in the final vote before Christmas, but has been clear on her opposition since 2019. Ms Regan also opposes the legislation.
Comments
 0 comments
Want to join the conversation? Please or to comment on this article.