SNP leadership contest: Joanna Cherry says 'party machine' behind Humza Yousaf
The SNP's "party machine" is behind Humza Yousaf in the leadership contest, high-profile MP Joanna Cherry has said.
Ms Cherry said Ash Regan, the candidate she is backing, is "making progress" and people should not "write her off".
Mr Yousaf rejected this characterisation of his campaign and said her comments were "desperate".
The Edinburgh South West MP is so far the only parliamentarian to have declared their support for Ms Regan, doing so at her campaign launch in North Queensferry on February 24.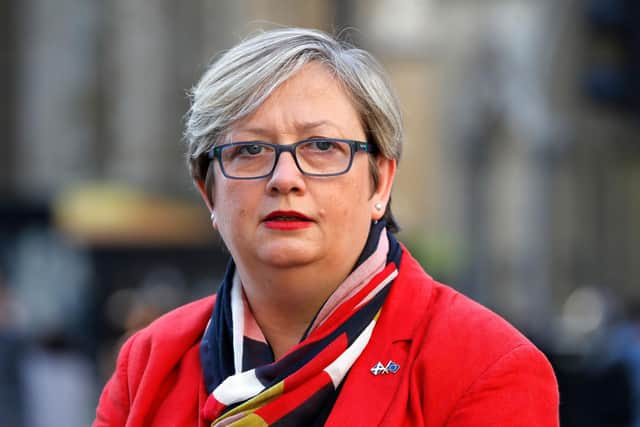 Ms Cherry was asked about her support for Ms Regan, while speaking on the BBC's Good Morning Scotland radio programme.
She said: "I think it's very wrong to write her off. She's making progress and I've heard a number of people say they've been switched on to her campaign after listening to her properly at the hustings."
Ms Cherry said Ms Regan showed "great courage and leadership" when she resigned in opposition to the Scottish Government's gender recognition reforms.
She said the sudden nature of Ms Sturgeon's departure meant all the leadership campaigns had to be launched quickly with little preparation and no time to develop a policy platform.
Ms Cherry said: "It's no secret that the party machine is behind Humza and not behind Kate and Ash." When it was put to her the "party machine" would deny this is the case, Ms Cherry said: "The majority of parliamentarians who have declared are behind Humza.
"We've already had a couple of cases of people wrongfully using the party's internal mailing system to support Humza."
On Monday, The Times reported MSP Emma Harper had been sanctioned for using an internal email system to encourage members to vote for Mr Yousaf.
MP Kirsten Oswald, the SNP's business convener, told the newspaper: "The HQ team takes great professional pride in their impartiality. All are working diligently and are ready to give the full weight of their support and expertise to the new party leader, whoever that might be."
The contenders to succeed Ms Sturgeon will have another chance to push their credentials and policies with SNP members at a party hustings being held in Dumfries from 7pm on Monday.
Ms Cherry's comments were dismissed by Mr Yousaf, who spoke during a campaign trail visit to Lanark. He said: "It sounds pretty desperate to me I have to say. I've got no other advantage than any other candidate in this race.
"The fact that so many parliamentarians, councillors and activists are backing my vision is because I'm building on that progressive agenda that has done us so well over the last 15 years."
The health secretary suggested his opponents were not standing up for equalities as strongly as he is, by standing up to Westminster's "power grab" over gender recognition reforms.
Ms Forbes said she believed the leadership race was a "transparent process", despite Ms Cherry's comments. The leadership hopeful said: "I don't think there are any conspiracies or otherwise. I think this is a transparent process.
"And I think it's for all candidates to make their case and to receive their backing."
She added: "I have confidence ultimately in members – we've got 100,000 members, it's one member, one vote.
"Ultimately when it comes to the ballot box, I've got great confidence that members will choose the candidate they want and I'm so happy to support whatever that outcome is."
Comments
 0 comments
Want to join the conversation? Please or to comment on this article.