SNP leadership contest: Ian Blackford says candidates for leadership must have 'appreciation of where Scotland stands' after Kate Forbes comments on gay marriage
Former SNP Westminster leader Ian Blackford has claimed anyone standing for office must have an "appreciation of where Scotland stands" following comments by Kate Forbes on same-sex marriage.
Ms Forbes, the finance secretary, told The Scotsman she would have voted against gay marriage "as a matter of conscience" if she had been a member of Parliament at the time.
A committed Christian and member of the socially conservative Free Church of Scotland, Ms Forbes's comments saw a number of MSPs who had backed her campaign withdraw their support, as well as some MPs.
Now Mr Blackford, also a member of the Free Church, has insisted he does not share her views, and lauded same-sex marriage as a "marvellous thing".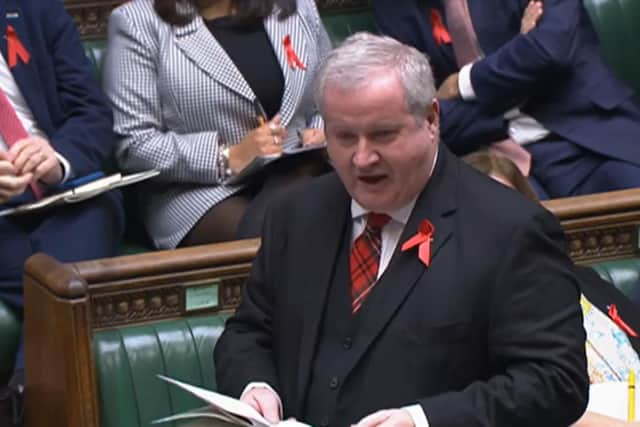 Asked if Ms Forbes could still become first minister, Mr Blackford suggested her views were not in line with a modern Scotland. He said: "Scotland has been on an incredible journey over the last 25 years. We can be proud of the progress that has come, but there's still work to be done on stuff like trans rights.
"Everyone who wants to stand for office has to have an appreciation of where Scotland stands."
The Free Church is anti-abortion and anti-same-sex marriage, believing both to contravene the strict teachings of the Bible. Former Free Church moderator Reverend David Robertson has previously compared abortion to slavery.
Making clear these were not his views, Mr Blackford also argued the church should be a "sanctuary" for all, and warned against judgement.
He said: "I am a member of the Free Church. Yes, I have faith, that informs to an extent my values, but I am also a politician, and what you don't do is combine church and state.
"My job is to represent my constituents. I am also a relatively liberal person, and I absolutely endorse the journey Scotland has been on in terms of rights, and single-sex marriage is a marvellous thing.
"That people have the same rights that everyone should have and all be treated equally is an important principle. Obviously everyone interprets things in a different way, but with faith the last thing you do is judge, that's for God.
"I want everyone of all shades of sexuality to feel welcome, you don't put barriers up. The church has to be a place of sanctuary for everyone."
Speaking after launching ambitious plans to "unlock" Scotland's industrial future, the party's business ambassador claimed his work so far in the job was "really exciting". He said: "If you put it in the context of right now, rightly there is a lot of interest in the leadership at the moment, but this is about how do we really change Scotland for the better.
"I loved the role I had as Westminster leader, but I think you've got to question how you can make a difference. I think working with others, we can shine a light on how you can deliver economic growth.
"I think some of this is about how you take down barriers and allow Scotland to flourish. Some of this we can do today, but some of it really shows the kind of things you can do long-term with more powers.
"Once we publish the report in June I think there'll be an awful lot of hope."
Comments
 0 comments
Want to join the conversation? Please or to comment on this article.