SNP leadership contest: Humza Yousaf says SNP infighting on equal marriage and gender rights 'frustrating'
SNP leadership contender Humza Yousaf has said it is "frustrating" that gender recognition reform and equal marriage has dominated the race to succeed Nicola Sturgeon, as he blamed party infighting for the turmoil.
The health secretary questioned the motivation of opponents within the SNP whom he said were making those issues central to the debate.
Appearing on both Sky's Sophy Ridge on Sunday and the BBC's Sunday politics shows, Mr Yousaf said his abstention from the final vote on equal marriage in Scotland in 2014, which former SNP MSP Alex Neil has alleged was due to pressure from religious leaders, is being raised by "people who are supporting other candidates".
The health secretary said that "probably tells you the motivation behind it".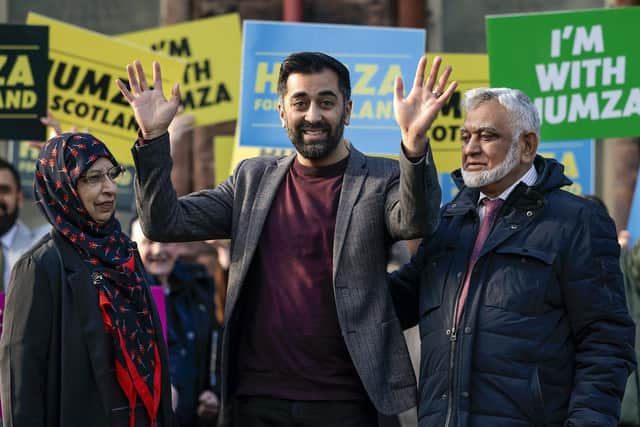 Mr Yousaf said he was meeting with the Pakistani Government at the time, in a bid to secure clemency for a Scottish citizen facing the death penalty in Pakistan for blasphemy.
On the BBC's Sunday with Laura Kuenssberg show, Mr Yousaf was asked directly whether he was accusing Mr Neil of lying. The health secretary stopped shy of criticising the former Airdrie and Shotts MSP, but said "it's fair to say Alex Neil is supporting another candidate".
Mr Yousaf was also asked if he was frustrated the race had "already got a bit dirty".
"I think it is frustrating," said the health secretary. "There have been some issues that have dominated, like the ones that we've just been discussing.
"I'm not saying these issues aren't important, but a lot of people want to hear from the candidates what we can do to ease the cost-of-living crisis."
Earlier, Mr Yousaf was asked if it would be acceptable for the first minister to be someone who did not agree with equal marriage. He said: "People in our society need to know whoever's going to be their first minister will stand up for those rights, will advance rights where possible and make sure that there's no regression of those rights."
Mr Yousaf added he does not use his faith as a "basis for legislating", following scrutiny of rival Kate Forbes's stance that she would not have voted for same-sex marriage legislation when it was passed by the Scottish Parliament.
The health secretary said if he was elected, he would exclude small businesses from the first year of the deposit return scheme – a planned Scottish Government initiative to boost recycling.
The infighting among rival SNP leadership bids has been seized upon by political opponents in the Scottish Parliament. Scottish Conservative chairman Craig Hoy described the leadership election as "a brutal civil war".
"The bitter infighting among SNP candidates is getting worse by the day, as the briefing and counter-briefing intensifies and rival party figures accuse each other of dishonesty," he said.
"The only thing that the feuding camps have in common, as we see in the TV and press interviews, is their relentless obsession with tearing apart the UK.
"Kate Forbes, Humza Yousaf and Ash Regan are vying with each other to see who can throw the most red meat to party members on independence.
"In doing so, they are moving further and further away from the priorities of ordinary Scots, who want and expect their leaders to focus on the cost-of-living crisis, an NHS which is on its knees and ending the teacher strikes.
"Sadly we have five more weeks of this brutal civil war to endure. Then Scotland we will be left with an SNP leader pushing the same independence obsession, but not a credible first minister for Scotland."
Mr Yousaf said the "political obstacles" to Scottish independence would disappear if there was a sustained majority.
He told Sky's Sophy Ridge show: "If we build a sustained majority for independence, not where some polls are 51 per cent, some at 49 per cent, but a sustained majority for independence, then those political obstacles will disappear.
"Independence will become a political inevitability."
Mr Yousaf, speaking as he campaigned in Aberdeen on Sunday, went on to insist he was the only candidate who could keep the Greens in government with the SNP.
He is running against Ms Forbes and former community safety minister Ms Regan for the top job in Scottish politics after Ms Sturgeon announced she is stepping down earlier this month.
Meanwhile, Ms Forbes told the Sunday Post the nation was not yet ready for another independence referendum, saying voters needed to better understand the everyday "economic benefits" of independence.
"The cost of living is top of people's concerns, but why in an energy-rich nation like Scotland are people are struggling to afford energy bills?," she said.
"We need to be on the front foot in preparing the ground and making the case for independence. I would like that to be sooner rather than later, but I also want it to be at the point when a majority of people can see that independence is the answer on these issues, and we are not there yet.
"I think there is a large number of people who can be persuaded, but haven't been persuaded by our approach to date."
Scottish Labour's Jackie Baillie said with every media appearance the leadership contestants made, "they expose a new area of weakness and a deepening level of incompetence".
"Humza Yousaf dodged every difficult question thrown at him, particularly regarding whether he supports the notion of a de-facto referendum," she said.
"He is not fit to have the job he has now, and he should not be allowed to fail upwards.
"Ash Regan called for a competent government, but she clearly has no intention to deliver one. Her half-baked 'voter empowerment method' is ill conceived and collapses under the simplest of scrutiny.
"None of the three candidates in the race are fit to run the country. Scotland deserves better than the three stooges battling it out for Bute House."
Comments
 0 comments
Want to join the conversation? Please or to comment on this article.