SNP leadership contest: Humza Yousaf forced to call in police over abuse
Humza Yousaf has told how he was forced to call in police in the early days of his SNP leadership campaign because of alleged threats and abuse.
Mr Yousaf, who is one of three candidates vying to become the next First Minister, said he worried about the impact of such incidents on his children.
Police Scotland said a 25 year-old man and 35-year-old woman were arrested and charged in connection with reports of abusive and threatening behaviour last month.
Mr Yousaf, who would become the first leader of Scotland from an ethnic minority background, has battled racism throughout his political career, forcing him to increase security at his home and carry a panic alarm.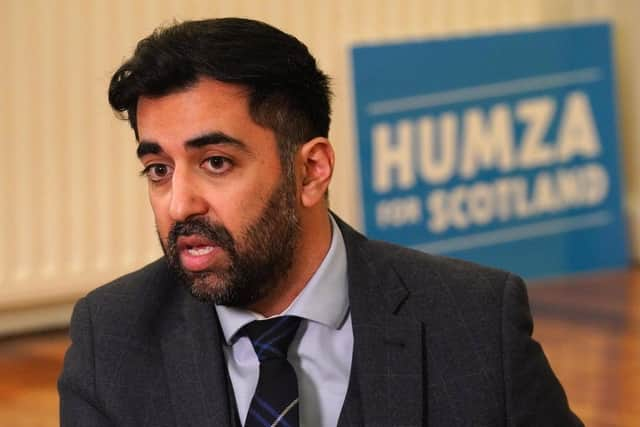 But alleged abuse both on and offline suffered in the days after he announced his plans to run for the party leadership led to him seeking help from Police Scotland.
He said: "Unfortunately, even in the first few days after I announced, there were a couple of incidents where I had to speak to Police Scotland, who've been as good as they always have been in dealing with these matters."
Mr Yousaf said he was most worried about his family. He said: "It's one of the long conversations, the hard conversations, that I had with the family who know about the racial and Islamophobic abuse that I get. Ultimately you don't really worry about yourself too much – you worry about your kids."
Mr Yousaf spoke about his concern for his 13-year-old step-daughter in case someone "knows who she is and targets her". He added: "We've had these conversations with them."
Pulling a panic alarm from his jacket pocket, Mr Yousaf said: "This is my life, this has been my life for 10 years and it's normalised now, I don't think too much about it, but I shouldn't have to give one to my step-daughter."
Mr Yousaf applauded the work of Scottish Labour leader Anas Sarwar on racism. Mr Sarwar is the first leader of a Scottish party from an ethnic minority background, and previously called out racism in his own party – including accusing a Labour councillor of making a racial remark towards him in 2017. Mr Sarwar went on to describe his own party's complaints process as "broken".
Mr Yousaf said: "I really applaud the work that Anas has done on this. I've drawn a lot of inspiration from his own bravery when he called it out in his own party – that's tough. It's actually not too difficult to call it out in wider society, calling it out in your own party is tough, so when Anas did that I took a lot of inspiration from that, I have to say."
A Police Scotland spokesman said: "A 25 year-old man and 35-year-old woman were arrested and charged in connection to reports of abusive and threatening behaviour in the Dundee area in February 2023. Both appeared in Dundee Sheriff Court on Monday, 27 February, 2023. A report was submitted to the procurator fiscal."
It came as leading figures in the SNP signed a joint letter expressing concern over "unacceptable comments made during the ongoing leadership race to succeed Nicola Sturgeon". They said all candidates "must be unambiguous and committed in their support for equal marriage rights, protecting the LGBTQ+ community from targeted hate crime, defending trans people and ending conversion practices".
The politicians added: "Humza Yousaf is the only leadership candidate who has committed to protect, strengthen and celebrate all of the rights noted above and has given an unequivocal assurance that he will end conversion practices in Scotland as First Minister."
The letter was signed by Mhairi Black, the SNP's deputy Westminster leader; Jenny Gilruth, the transport minister; Kevin Stewart, the social care minister; SNP MP Hannah Bardell; Joe FitzPatrick, the former public health minister; and the MSPs Karen Adam and Emma Roddick.
Kate Forbes, Mr Yousaf's main rival in the leadership race, has come under fire over her socially conservative religious views. She previously said she would not have voted for gay marriage.
Elsewhere, Mr Yousaf, the current health secretary, promised to "reset the relationship" between central government and local councils. He plans a "Bute House-type agreement" with local government, similar to the one which brought the Scottish Greens into power at Holyrood, and also proposes to give councils more control over the money they receive.
Ms Forbes said tackling child poverty would be her "overriding mission" if she is elected First Minister. She said it is not enough to "deal with the symptoms" of poverty, claiming the "root causes" must also be tackled.
She said the SNP Government has made "great strides" with the introduction of the Scottish Child Payment, which gives qualifying low-income families £25 a week per child.
But Ms Forbes added: "We urgently need to do more. I believe we need to completely transform the way we beat poverty, through fair, secure employment, investing more in front line services and charities and making child poverty a national mission. This can only be done if we make the Scottish economy more prosperous because that creates more, better jobs and raises more funding to reinvest in front line services. We cannot just deal with the symptoms of poverty, we need to tackle the root causes."
Ash Regan, the self-confessed outsider in the contest, is pledging to set up a citizen-owned energy company, using money raised from the levy on plastic bags to help fund it. Instead of cash from the 10p bag charge going towards good causes, the former community safety minister wants to see half of the money raised put towards the establishment of a new energy firm. She said almost £31 million a year could be generated this way, which would "provide a steady and reliable income stream to get the project set up over the next few years".
Ms Regan said: "We need to be bold and ambitious, we need to look at tackling generation, transmission and supply of energy."
She said that "for far too long, large corporations have profited from Scotland's vast natural resources" and she would seek to "ensure that those resources are used to the greatest benefit to the people of Scotland".
She added: "The carrier bag charge can be used to fund the initial set-up of the new national energy company. This will provide a steady and reliable income stream to get the project set up over the next few years when it can come online and produce for the people of Scotland. In these tough economic times we must be ambitious with making our resources and economy work hard."
Comments
Want to join the conversation? Please or to comment on this article.