SNP leadership contest: Ash Regan and Kate Forbes use open letter to demand party CEO Peter Murrell reveals its membership numbers
Two of the three candidates seeking to replace Nicola Sturgeon as First Minister have written an open letter to the SNP demanding to be provided with "essential information" such as party membership numbers.
Kate Forbes and Ash Regan called on SNP chief executive Peter Murrell, who is Ms Sturgeon's husband, to release the information "as soon as possible". In a joint letter penned by Ms Regan, they insisted this was "necessary for ensuring a fair and transparent leadership election".
Humza Yousaf's campaign manager, the SNP minister Neil Gray, also said his team had called for the information to be disclosed. Mr Gray said: "Yesterday, Humza's campaign team also asked for the figures to be published and sought assurances this would be done as soon as possible."
Kate Forbes has has called for independent watchdogs to oversee the SNP leadership contest vote amid a secrecy row and fears the ballot could be rigged.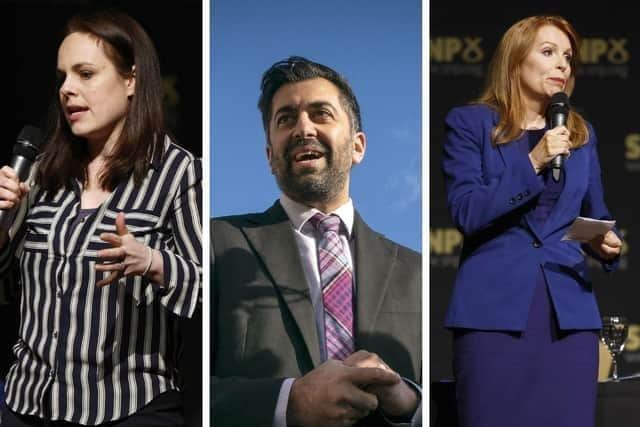 The campaign team for Forbes has called for the appointment of a "robust, experienced, third-party auditor" is appointed "without delay".
It comes amid growing frustration over a perceived lack of transparency in the leadership race. Reports over the weekend suggested membership had fallen from 125,691 to 78,000 over the past three years, but this has not been confirmed by the party.
The open letter from Ms Regan and Ms Forbes asks for the total number of paid-up members currently within the SNP, the number of digital voting papers which have been sent out to members, and the number of physical postal voting papers which have been issued.
The document says: "We have previously reached out to the national secretary, Lorna Finn, with a request for this information. However, we have yet to receive a response, which has prompted us to address this matter through a formal open letter.
"As the chief executive officer of the SNP, it is your responsibility to ensure that the leadership election process is transparent, fair and equitable. Providing this information is crucial to fostering trust and confidence among the candidates, their campaign teams, and the party members who are participating in the election.
"We kindly request that you respond to this letter and share the requested information as soon as possible. Your cooperation in this matter will not only demonstrate the SNP's commitment to democratic values and principles but also help maintain a strong and united party during this leadership contest."
A spokesman for Ms Forbes said: "It is standard practice for any election to be made aware of voting numbers in advance. This should be no different."
Figures from the Electoral Commission show that in December 2021, the SNP had around 104,000 members.
An SNP spokesperson said: "Candidates have already been made aware that responsibility for the leadership election does not rest with any member of staff."
The leadership hopefuls have been told the number of votes, percentage share and turnout will all be published at the conclusion of the process.
It came as Scottish Labour leader Anas Sarwar dared the SNP leadership candidates not to support a Labour minority government after the next general election.
During a televised debate on Monday, all three candidates to replace Nicols Sturgeon said the price of doing a deal that would put Sir Keir Starmer in Downing Street would be an independence referendum.
Labour leader Sir Keir has repeatedly ruled out a deal with the SNP, most recently at the Scottish Labour conference in Edinburgh last month.
Parties at Westminster can form a government if they do not have a majority of seats, but would be forced to make deals with other parties to pass legislation, including budgets and the legislative programme laid out in any King's speech.
Mr Sarwar said: "We're going all-out to get a majority Labour government across the country."
Comments
 0 comments
Want to join the conversation? Please or to comment on this article.