Twenty years later, the 'Big Man' is very much centre stage in Scottish politics. Consider the reaction to Kate Forbes's SNP leadership bid last week.
Straight out of the gate, Forbes was mired in controversy because her political views were supposedly at odds with her party membership. Many pundits suspected she would drop out of the race altogether because of her religious beliefs.
That ridiculousness says more about our political discourse today than it does about Forbes. There was no big reveal about Forbes's views on same-sex marriage or abortion. When she first took on the finance portfolio, interviews and reports abounded of her membership of the Free Church of Scotland and socially conservative positions.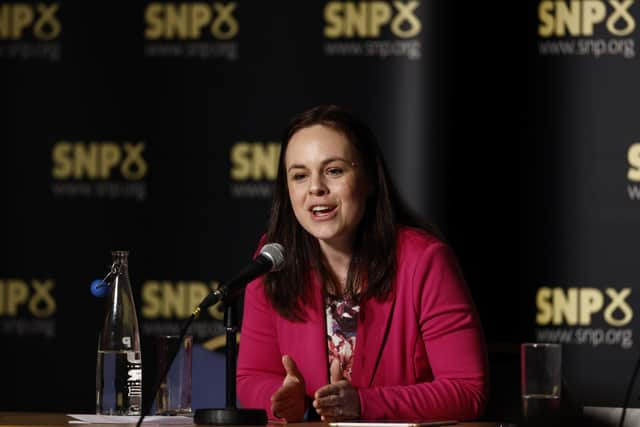 So what to do with a problem called Kate Forbes? The legitimate question facing the frontrunner is how much her principles will affect her policies. The most significant disconnect will be among a party that prides itself on being progressive, but is led by a socially conservative first minister.
But this mismatch is political. A survey carried out by YouGov for the Humanist Society Scotland last year recorded one in three Scots identify as being a Christian. While a million fewer than 11 years ago, it is not enough to discount Forbes as somehow anathema to the Scottish electorate.
There is an unlikely answer about reconciling her political fortunes with a disagreeable party while ingratiating herself with the electorate. Annabel Goldie, the Scottish Conservative leader between 2005 and 2011, is unfairly remembered as a stable prelude to Ruth Davidson's achievement of supplanting Labour as the official opposition in the Scottish Parliament in 2016.
Without Goldie, it is improbable Davidson could have picked up the leadership mantle and pushed a progressive agenda. Goldie did not put her party in a holding pattern. Yes, the Tories lost seats in the 2011 Scottish election landslide to Alex Salmond's SNP, but it was not a wipe-out.
Goldie supported gay, same-sex and unmarried couples' adoption rights, claiming it was "ludicrous" to suggest that gay men and lesbians could not provide a loving home for young people. She said her views were by Christian tenets, and she voted for a change in the law.
The Conservative leader went contrary to the more traditional elements of her party. She embraced David Cameron's "Big Society" politics instead of social conservatism. Her time in office was a comparatively progressive platform against a backdrop of confused backbench of reactionaryism struggling with the Scottish Parliament's existence.
Her liberal stance is a remarkable turnaround for a party associated with so-called traditional family values. The Scottish Tories opposed the repeal of section 28, the clause banning the promotion of homosexuality in schools, and the pre-Goldie/Davidson tended to side with religious groups on classic moral issues.
Critically, Goldie was a pragmatist. After the SNP formed a minority administration in 2007, they relied on a long informal coalition with the Scottish Conservatives. The SNP depended on Conservative votes to pass all four annual budgets.
The Tories extracted several concessions from the Scottish Government deal, including drugs policy and business rates. Goldie still criticised the Scottish Government in areas where the two sides disagreed. She described the SNP policy to expand non-prison sentences as "convicts in the community".
Forbes is better focusing on comparable policy deliverables. She must accept she will be a holding first ministership until an independence strategy is agreed upon. It will necessitate an introverted analysis until another 'Davidson' can lead the SNP back to a position where they can seriously call for a second referendum. That process will take years.
Forbes should not lose heart. Goldie's contribution to what Davidson accomplished cannot be understated. She took her party from malaise and constitutional confusion and fashioned it into a machine ready for Davidson's ideas and one the electorate could believe had changed.
Forbes will likely appeal to the SNP's older, more economically and socially conservative guard. If elected leader, she must first be candid enough to admit she lacks the raw political instinct and personal boorishness that defined the Salmond/Sturgeon era.
This does not doom her to failure. Consensus politics needs to make a comeback to work with the fracturing elements of her party. The hanging threads of the Sturgeon era, including the deposit return scheme, the Hate Crime Act and the Gender Recognition Reform Bill, to say nothing of independence, result from a personality first, policy second approach.
A better-kept secret is the SNP is as broad a church for political and social views as the Conservative Party. Forbes is unlikely to hold the same magnetism or sheer force of political skill as her predecessors.There will be no strong-arm personality, no clear-cut strategy, and no timetable for independence. Backbench fracturing is a genuine risk without a wholesale return to consensus politics.
That does not mean the SNP must be locked in a holding pattern. Goldie won praise for her party leadership, was a skilled debater and was lauded as a "much-liked public figure".
Forbes would be a different kind of first minister, anyway. The question is whether she embraces this by choice or circumstance. The loss of Sturgeon and the collapse of any strategy to achieve a referendum, never mind independence, cannot be overstated.
This is the long game now for the SNP. They are in the doldrums – it is time to return to pragmatic, principled politics for the good of their party and the country's interest. Forbes can reconcile her party, her personal convictions and a broader agenda, but it will take a consensus not seen in her party for decades. But it has been seen recently, and Goldie is an exemplar.