SNP finances row: Stephen Flynn at loggerheads with Ian Blackford after former leader accuses successor of false assurances about auditors
The SNP Westminster group are at loggerheads after Ian Blackford accused his successor Stephen Flynn of giving him false assurances about the party auditors.
The party's former Westminster leader, Mr Blackford claimed his successor rang him on April 7 to say an auditor was in place – something now being denied by Mr Flynn.
Senior figures in the Westminster leadership team also contested that account, claiming it was just an intent rather than a promise, only for Mr Blackford – the Ross, Skye and Lochaber MP – to tweet "categorically" it did.
Johnston Carmichael, the party auditors, resigned six months ago as the party's auditors, but the information was not disclosed to the public or even senior party figures.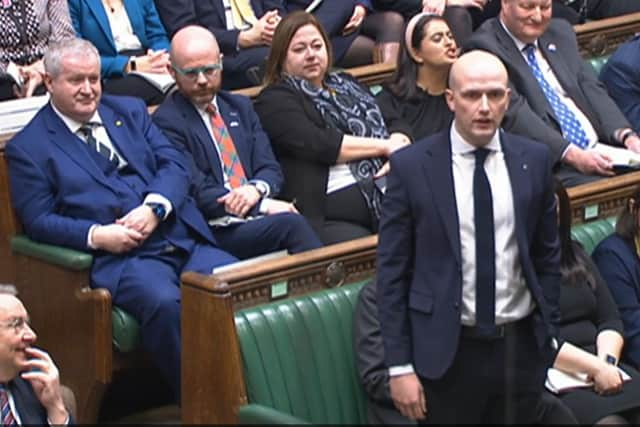 Now the row over who knew what has threatened to overshadow the party's messaging, with Mr Flynn facing a series of questions on the issue on Tuesday while delivering a speech on energy at the Institute for Government.
Challenged on whether he had given Mr Blackford an assurance, the Aberdeen South MP insisted he didn't want to "speculate".
He said: "I think it's important to reflect when talking about this there's a lot of staff involved and I don't want to speculate in too much detail in relation to that until I have certainty. Is it the case we've been working to secure an audit firm? Absolutely.
"Am I hopeful we'll be able to do that? Absolutely. Does that equate to having an audit firm in place? Does that equate to having certainty that I will be able to meet deadlines placed on us by the House of Commons? No.
"I'm not going to provide a categorical assurance and relation to that and those that have provided categorical answers in relation to that would probably have been wise not to do so".
Asked if he was aware the Electoral Commission in Scotland had been approached about postponing the filing of accounts, Mr Flynn added he "could not recall". If the SNP does not have auditors in place before the May 31 deadline, the party may have to use short money to pay staff.
The SNP Westminster leader added: "I think we need to be conscious there is a direct correlation between the availability of short money and staff. The only assurance I can provide is that we are doing everything we possibly can to ensure that we have an auditor in place and are able to meet our obligations".
Mr Flynn was also asked if Mr Blackford was lying, a question he avoided, instead stressing the differences between securing an auditor and seeking one.
He said: "There's a big difference between stating that we are likely to secure an audit firm and having an audit firm. There's also a big difference between seeking to secure an audit firm and being able to provide certainty that we would definitely meet any of our deadlines.
"I have not sought to in any way suggest we would definitely meet any of our deadlines or obligations because I don't think that was the right tack to take, and indeed the process to secure an auditor is still very much underway, as it was when Ian and I spoke on April 7."
Shadow Scotland secretary Ian Murray claimed the issue was fast becoming an SNP "civil war". He told The Scotsman: "The crossfire of claim and counter-claim between Blackford and Flynn has laid bare the SNP uncivil war. Flynn wielded the knife on Blackford and now it's coming home to roost.
"Whilst senior SNP figures tear lumps out of each other, Scotland is crying out for good and competent governance. It's time for an end to the secrecy and sleaze and a clean break with Scottish Labour."
The Scottish Tories labelled the row "extraordinary" and claimed the priorities of Scotland were being ignored.
Scottish Conservative chairman Craig Hoy said: "The current and former SNP Westminster leaders are all too happy to air their dirty linen in public. The extraordinary row between Ian Blackford and Stephen Flynn is only escalating and it cannot be the case that both of them are telling the truth.
"Two of the most senior figures within the SNP are at loggerheads and fighting like Nats in a sack. These claims and counterclaims of who knew what and when are getting increasingly ugly.
"There is clearly no love lost between them following Stephen Flynn's leadership coup last year and it has come to a head during a period where chaos has engulfed the SNP."
Liberal Democrat MP Christine Jardine said: "If only they put as much energy into fixing Scotland's problems as they do their internal fighting. Sadly the loser is Scotland."
Comments
 0 comments
Want to join the conversation? Please or to comment on this article.