SNP faces 'electoral disaster' without independence pact, says Alex Salmond
Mr Salmond has written an open letter to Humza Yousaf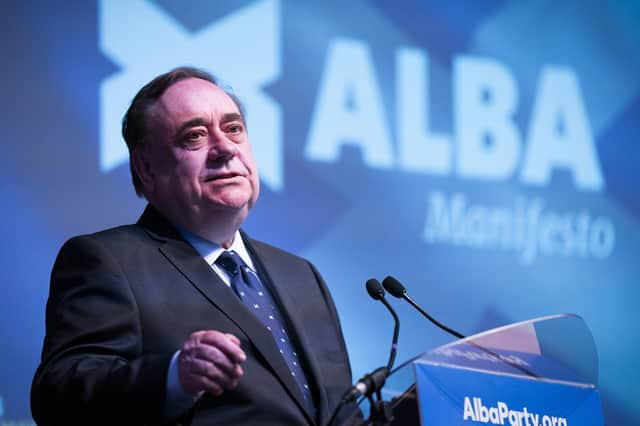 Alex Salmond has warned that his former party faces "electoral disaster" if it does not back Alba's calls to put up a single independence candidate in a forthcoming by-election.
The former Scottish first minister and SNP party leader has written an open letter to First Minister Humza Yousaf to reiterate that without his proposals the pro-independence movement is in "danger of handing the seat to Labour on a platter".
While date for the Rutherglen and Hamilton West by-election has yet to be finalised, parties have started to put forward their candidates, with the race for the Westminster seat likely to be between the SNP's Katy Loudon and Labour's Michael Shanks.
Mr Salmond said the by-election could see five pro-independence candidates on the ballot paper, including from the SNP, Greens and Alba – rather than one to take on Labour.
Mr Salmond instead suggested Mr Yousaf should put forward a united approach at the SNP conference in October by making the case for one single independence candidate at each constituency at the next general election, expected to take place next year.
In his open letter, Mr Salmond said he first wrote to the First Minister on May 13 before making contact privately through his staff to request a meeting.
He has now sent a further open letter following Mr Yousaf's claims he had not heard from his former party leader about electoral proposals during an Edinburgh Festival Fringe appearance.
Mr Salmond wrote: "This is untrue. To consider the possibility that you are in the dark about these approaches, I have now released the attached open letter asking you to consider the Scotland United for Independence proposal for the next general election at the SNP conference in October.
"The process of replacing Labour as the dominant party in Scottish politics started well before you even joined the SNP.
"It would seem more than a setback to the independence cause to let them regain a foothold by fielding multiple pro-independence candidates in the Rutherglen and Hamilton West by-election."
He called on the First Minister to respond by Friday August 25 in time for the Alba national council's meeting the following day where the party will decide whether it will contest the seat.
Following the letter, Mr Salmond said: "Humza Yousaf and the SNP are on a slippery slope to electoral disaster.
"Unless he takes averting action there are likely to be no less than five pro-independence candidates in Rutherglen.
"The danger is handing the seat to Labour on a platter. There is no surer way of inviting a major reverse in this first significant test of Humza Yousaf's leadership."
Comments
 0 comments
Want to join the conversation? Please or to comment on this article.