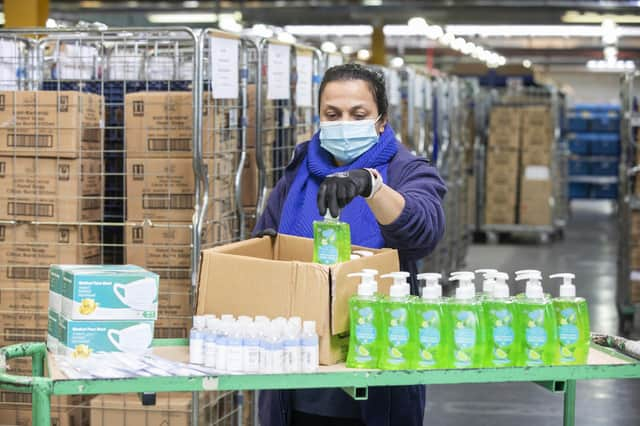 The Chancellor "must reverse" the decision to bring back VAT on Personal Protective Equipment, the SNP have claimed.
Ahead of tomorrow's spending review, Rishi Sunak has been urged to restore the zero rate on PPE amid fears people could be priced out of getting the vital equipment.
The UK Government had previously refused to extend the zero rate of VAT on PPE beyond October 31 – instead bringing back the 20 per cent rate.
Health and social care providers can source PPE via a government portal, but private sector businesses as well as the public cannot.
Now food and convenience store wholesalers are facing increased costs at a time they are already struggling.
The SNP's shadow health spokesperson Dr Philippa Whitford MP has now accused the UK Government of making getting the equipment a financial decision.
She said: "We are in the middle of a deadly global pandemic and we are still seeing a high number of coronavirus cases being registered. At this critical time, it is simply staggering and damaging that the UK Government has decided to scrap the 0 per cent VAT rating on PPE.
"Nobody – whether it's businesses or an individual - should feel the need to consider whether they can afford necessary protective equipment in the middle of a pandemic.
"Initial estimates set out by the Scottish Government shows that the additional cost of not extending the zero rate on VAT will be as much as £20 million for the rest of this year for health and social care PPE.
"And although the Scottish Government has taken steps to reimburse social care providers for VAT costs associated with pandemic-related PPE, there still remains serious financial implications for providers and other businesses who are now requiring to purchase PPE for the first time or in significantly increased quantities.
"The SNP is clear - the Chancellor must use his upcoming Spending Review to right this grievous wrong and immediately set out steps to bring back the zero rate on VAT for vital PPE."
Earlier this week, Scottish finance secretary Kate Forbes wrote to Rishi Sunak also urging him to reverse the decision.
Tomorrow Mr Sunak will begin setting out plans for the economy beyond Covid-19, detailing the money for things like the NHS, education and police.
If you haven't already, please consider supporting our trusted, fact-checked journalism by taking out a digital subscription.