SNP crisis: Douglas Ross says it is 'absurd' for Nicola Sturgeon to claim resignation wasn't linked to police probe
Douglas Ross has claimed it is "absurd" for Nicola Sturgeon to claim her resignation wasn't linked to a police probe into the SNP's finances as he stressed the public wanted answers.
The Scottish Tory leader made the claim as it emerged a camper van had been seized by police leading the financial investigation into Ms Sturgeon's husband Peter Murrell.
The Niesmann + Bischoff motorhome was reportedly taken from a house in Fife at the same time police searched the Uddingston home of the SNP power couple. The same model of campervan can sell for around £110,000.
Mr Murrell was arrested on Wednesday before later being released without charge, "pending further investigation".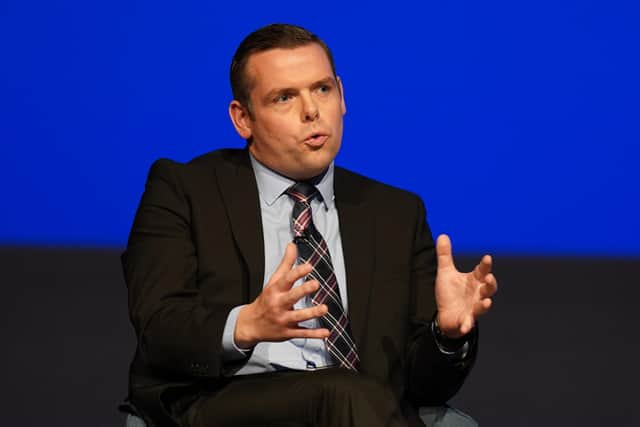 Mr Ross hit out at Ms Sturgeon's explanation behind her reasons for leaving her role as SNP leader, with the ongoing investigation described by SNP president Mike Russell as the party's biggest crisis in 50 years.
He was speaking after Ms Sturgeon made her first comments since the arrest, saying the past few days had been "obviously difficult" and that she would "fully co-operate" with the police investigation.
Mr Ross, the Moray MP, said: "For her to somehow suggest and continue to suggest it had nothing to do with this ongoing inquiry I think is frankly absurd. We've now seen the incredible sight of someone who has just been First Minister inside a house when the police came to arrest her husband.
"Now, obviously, that's an ongoing live police inquiry and I can't go much further into it, but we have all seen the house being taped off. And now we have the incredible story of a camper van being removed from Nicola Sturgeon's mother-in-law's house. It continues to be an incredible story and one that is deeply damaging for Scotland."
Commenting on what he would like to see happen next, Mr Ross told GB News: "I think the most important thing is we get to the bottom of this inquiry. It has now been going on for, I think, 18 months, almost two years. I think people want answers."
Former SNP minister Alex Neil has also said it was "hard to believe" the police investigation into the spending of £600,000, which was earmarked for an independence campaign, was not a factor in Ms Sturgeon's resignation as first minister.
Ms Sturgeon said during the press conference to announce her intention to resign the police investigation was not a factor in her decision.
Mr Ross was also critical of the SNP's record, as the 25th anniversary of the Scottish Parliament approaches next year. He said: "I think devolution has been a good thing in terms of bringing powers closer to the people of Scotland. It's part of the reason I represent people in the Scottish Parliament.
"But for many remote and rural areas, Holyrood now seems as distant as Westminster ever was. So I want to see a Scottish Parliament actually deliver for people and representatives of all of Scotland and at the moment that's not happening with the centralising SNP Government."
Mr Ross separately addressed criticism over comments made to The Daily Telegraph in which he encouraged Tory supporters to tactically vote Labour to oust the SNP in key seats.
The Scottish Tories leader had said Tory voters should "do what is best for the country" and support "the strongest candidate to beat the SNP" in their constituency.
He later added: "I always encourage Scottish people to vote Conservative. But what I'm trying to say is that there are many seats across Scotland where the main challengers are SNP MPs and that people want to move on from the decade of tradition that we have under Nicola Sturgeon.
"And I think for many people, that's an option they're looking at because come the next Holyrood election, some people will have been in charge for almost two decades. And no one can say Scotland's in a better place as a result of that."
The SNP claimed the comments showed Labour and the Tories were similar, while the main Conservative party insisted their view was everyone should vote Tory.
As well as Mr Murrell and Ms Sturgeon's home near Glasgow, Police Scotland officers also searched the SNP's headquarters in Edinburgh and removed boxes of items.
It comes amid claims Ms Sturgeon told a meeting of the SNP's ruling national executive committee NEC the party's finances were "absolutely fine" despite concerns over more than £660,000 worth of donations.
Reports suggested that in August 2021, a month after police launched a probe into the party's finances, the former first minister said: "We don't need to talk about the finances. The finances are absolutely fine."
Three months earlier MP Douglas Chapman had quit as treasurer, saying he "had not received the support or financial information required to carry out the fiduciary duties".
An SNP spokesman said: "It would not be appropriate to comment on any live police investigation. The SNP has been co-operating fully with this investigation and will continue to do so."
Comments
 0 comments
Want to join the conversation? Please or to comment on this article.