SNP confirm it will vote against 'gross stupidity' of Brexit deal in Westminster
The SNP will vote against the UK Government's Brexit deal with the European union, its Westminster leader Ian Blackford has confirmed.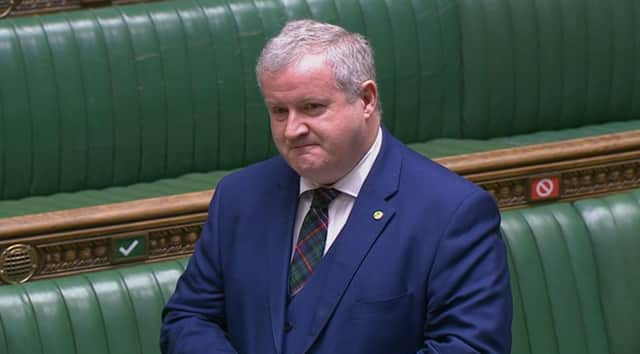 SNP Westminster leader Ian Blackford has confirmed his party will vote against the Brexit deal
The deal is almost certain to be passed by MPs later this week after Sir Keir Starmer said Labour would back the deal as the only option to avoid a 'No Deal' Brexit.
However Mr Blackford continued the SNP's assault on the deal labelling it an "unforgivable act of economic vandalism and gross stupidity".
Citing the fact Scotland as a whole voted to Remain in the EU during the referendum in 2016, Mr Blackford said the deal would be voted through but not "in our name".
The House of Commons and House of Lords will both be recalled on Wednesday December 30 to scrutinise, debate and ultimately vote on the deal potentially in a single day.
The SNP's decision to vote against the deal is purely symbolic and barring a mass rebellion from both Conservative and Labour benches will make no difference to the outcome.
The SNP's Westminster leader said: "Boris Johnson's extreme Tory Brexit is an unforgivable act of economic vandalism and gross stupidity, which will cause lasting damage to the economy and leave the UK much worse off at the worst possible time - during a pandemic and economic recession.
"Scotland has been completely ignored by Westminster throughout the Brexit process and we are being forced to pay a devastating price. It is clear that the only way to protect Scotland's interests, and regain the full benefits of EU membership, is to become an independent country.
"This is a very bad deal for Scotland, which will terminate our membership of the EU, rip us out of the world's largest single market and customs union, end our freedom of movement rights, and impose mountains of red tape, added costs and barriers to trade for Scottish businesses. The blame lies squarely with the Tory government.
"With the Labour Party lining up behind Boris Johnson, it is clear Westminster will impose this hard Tory Brexit regardless of how Scotland votes but it is not being done in our name. It is a disaster for Scotland.
"The people of Scotland have a right to determine our own future as an independent European country - rather than suffer the long-term damage and decline of a hard Tory Brexit."
Nicola Sturgeon, posting on social media, added: The Brexit deal will pass regardless of how the SNP votes.
"Scotland's voice and interests are unimportant to the Westminster establishment. Far better then for our MPs to cast a principled vote against Brexit, as we get on with winning the positive case for independence.
However the decision was criticised by Scottish Conservative politicians including leader Douglas Ross.
The Moray MP said: "Scottish jobs, businesses and livelihoods rely on Scottish MP's supporting the UK-EU trade deal.
"The SNP have always put political games before the people they serve and by voting against this deal they are once again showing their true colours."
Scottish Secretary Alister Jack added: "The people of Scotland will expect their MPs to do the right thing on Wednesday and vote for the deal. They will not easily forgive those who reject this Free Trade Agreement or throw their weight behind a no deal Brexit."
A message from the Editor:
Thank you for reading this article. We're more reliant on your support than ever as the shift in consumer habits brought about by coronavirus impacts our advertisers.
If you haven't already, please consider supporting our trusted, fact-checked journalism by taking out a digital subscription.
Want to join the conversation? Please or to comment on this article.