SNP conference: Humza Yousaf to announce extra NHS and arts and culture funding as he seeks to shift focus
The First Minister will address activists on the last day of the SNP conference in Aberdeen
Humza Yousaf will today announce an extra £100 million in each of the next three years to improve NHS inpatient and day-case waiting lists, as he is tipped to make a fresh commitment to the embattled arts and culture sector.
The First Minister will seek to shift the focus away from debates about the process of securing independence as he addresses the final day of the SNP conference in Aberdeen.
He will tell delegates that the SNP will "concentrate not on the how – but on the why" of independence, and put the economy front and centre of the campaign.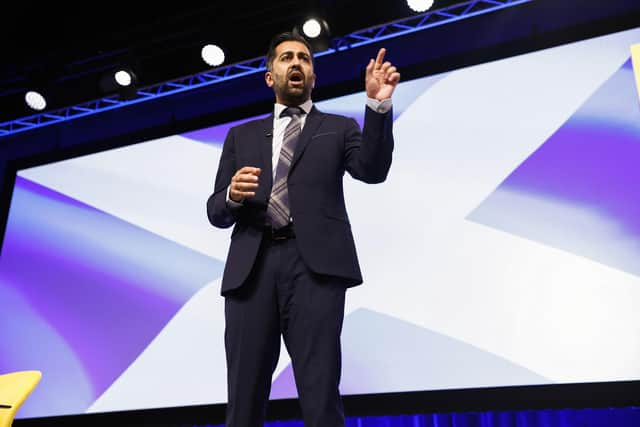 It is expected the First Minister's keynote speech will contain a funding announcement for arts and culture in Scotland. The commitment will come after the Scottish Government has faced heavy criticism for the decision to reimpose a £6.6 million cut to Creative Scotland's funding.
Activists backed Mr Yousaf's new independence strategy on Sunday, under which the SNP will push for a referendum if it wins a majority of Scottish seats in the next general election. Mr Yousaf previously said this would draw a line under the issue and "talk about process is done".
Closing his first conference as leader, Mr Yousaf is expected to say: "Around half of our fellow Scots already support independence. I have no doubt that we can turn that half into a sustained majority. We will do so when we concentrate not on the how – but on the why.
"At the next election, page one line one of our manifesto will say 'vote SNP for Scotland to become an independent country'. And that's because independence is about building a better Scotland.
"It's about raising living standards. It's about protecting our NHS. Above all, it's about a stronger economy. An economy that works for everyone who lives here."
He will add: "Post-pandemic, we are working hard to reduce NHS waiting times – and we have seen a significant reduction in the longest waits since targets were announced last July. I am announcing today that in each of the next three years we will invest an extra £100m to cut waiting lists.
"This additional funding will enable us to maximise capacity, build greater resilience in the system and deliver year-on-year reductions in the number of patients who have waited too long for treatment. That will reduce waiting lists by an estimated 100,000 patients by 2026."
As of June 30, 518,491 patients were waiting for an outpatient procedure, 149,255 were waiting for an inpatient procedure, and 152,606 were waiting for a diagnostic procedure, according to official figures.
Scottish Conservative chairman Craig Hoy said: "Humza Yousaf has completely given up any pretence about focusing on the real priorities of the people of Scotland. His relentless pursuit of independence is all that matters to him. He is well and truly confirming his status as a second-rate Nicola Sturgeon tribute act by continuing to push for another referendum at a time when Scots are grappling with the global cost-of-living crisis.
"He has some brass neck in talking up his extra funding for Scotland's NHS. It is the failures of his flimsy recovery plan – produced over two years ago – that means one in seven Scots are languishing on a NHS waiting list."
Comments
 0 comments
Want to join the conversation? Please or to comment on this article.