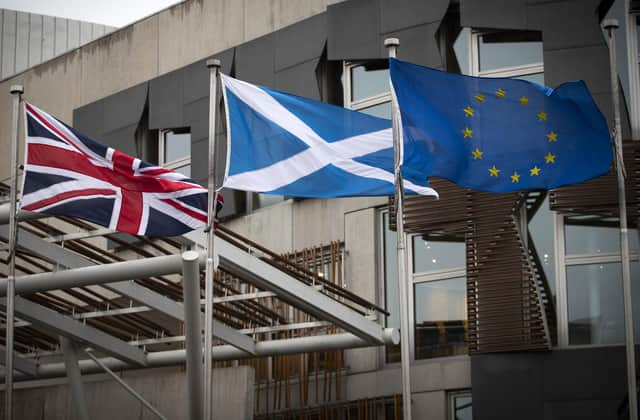 An independence debate in parliament today saw heated exchanges in the Commons.
Speaking during an opposition debate on the general election in Scotland and the country's constitutional future, SNP MP Tommy Sheppard claimed the phrase "once in a generation" would not stop another referendum.
The Edinburgh East MP told MPs it was now simply a "mantra" used by the Prime Minister to deflect on the issue.
He said: "I accept that the phrase 'once in a generation' was part of the debate, but let us at least be honest with each other about the context in which that was said.
"It was said invariably by those who were proposing a Yes vote for independence as a caution to their supporters that they might not get another chance.
"It was not made as a promise or qualification to those who opposed independence that it was going to go away forever."
Leading for the SNP on the debate, he insisted a second vote would only take place if the pandemic is over.
He told MPs: "Let's be entirely clear about this, no-one and I mean no-one is suggesting that we have a referendum campaign during the pandemic.
"We will have to have that put behind us and be moving into a recovery phase before that can happen.
"If it's possible to have it later this year because the pandemic is over and we have moved beyond it, then I would welcome that. I don't speculate on whether it's the end of this year or the beginning of next year.
"The principle I'm advocating is that we will not be launching or fighting a referendum campaign whilst the pandemic is still extant and whilst we have the restrictions, the social restrictions on people, that are mandated by the public health emergency, that is a fact."
The debate prompted a furious backlash from other parties, with Scotland Office minister David Duguid accusing the SNP of using Commons time to "promote separation" rather than focus on recovering from the pandemic.
He said: "We are currently recovering from the worst public health crisis in a century, the deepest recession in our history and the people of Scotland voted decisively in 2014 to remain part of the United Kingdom.
"The people of our United Kingdom want and expect us to focus on fighting Covid-19.
"They rightly expect us to focus on protecting jobs with furlough payments, ensuring our children catch-up on their missed education and finding jobs for our young people."
The UK Government has tabled an amendment which argues it would be "irresponsible" to hold a referendum during the Covid-19 pandemic.
Labour's shadow Scottish secretary Ian Murray claimed the focus on independence was to distract from the Scottish Government's record.
He added: "Why do the SNP want to turn the Scottish elections in May into a referendum on whether or not we have another referendum?
"Because they can't defend their atrocious record in government for the last 14 years. They have no defence at all and nothing to offer.
"You no longer hear the cry about 22 polls in a row in favour of separation when it's now four in a row in favour of staying part of the United Kingdom – the one today being 57 per cent to 43 per cent."
Conservative MP Andrew Bowie claimed it was like "groundhog day in the Commons".
The West Aberdeenshire and Kincardine MP said: "They've chosen not to debate education, not the recovery, not economic growth, not jobs, not health, not drug deaths, not infrastructure, not broadband, not local government funding, not the serious, serious issues surrounding civil service impartiality and separation of powers within the Scottish Government.
"No, the Scottish National Party, in which I have many friends, but whom I regard as a single-issue, mass membership pressure group masquerading as a serious party of government, want to talk about their sole obsession, ripping apart our United Kingdom."
If you haven't already, please consider supporting our trusted, fact-checked journalism by taking out a digital subscription.