SNP backbenchers raise local fury at HPMAs as former minister rips up consultation document
SNP backbenchers have raised what they termed unanimous opposition to the proposed introduction of controversial 'no-take' zones in Scotland's seas in a stinging rebuke to Government plans.
Highly protected marine areas will see strict limits on human activity such as swimming and aquaculture in at least 10 per cent of Scotland's waters, but have been met with fierce opposition from coastal communities who rely on fishing for their livelihood.
In a rare demonstration of backbench nerves, loyalists to the Scottish Government raised their concerns about the plans, which also saw one critic rip up the consultation document for the proposals during his speech.
Kate Forbes, the defeated SNP leadership contender, was also heavily critical. She quoted a musician who railed against the "arrogant stranger" and the "faceless grey suits" of the Central Belt.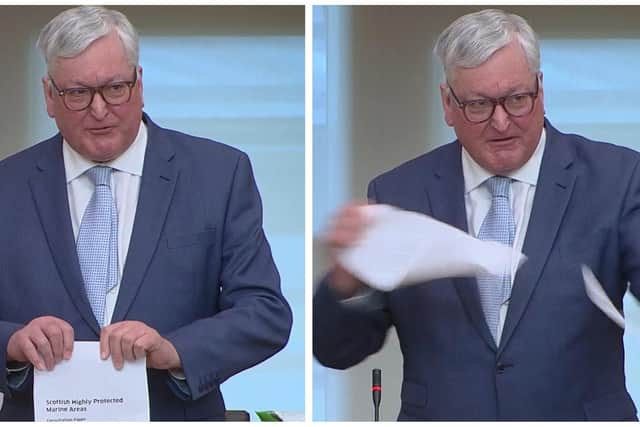 Cabinet secretary for net zero, Mairi McAllan, had met with more than 40 parliamentarians to discuss the Government's plans for HPMAs, but was faced with angry opposition from one of her own backbenchers during the 45-minute meeting.
It is understood Fergus Ewing, the MSP for Inverness and Nairn and a fierce critic of the policy platform of the Government under Humza Yousaf, angrily challenged the net zero secretary during the call.
A furious back-and-forth between the two SNP figures followed, with it ending when Mr Ewing accused Ms McAllan of misrepresenting his position, before the Cabinet secretary said thank you and moved on the next question.
Others described the meeting as collegiate and good-natured, with Ms Forbes being "very constructive" in her approach.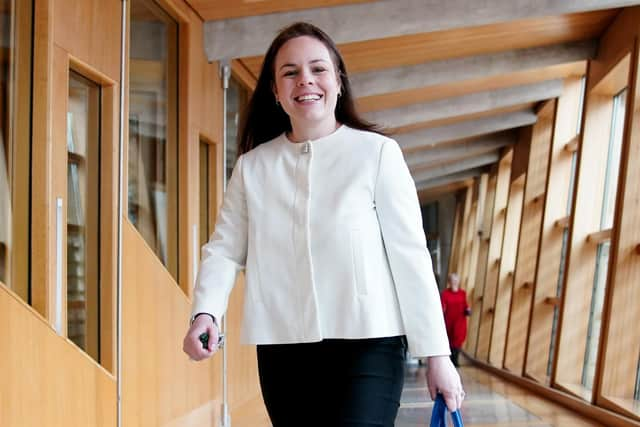 However, many MSPs raised concerns about exactly how the Government is defining opposition when they say communities who are "vehemently opposed" to the proposals will not see them imposed.
There is also concern about what constitutes a "community", in terms of who will be consulted when areas are chosen by ministers.
In an evening members' debate, similar concerns were raised openly by backbench SNP MSPs.
Karen Adam, the SNP MSP for Banffshire and Buchan Coast, said clarity on how communities would be defined and whether they are "vehement opposed" was needed "urgently".
She said: "We need clarity on how those communities will be defined and how we will gauge their 'vehement' opposition. And we need it urgently. Only today, I heard of delays in the purchase of vessels as a result of a lack of certainty. We must avoid the ambiguity and uncertainty that the Tory pursuit of Brexit saddled already on our blue economy."
Alasdair Allan, the nationalist MSP for Na h-Eileanan an Iar, said he had "never known my constituency to be apparently so unanimously opposed to any policy as this one".
Mr Ewing was furious in his opposition, labelling the proposals an "execution notice" and warning he was worried fishers were "losing confidence in the party I've served for nearly 50 years".
The former minister went on to suggest the best use of the consultation was to either put it in the bin or use it as a firelighter.
He then proceeded to rip up the document on the chamber floor, stating "that is what the people of Scotland who have great affection for our fishermen want to happen and what should happen and what I believe will happen at some stage or another".
Ms Forbes, the MSP for Skye, Lochaber and Badenoch, warned the "rarest species in our coastal areas and our islands will soon become people if these proposals go ahead as planned".
She called on the Government to "either drop the proposals or to find a clear consensus … on balancing protections in the marine environment and safeguard tens of thousands of jobs".
Earlier on BBC's Good Morning Scotland on Tuesday, Ms Forbes said it was her job to engage with the Government, which she said has "turned a corner" in its approach to HPMAs.
"My position has always been that I think they are potentially jeopardising coastal communities," she said. "It's important that the Scottish Government works with coastal communities going forward."
In a statement, Ms McAllan said the meeting with parliamentarians was "very useful" and reiterated the plans were at a "very early stage", with no sites having been selected.
She said: "There was widespread agreement that protecting our marine natural environment is vital. It is an unavoidable truth that we are in the midst of a climate and nature crisis and we must be prepared to take action commensurate with the scale of that challenge.
"However, it is also true that, as we tackle the climate emergency, we must do so via a fair and just transition, which empowers communities and shares in the benefits of a green economy."
The minister added: "The recent initial consultation we undertook has received thousands of responses, and we are now carefully analysing these as we consider our next steps."
Beatrice Wishart, who led the member's debate, urged the Government to reconsider the HPMA proposals.
She said: "It's no exaggeration to say that the proposals for highly protected marine areas, or HPMAs, have struck fear and anxiety in coastal and island communities. It's time to stop implying fishermen don't care about our seas. We need a holistic approach to our seas to support all the interested stakeholders and sectors, including how the future conservation of our seas should work."
Rachael Hamilton, shadow Cabinet secretary for rural economy and tourism for the Scottish Conservatives, told the BBC she wants the HPMA plans to be scrapped.
But she was presented with a policy from the Scottish Conservative's manifesto for the 2021 Scottish Parliament election appearing to suggest the party would review protected marine areas in Scotland and expand their extent – as well as piloting HPMAs.
Scottish Labour also backed HPMAs being extended to cover 20 per cent of Scotland's seas, but Rhoda Grant told Parliament the proposals came from a Government acting with the "arrogance of imperial masters".
Ms Hamilton insisted nothing had changed on the Scottish Tory approach to HPMAs. "There is nothing in those words that say we want to see a further 10 per cent protected areas on top of the already protected areas," she told the BBC programme.
MSPs will consider a motion calling for the controversial plans to be scrapped in the Scottish Parliament on Wednesday, potentially sparking a rebellion among SNP backbenchers.
Comments
 0 comments
Want to join the conversation? Please or to comment on this article.