SNP auditors quit amid probe in to party's finances and police search of Peter Murrell's home
The firm that audits the SNP finances has resigned amid a police probe into the party's finances and a search of former chief executive Peter Murrell's home.
Accountants Johnston Carmichael had worked with the SNP for more than a decade, but said in a statement the decision was taken after a review of its client portfolio.
The Scotsman understand the decision was made before Mr Murrell's arrest on Wednesday, which later saw him released without charge, "pending further investigation".
Mr Murrell's arrest formed part of a police investigation of the party's finances that led to a search across Wednesday and Thursday of the home he shares with wife and former first minister Nicola Sturgeon.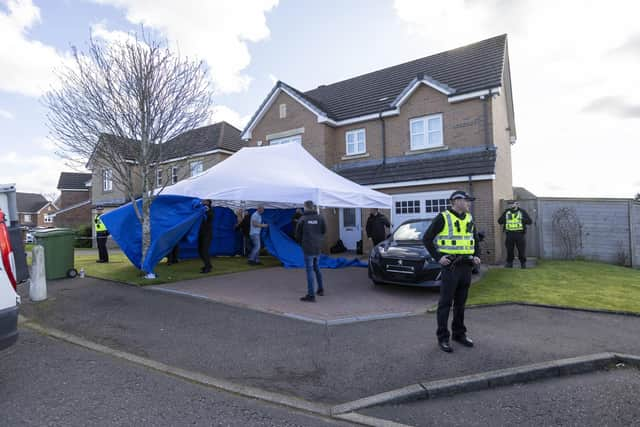 An SNP spokesman said: "We can confirm that Johnston Carmichael will not be providing audit services to the SNP this year. The national treasurer is undertaking a tendering process for alternative provision and we have advised the Electoral Commission of that position."
A spokesman for Johnston Carmichael confirmed the firm had ended the association, but declined to explain why.
"As a regulated organisation, we adhere to our obligations on client confidentiality and do not discuss client business," the spokesman said.
The SNP's treasurer is now seeking another firm to audit the party's finances. By law, the party now has until July 7 to present their accounts to the Electoral Commission or face possible sanctions.
In accordance with the Political Parties, Elections and Referendum Act 2000, the SNP is required to prepare financial statements. However, Electoral Commission rules mean any income or expenditure of more than £250,000 is required by law to also have accounts independently audited.
If there is no auditors' report and no reasonable excuse, the commission has the power to appoint their own firm of auditors to look at the accounts.
Scottish Labour's deputy leader Jackie Baillie said the resignation posed "serious questions" about the SNP's financial affairs.
She said: "Yesterday, Humza Yousaf attempted to distance himself from the legacy of Peter Murrell – today we need to know what the current First Minister plans to do to get the SNP's house in order.
"Sunlight is the best disinfectant. We need transparency and openness from the SNP now."
Meanwhile, Scottish Conservative constitution spokesperson Donald Cameron insisted the SNP must be "fully transparent" over why their auditors quit.
He said: "This resignation only raises further questions about the increasingly murky picture surrounding the SNP's finances. Given this firm have audited the party's accounts for so long, the SNP must be fully transparent over why they have decided to quit now.
"The extraordinary events of recent weeks leave the SNP with big questions to answer and their auditors' resignation only adds to the growing number of issues they must address.
"The public are sick of the SNP shrouding matters relating to their finances behind a wall of secrecy and senior figures, including Humza Yousaf and Nicola Sturgeon, must be upfront about this situation."
Mr Yousaf had on Thursday pledged to carry out a full review of the SNP's governance and transparency, insisting there was now an opportunity to "do things differently".
Liberal Democrat MP Christine Jardine claimed it was "just another day another drama with the SNP".
The Edinburgh West MP said: "This is yet more distraction from what ministers should be focusing on to deal with the cost-of-living crisis and the ridiculous waiting lists the NHS has been left by Humza Yousaf as health secretary."
Accounts for 2021 showed the party's total income was £4,510,460, total expenditure was £5,262,032, assets were £1,630,454 and liabilities were £1,055,689.
Earlier this week, Mr Yousaf said he had not spoken to Mr Murrell or Ms Sturgeon, and had not been contacted by police himself. He said he did not expect to be questioned as he had never had any dealings around the party's finances.
The police presence in Glasgow ended with officers dismantling one of the screens outside the couple's Uddingston home and carrying what looked like toolboxes and rolls of cable from the property.
Mr Murrell, who married Ms Sturgeon in 2010, was arrested on Wednesday morning in connection to a long-running Police Scotland investigation into the spending of about £600,000, which was earmarked for Scottish independence campaigning.
On Wednesday, a Police Scotland spokesperson said: "A 58-year-old man, who was arrested as a suspect earlier today in connection with the ongoing investigation into the funding and finances of the Scottish National Party, has been released without charge, pending further investigation."
Comments
 0 comments
Want to join the conversation? Please or to comment on this article.