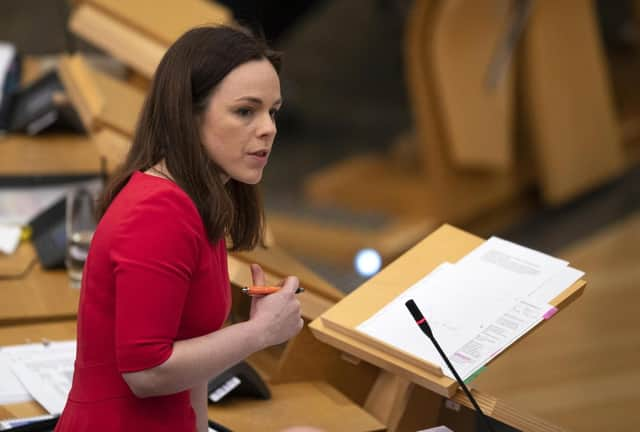 Finance Secretary Kate Forbes
Delivering the Scottish budget, Finance Secretary Kate Forbes ended her party's long-running policy of freezing or putting a cap on council tax rises, leaving it up to local authorities next year.
Opposition parties accused her of cutting council funding and then "passing the buck".
Cosla, the council umbrella body, said Ms Forbes' budget represented a £100 million cut to local authority revenue funding.
It came as tens of thousands of Scots also face being dragged into the higher rate of income tax after the threshold was frozen.
Presenting her tax and spending plans in Holyrood, Ms Forbes said it was a budget of "choices", insisting the Scottish Government had chosen to tackle child poverty, invest in the climate transition and to boost economic prosperity.
She said Scotland's health and social care sectors are to receive a record £18 billion next year, helping to "address immediate pressures across the NHS".
Meanwhile, non-domestic rates relief for retail, hospitality and leisure businesses will continue at a 50 per cent level for the first three months of the next financial year.
Business figures said this would only delay the "cliff edge" firms face when relief comes to an end, with the Scottish Tourism Alliance insisting many "are already expressing disappointment and shock that the future relief doesn't match what has been announced by the UK Government".
Elsewhere, the minimum wage will rise to £10.50 an hour for social care staff and those covered by the public sector pay policy.
Other measures include more than £4 billion for social security and welfare payments, including £197 million to double the Scottish Child Payment to £20 from April.
The budget, which was the first following the SNP's cooperation agreement with the Greens, also sets out almost £2 billion of low carbon capital investment in Scotland's public infrastructure.
Ms Forbes said Scotland's income tax rates will remain the same in 2022/23.
She said the starter and the basic rate bands will increase in line with inflation, but the higher and top rates will remain frozen at £43,662 and £150,000 respectively.
Documents show 453,000 Scots are now expected to be in the higher rate, paying 41p in the pound on income between £43,662 and £150,000.
This compares to 387,000 Scots in 2021/22, an increase of 66,000 higher rate taxpayers. However, the Scottish Government estimated its decision to freeze the higher rate threshold only accounts for 36,000 of these, with the rest due to earnings growth.
Scots earning more than £27,850 will continue to pay more income tax than someone living elsewhere in the UK, with those earning £50,000 paying £1,489 more than their counterparts in England and Wales.
Ms Forbes did not mention council tax directly during her budget statement in Holyrood.
However, budget documents published later said: "In 2021/22, acknowledging the impact of the pandemic on households, the Scottish Government secured local government's agreement to freeze council tax at 2020/21 rates.
"For 2022/23, councils will have complete flexibility to set the council tax rate that is appropriate for their local authority area.
"In setting council tax rates, we expect councils to take full account of local needs and of the impacts on household budgets of the decisions they make."
Council elections are due to take place next year, meaning councillors may try to avoid sharp rises.
Scottish Tory MSP Murdo Fraser said councils face "a substantial real-terms cut", asking Ms Forbes: "Doesn't this make it inevitable that we will see substantial council tax increases for hard-pressed households as a result of this Finance Secretary's choices?"
Speaking in Holyrood, Ms Forbes replied: "In terms of local government finance settlement, it delivers real-terms growth to the settlement.
"It protects the core budget in cash terms and it also ensures that local government are getting a fair share of the health and social care consequentials, which is something that they have long called for."
She later said her budget "addresses our key priorities, targets resources for low income households and paves the way for future investment".
Scottish Tory MSP Liz Smith said: "The SNP have quietly opened the door to massive council tax rises next year.
"Kate Forbes didn't even mention it in her statement but the government have completely removed the cap on tax hikes at an incredibly difficult time, when many Scots are already struggling to get by.
"Instead of giving our communities a fair deal, the SNP have cut funding in real terms and passed the buck onto local councils.
"The SNP are leaving local councils with a horrid choice between failing to deliver essential services or making up the shortfall through eye-watering tax rises."
Elsewhere, the Tories accused the SNP of failing to protect jobs and local services despite the Scottish budget receiving the "biggest ever" block grant from the UK Government.
Ms Forbes rejected this, insisting UK ministers had "stripped out all Covid consequentials" from funding.
Scottish Labour finance spokesman Daniel Johnson labelled the budget "disappointing", adding: "Faced with the largest block grant in recent years, the SNP has decided to stick to business as usual and manage decline."
He added: "A real terms cut to local government funding will mean more cuts to local government services and more council tax rises for hardworking families."
Scottish Liberal Democrat leader Alex Cole-Hamilton said: "Kate Forbes has put councils in an armlock. The largest ever block grant means more money for central government but that increase is simply not being passed on to local authorities.
"Central government ringfencing of funds makes it harder for local authorities to invest in local priorities and increases the likelihood that people will face an additional cost of living squeeze in the form of council tax rises.
"It's clear that Kate Forbes wants councillors to take the blame for the decisions she has taken."
Councillor Gail Macgregor, Cosla's resources spokeswoman, said: "It appears to be a disappointing budget for the communities that we represent, as it does not give local government what we need to survive and nor does it meet our campaign aspiration to help those communities to 'live well locally'.
"Once more, our core financial settlement has been hit.
"That said, we will take time to consider the finer details of today's announcement and the full implications for both ourselves and our communities.
"As a membership organisation, our council leaders will come together virtually tomorrow to consider the implications, before we make a more formal response following that meeting."