SNP accused of ignoring evidence-based policy making after quietly renewing £56m baby box deal
The SNP has been accused of turning its back on evidence-based policy making after striking a £56 million contract to renew its flagship baby box initiative, despite the fact an independent evaluation of the scheme has yet to be completed.
The new contract, which could last until 2029, was ratified two days before the start of the pre-election recess period. It has not been announced by any minister or the SNP.
The Scottish Government commissioned a £170,000 study two years ago into the impact of the baby box.
While Maree Todd, the children's minister, has told Holyrood that its findings are expected this spring, the government has pressed ahead with the new £8-million-a-year contract.
Scottish Labour accused the SNP of "ignoring" the need for evidence, while the Scottish Conservatives said that with public finances under pressure, the evaluation should have been completed before the new deal was signed.
Peter Blair, professor of epidemiology and statistics at the University of Bristol, and an expert on sudden infant death syndrome (SIDS), said the government turned down his suggestion for an observational study.
He stressed there is no evidence to show baby boxes reduce infant mortality, despite the SNP's claims to the contrary.
Since it was rolled out nationwide four years ago, the initiative has delivered more than 168,000 baby boxes to families. Each package contains essential items such as clothes, bedding and a digital thermometer, with the boxes doubling up as safe sleep spaces for babies.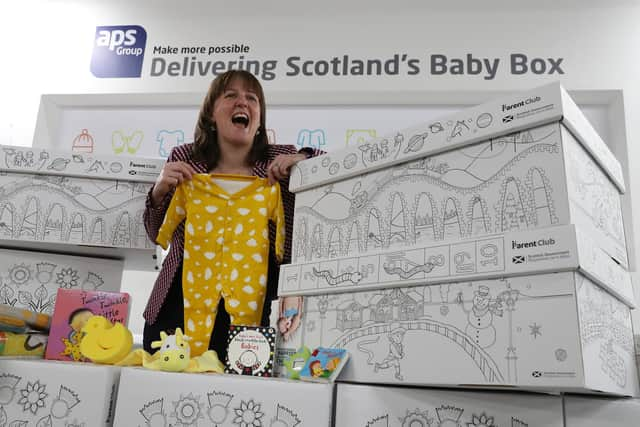 While the universal scheme has been widely welcomed by parents and lauded as a symbolically inclusive policy, there is scant evidence of how, if at all, it is improving child health, lowering infant mortality rates, tackling poverty and inequality, or fostering increased engagement with hard to reach families.
The only substantive analysis to date – a 2017 study of a small-scale pilot programme – stated there was no definitive evidence that recipients of the boxes have better outcomes than non-recipients, with midwives warning it "risked coming across as simply 'a box of free stuff'."
The Scottish Government has since commissioned Ipsos Mori to carry out an independent evaluation of the national scheme, following an 'evaluability assessment' that acknowledged that evidence of its effectiveness was "scarce."
Two years on, the evaluation is ongoing. It is unclear exactly what, if any, outcomes it will scrutinise. The terms of the government's deal with Ipsos Mori states it will include research with parents and the baby box workforce.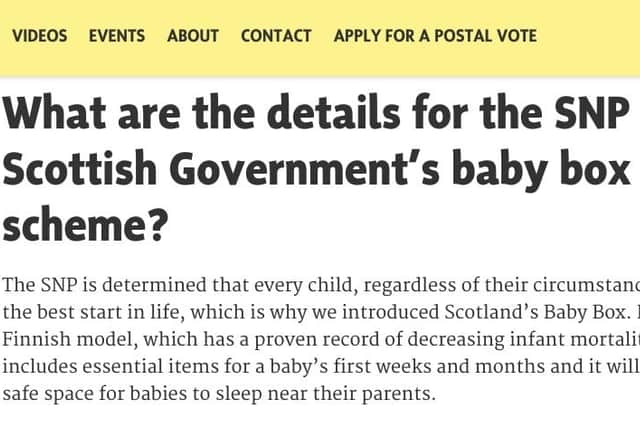 In the meantime, the government has signed a new contract with Glasgow-based APS Group (Scotland) Limited. The contract, uploaded to Public Contracts Scotland on 23 March, will run from April 1, 2022 through to March 2027, with a potential extension to spring 2029.
Since winning the initial baby box deal, APS has enjoyed rapid growth. Having posted profits of £174,000 on turnover of £9m for the year ending January 31, 2017, its latest accounts show profits of £1.4m on £18.7m in turnover.
Prof Blair told The Scotsman that while the baby box scheme was "welcome" and would prove "invaluable" for some families, there was no evidence to suggest it reduced cot deaths.
The SNP's website claims the Finnish model – the inspiration for Scotland's scheme – "has a proven record of decreasing infant mortality".
But Prof Blair said: "Low infant mortality rates in Finland are shared by neighbouring countries who do not use the baby box, and the few observational SIDS studies that have come from Finland do not cite the baby box as a protective intervention. I am not aware of any evidence that these cardboard boxes reduce SIDS deaths."
Prof Blair said it was a "missed opportunity" by the government not to pursue an observational study around the issue. Both he and Professor Helen Ball, director of Durham University's Parent-Infant Sleep Lab, told the government's expert group such a study was "warranted", but their recommendation was not taken up.
Dr James Reid, a senior lecturer at the University of Huddersfield's Centre for Research in Education and Society, said he was not aware of any evidence showing "a direct correlation between baby boxes and reductions in poverty in socio-economic inequality".
Prof Blair and Dr Reid are not the only experts to question the initiative's impact. Ahead of its roll-out, Naomi Eisenstadt, the-then independent advisor to the Scottish Government on poverty, described it as a "gimmick".
Donald Cameron, health spokesman for the Scottish Conservatives, said: "The Scottish Government should have ensured that they waited until all the evidence had been reviewed and evaluated before pressing ahead with an extension to this project.
"With the considerable pressures on government finances, ministers must always take every step to guarantee that taxpayers get value for money."
His Scottish Labour counterpart, Jackie Baillie, said: "The baby box scheme should have been a flagship endeavour to reduce infant mortality, address poverty and tackle inequalities. It is disappointing that there has been no evaluation of the scheme and there is no evidence that it is having the desired outcomes.
"It would appear the initiative has been renewed in the last few days of parliament, despite there not being a formal and open evaluation. The SNP talk about evidence-based policy making, but in this case they have simply ignored it."
Responding to the criticism, the SNP's Maree Todd said: "Ever since the baby box was launched we've received fantastic feedback from parents who've used its contents. It has provided children with the best start in life and is loved by parents and children alike.
"In government surveys, we've had a high uptake in parents using the bed, clothes and other equipment provided and the Ipsos Mori evaluation will provide information on whether there are improvements that can be made to the offer.
"A re-elected SNP Government will continue to provide the baby box to parents across Scotland and give children the best start in life."
A message from the editor:
Thank you for reading this article. We're more reliant on your support than ever as the shift in consumer habits brought about by coronavirus impacts our advertisers. If you haven't already, please consider supporting our trusted, fact-checked journalism by taking out a digital subscription.
Comments
 0 comments
Want to join the conversation? Please or to comment on this article.