SNP accused of hiring workers on zero-hour contracts to drop leaflets in Rutherglen and Hamilton West by-election campaign
The by-election for Rutherglen and Hamilton West to decide the replacement MP for former SNP politician Margaret Ferrier will be held on Thursday, October 5
The SNP have been accused of hiring workers on zero-hour contracts to drop leaflets in the Rutherglen and Hamilton West constituency as a crucial by-election looms next month.
The party has reportedly admitted to paying the workers to go door to door dropping leaflets in the key constituency.
The SNP are contesting the seat vacated by former MP Margaret Ferrier, with the by-election to take place on October 5. But they face an uphill battle to regain the seat, with most polls placing Scottish Labour in the lead to win the seat as the party continues a resurgence ahead of next year's general election.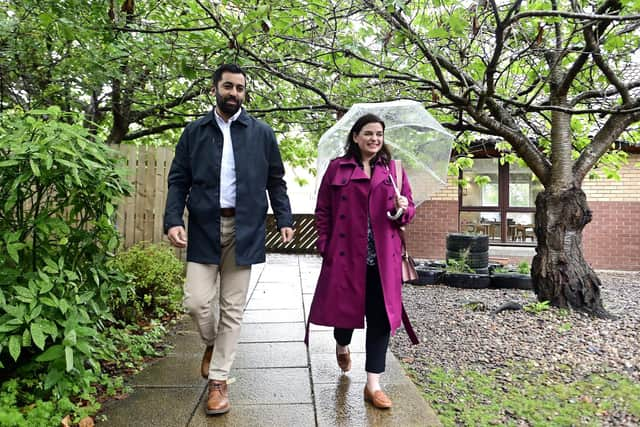 The SNP has reportedly admitted that "individual distributors" and being "paid a day rate" to drop leaflets in the constituency as the party presses to regain momentum.
A SNP spokesman said: "Activists have been working tirelessly across the constituency delivering candidate Katy Loudon's bold plan to put more money into people's pockets.
"The distribution of this leaflet was outsourced to a reputable third-party business. No one from that business recognises the conversation reported, and disputes that it ever took place."
The allegations have emerged just 48 hours after First Minister Humza Yousaf joined SNP candidate Katy Loudon on the campaign trail in Rutherglen.
The SNP have been vehemently opposed to the use of zero-hour contracts, pointing to the need for the UK Government to legislate against the existence of such worker agreements. On the party's website, it states: "In government, we don't directly employ anyone on zero hours contracts. We've also introduced new guidance to ensure that companies bidding for public sector contracts don't use exploitative zero hours contracts."
Scottish Labour deputy leader Jackie Baillie said: "While the SNP's desperate campaign collapses, it is disappointing, but not shocking to see that they need to pay people to deliver leaflets filled with empty rhetoric.
"While the SNP rely on zero-hours contracts to make up for their lack of support, a Labour government would introduce a new deal for working people — ending exploitative contracts."
The by-election was triggered after Ms Ferrier was found guilty of breaching Covid restrictions, having travellied between London and Glasgow while knowing she had contracted the virus.
The Rutherglen and Hamilton West MP, who has sat as an independent since being kicked out of the SNP, was subsequently suspended from the Commons for 30 days, sparking a recall petition that has led to the by-election.
Comments
 0 comments
Want to join the conversation? Please or to comment on this article.