Sir Keir Starmer hits out at 'unforgivable' failure over Scotch whisky industry during Scotland visit
The visit for a Fife whisky distillery by Sir Keir Starmer has come less than 24 hours after he suffered from a rebellion within Labour ranks at Westminster
The Labour leader highlighted what he described as the "failure" of the UK Government to negotiate the trade deal with India – a key exporter for Scotch whisky.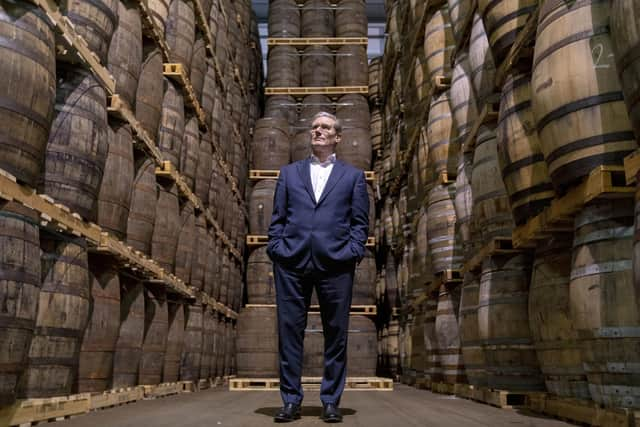 Visiting the InchDairnie distillery in Glenrothes on Thursday, Sir Keir said a government he leads would put in place a trade strategy that would "back Scotch producers to the hilt".
He said: "Scotch should be something we're knocking back, not knocking down. The nation's number one export, Scotland is the beating heart of the world's whisky industry.
"From Skye to Stirling, Scotland's 140 distilleries put the nation on the map around the world. Nowhere is Scotch whisky more popular than India. We should be celebrating that fact.
"But instead of backing the industry with a coherent strategy for international trade, successive Conservative governments have broken promises, failed to negotiate a deal with India, and watched opportunities for growth drain away.
"That's unforgivable. The industry is crying out for certainty.
"Whether it's micro distilleries scaling up, or larger businesses reaching new international markets, they need stability to make that happen.
"Hearing from staff at InchDairnie today, the importance of that is not lost on me. It brings much-needed security for working people."
A Labour government, Sir Keir said, would have a trade strategy allowing British businesses to increase exports, while the Scotland Office under his party would act as "Scotland's window to the world".
He said: "My Labour Party will put growth at the heart of our mission-led approach to government.
"Labour's plan for trade will back British business to export more and fit hand in glove with our industrial strategy.
"Our pro-growth and pro-business trade strategy will back Scotch producers to the hilt and ensure Scotland thrives.
"We'll promote key Scottish products and exports like whisky so that we can unlock the full potential of the Scottish economy.
"With Labour, the Scotland Office will be Scotland's window to the world. By backing Scotch, we'll build a better Scotland, and build a better Britain."
But UK trade minister Greg Hands said Sir Keir "cannot be trusted to back our world-leading Scotch whisky industry".
He added: "Labour has failed to support our free trade agreements – like those with Australia and New Zealand – which abolish tariffs completely. Labour has been lukewarm about joining CPTPP, which would further unlock markets in fast-growing Asian and Latin American countries.
"We have already secured trade deals with 73 countries plus the EU, which have brought huge benefits to Scotch and Irish whisky.
"Only the Conservatives will back British businesses and provide long-term certainty for our world-leading whisky industry."
The tax on an average-priced bottle of Scotch whisky increased from 70 per cent to 75 per cent earlier this year – an uplift that was branded a "historic blow" for the industry by the Scotch Whisky Association (SWA).
The SWA had launched the #KeepTheCommitment campaign in a bid to urge Chancellor Jeremy Hunt to reconsider the duty increase
Mark Kent, chief executive of the SWA who accompanied Sir Keir during his visit to Fife, said the industry "needs support at home" to be a global success.
He added: "That means a competitive business environment, and with the highest spirits duty in the G7, currently the UK is out of step with other developed economies in how it treats Scotland's national drink."
Next week's Autumn Statement, he said, will be a "key indicator" of how Scotch whisky is supported, as he pushed for a freeze on the tax.
Comments
 0 comments
Want to join the conversation? Please or to comment on this article.