Sir Keir Starmer faces showdown with unions over transition plan for green energy
The Labour leader will use his GMB union address to win over critics of his plans to end the use of oil and gas.
Sir Keir Starmer will today urge union leaders to back a shift to green energy as part of a "new business model for Britain".
The Labour leader will address the GMB union's conference facing an uphill battle to win support, following its general secretary criticising the Opposition's plan to ban new oil and gas extraction licences in the North Sea.
GMB general secretary Gary Smith claimed the party's policy on North Sea licences would create a "cliff edge" that will hit jobs, while Unite's Sharon Graham said Labour must be "very clear that they will not let workers pay the price" for the transition to renewable energy.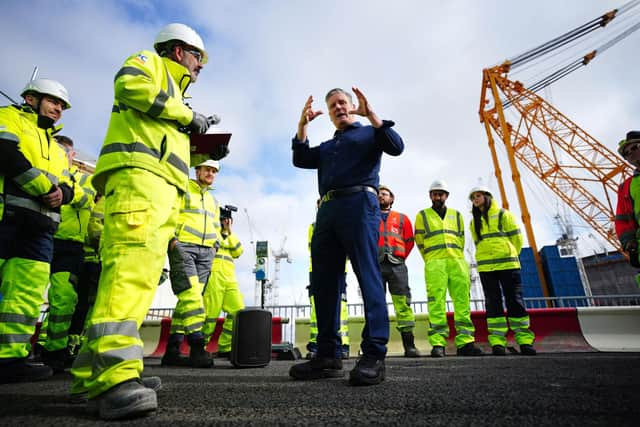 The interventions were a significant blow due, with the GM union a founder member of the Labour Party and is its third largest affiliate.
In a speech on Tuesday, Sir Keir will pledge to work with unions to "seize the opportunities" of hydrogen power and carbon capture and storage projects.
At the GMB conference on Tuesday, he will say: "Jobs, good, union jobs, will be fundamental to cleaner, safer work, new and better infrastructure for Britain.
"I won't pretend that just because a technology is greener that automatically makes working conditions fairer.
"So, as new nuclear, battery factories and offshore wind repower Britain, Labour will build strong supply chains that create jobs, new skills and decent wages here in Britain.
"We will work with you and with industry to seize the opportunities of hydrogen, carbon capture and storage."
Sir Keir will also back the role of unions across the economy, urging firms like Amazon to recognise the GMB.
He will say: "We will always see the fight for working people as our driving purpose.
"So we will strengthen the role of trade unions in our society, and I want to see Amazon and businesses like it recognise unions.
"Together, we will make Britain work better, give working people their future back and build a better Britain."
The Labour leader will accuse the Tories of failing to understand the need for economic growth across the country.
"If the City of London races ahead while the rest of Britain stagnates, as long as there was a hint of growth on his spreadsheet, (Prime Minister) Rishi Sunak would think that's fine. But it's not," he will say.
It comes as civil society groups urged Labour to block any new oil and gas developments in the North Sea, civil society groups have said in a letter to the Opposition leader.
Signed by more than 140 climate, wildlife, political and religious groups and universities, including Friends of the Earth, the RSPB, Christian Aid and the University of Sussex, the letter thanked Sir Keir for his party's policy.
They said developing renewables and improving energy efficiency in buildings will better help to improve energy security than allowing more oil and gas, which companies are free to sell on the international market.
The International Energy Agency, the Intergovernmental Panel on Climate Change, the World Health Organisation, the UN secretary general and the Government's net-zero champion Chris Skidmore have said that new oil and gas development must stop.
Friends of the Earth's head of climate, Jamie Peters, praised Labour's decision saying: "This is what real climate leadership should look like.
"Stopping new fossil fuel developments and investing in energy efficiency will release us from our reliance on expensive and volatile gas and oil, slash emissions, boost the economy, create hundreds of thousands of new jobs, increase energy security and help bring down our energy bills.
"It's time to build a clean, healthy and prosperous future by saying no to new coal, gas and oil."
Countries around the world, including the UK, agreed to limit global temperature rise to 1.5C above pre-industrial levels in the Paris Agreement.
Overshooting this could trigger irreversible and catastrophic warming outside human control, which could lead to glaciers melting, destruction of the rainforests and mass death of marine life, scientists have warned.
Climate and net zero minister Graham Stuart has said developing new North Sea oil and gas would be more environmentally friendly than importing it as it would save emissions on shipping and that new oil and gas projects would be approved only if they adhere to the Paris Agreement targets.
Academics and campaigners are concerned that Rosebank – capable of producing around 500 million barrels of oil – will soon be approved for development.
Offshore Energies UK, which represents North Sea oil and gas companies, called Labour's plans "simplistic" and wants it to "listen to the industry".
Tessa Khan, executive director of Uplift, said: "Labour have clearly looked below the surface and seen that new North Sea drilling is a terrible deal for the UK public.
"It won't lower energy bills because the companies that own the oil and gas either export it or sell it back to us for enormous profit, and we're giving oil and gas companies billions in subsidies at a time they're making record profits.
"Countless scientists have also made it clear that any new oil and gas fields will mean we blow past safe climate limits, so focusing on renewable energy rather than doubling down on oil and gas production is the obvious solution to our energy affordability crisis and the climate crisis.
"At a time when a record number of oil and gas workers are also going on strike, it's clear this isn't an industry that provides the sustainable, decent jobs we need either."
Monday saw Labour's Shadow Business Secretary Jonathan Reynolds insist the party was not "for revoking or turning off existing extraction".
Speaking at the Scottish Council for Development and Industry in Edinburgh, he said: "Existing oil and gas fields will run until 2050 - it is not about turning it off overnight.
"But the reason we should have no further exploration is to reduce bills and avoid a climate disaster.
"The only way to secure better energy security and better value for money is to transition away from oil and gas.
"There are 20,000 people directly employed in the North Sea and it is important politicians get the message - opportunities in green energy are greatly in excess of this.
"The workforce needs these opportunities to open up."
Comments
 0 comments
Want to join the conversation? Please or to comment on this article.