Sir Keir Starmer describes meeting with French president Emmanuel Macron as 'constructive' amid Brexit impact criticism
Sir Keir Starmer has described his meeting with French President Emmanuel Macron as "constructive and positive" amid expert warnings his vision for a closer partnership with the EU would likely face challenges if he wins power.
The Labour leader said shared interests, including future "prosperity and security", were discussed and that he made clear his intention to strengthen the relationship between the two countries if his party wins the next election.
Speaking after the meeting, Sir Keir said the talks began with an "exchange of gifts" before covering a "wide range of topics" relating to global politics.
"We had a very constructive and positive meeting, which as you can imagine covered a wide range of issues," he said.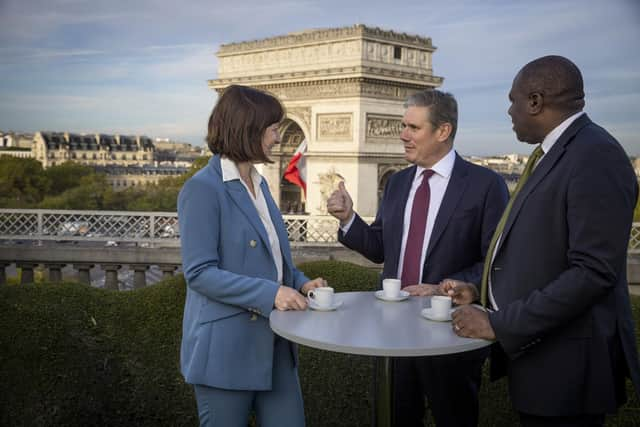 "It was my first opportunity to say how much I value the relationship between our two countries, particularly when it comes to prosperity and security and how, if we are privileged enough to be elected into power, we intend to build on that relationship and make it even stronger than it is today."
Sir Keir added: "We had a very political discussion covering a lot of issues to do with global politics, but also it was that opportunity to look at future prosperity, future security, some of the most pressing issues on my mind, on the president's mind."
He refused to be drawn when asked whether he believed President Macron was hoping for the election of a Labour government, but said it was important they got to know one another and that he was "very pleased with the outcome".
It comes as the UK in a Changing Europe (UKICE) research group publishes a new report that finds using the existing Trade and Co-operation Agreement (TCA) to reduce trade barriers will be "very challenging".
Sir Keir indicated in an interview with the Financial Times that he would seek to use a reassessment of the agreement in two years to try to get "a much better deal" for the UK.
The trade deal signed by Boris Johnson faces its first five-yearly review in 2025, though the extent of the talks are uncertain.
UKICE says the onus will be on Britain to give the EU an incentive to shift its position, given the bloc is "relatively happy" with the existing partnership.
Closer alignment on veterinary standards in order to ease trade, which Labour has cited as a priority, is highlighted in its report as one of the potential changes which would benefit the UK.
But it adds any new negotiations would potentially be lengthy and complex, and that time-consuming domestic issues such as the economy and the NHS are likely to leave "limited bandwidth" for a major reassessment.
Experts also warn a review could even "inflame tensions" over implementation issues and the EU is likely to prefer a lighter, technical re-evaluation.
Anand Menon, director of UKICE, said: "Keir Starmer's desire to secure a 'much better' Brexit deal for the UK is all well and good.
"However, he failed to explain how tinkering with the Trade and Co-operation Agreement will make a meaningful economic difference. Moreover, he runs the risk of demanding more than the European Union is willing to give."
Comments
 0 comments
Want to join the conversation? Please or to comment on this article.