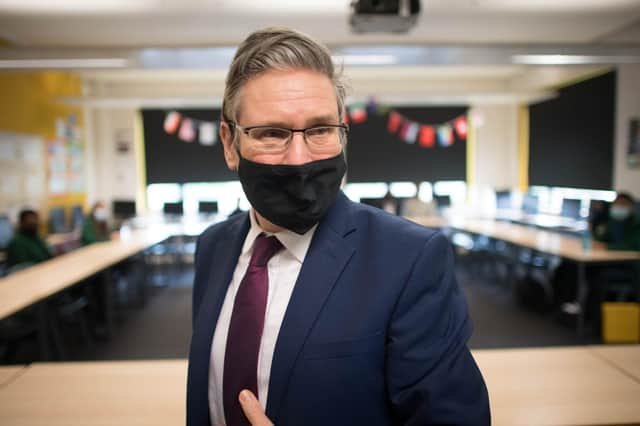 Labour leader Sir Keir Starmer will today launch his party's campaign for May's elections
In a speech the Labour leader will also accuse the Tories of weakening the foundations of the country, and the Scottish National Party of fighting among themselves.
Calling for unity, Sir Keir will insist Labour is "reconnecting" with voters and can once again be the party for Scotland.
He will say: "A vote for Labour is also a vote to unite our country so that we can face the future together.
"Under our brilliant new leader – Anas Sarwar - Labour will focus on what unites Scotland.
"After everything we've been through in the last year, the last thing we need now is more division.
"Yet, in Scotland, the SNP have shown they're too busy fighting among themselves to fight for the Scottish people.
"Their 13 years in power has seen child poverty rise and educational standards fall.
"Scotland now has the lowest life expectancy in Western Europe and the highest number of drug deaths.
"It's a record of shame and yet the SNP's only priority is another divisive referendum."
The speech comes 11 months after he succeeded Jeremy Corbyn as Labour leader.
Scottish Parliament elections are taking place on May 6 – the same day as votes for the Welsh Assembly and London Mayor.
Sir Keir will suggest that the choice at May's elections is between a Labour Party that will build a stronger, more secure and prosperous recovery for Britain out of the pandemic, or a Conservative Party that is cutting nurses' pay, slashing NHS spending and raising taxes on families.
He will say: "Their masks are slipping and we're starting to see the real face of this Conservative Party.
"A party that gives a 40 per cent pay rise to Dominic Cummings, but a pay cut for our nurses. A party that gives billions to Serco, but nothing for our NHS.
"A party that spent a decade weakening the foundations of our economy – and now has no answer for the future. Only more of the same.
"I know how tough this year has been for our NHS and I know that now, more than ever, is the time to give our key workers a proper pay rise.
"Every vote in this election is a chance to show the Conservatives that the British people value our NHS and our key workers so much more than this government does."
Labour's launch will include speeches from Scottish Labour leader Anas Sarwar, as well as Tracy Brabin, Simon Henig, Angela Rayner, Sadiq Khan and Mark Drakeford.
Mr Sarwar will promise his leadership will be about what "hope and ambition" for Scotland.
He will say: "After coming through this crisis, we can't go back to the old politics of fighting each other, while our NHS loses out on funding.
"We won't talk about what Scotland can't do; but what we can do.
"We will outline an NHS restart plan, so that our health service never again has to choose between treating a virus or treating cancer.
"We will propose a catch-up plan in our schools, because I won't let a generation of children go forgotten.
"And we will set out a real vision for jobs, for now and for the future."
If you haven't already, please consider supporting our trusted, fact-checked journalism by taking out a digital subscription.