Sir Keir Starmer apologises to Jewish community on 'day of shame' as antisemitism report published
Sir Keir Starmer has apologised to the Jewish community on a "day of shame" after the antisemitism report was published.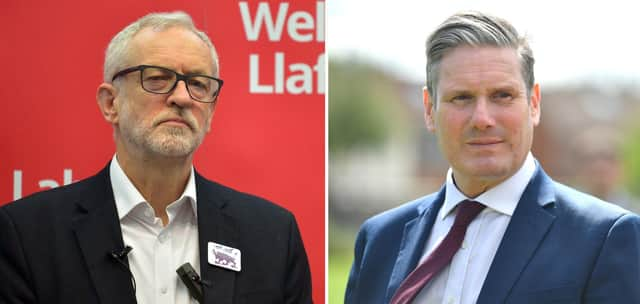 Sir Keir Starmer has apologised to the Jewish community after the EHRC report was published
A damning report by the Equality and Human Rights Commission found the Labour party was responsible for unlawful acts of harassment and discrimination.The extensive human rights watchdog investigation also found evidence of "political interference" by then leader Jeremy Corbyn's office in the complaints process.
Speaking after the shameful findings were revealed, the Labour leader labelled it a "a day of shame" for his party.He said: "The reports conclusions are clear and stark - they leave no room for equivocation.
"Most telling of all a clear breakdown of trust between the Labour Party, many of its members and the Jewish community. It is a day of shame for the Labour Party, we have failed Jewish people.
"If after all the pain all the grief and all the evidence in this report, there are still those who think there's no problem with anti-Semitism in the Labour Party, that it's all exaggerated or a factional attack, then frankly you are part of the problem too - and you should be nowhere near the Labour Party either.
"On behalf of the Labour Party I am truly sorry for the pain and grief that has been caused".
The EHRC identified serious failings in the Labour Party leadership in addressing anti-Semitism and an inadequate process for handling complaints.
Recommendations made include commissioning an independent process to handle anti-Semitism complaints, acknowledging the effect political interference has had and implementing clear rules to stop it happening again.
Sir Keir has now vowed to take on all their recommendations in full to clean up his party.He pledged: "We will implement all recommendations and we will implement them in full.
"That process starts today. I've already instructed my staff to start work with the commission to implement the recommendations at the earliest opportunity.
"We will establish an independent complaints process and it will be in place as soon as possible in the new year."
Mr Corbyn issued his own fiery response to the report, insisting the problem was exaggerated.He said: "One antisemite is one too many, but the scale of the problem was also dramatically overstated for political reasons by our opponents inside and outside the party, as well as by much of the media.
"My sincere hope is that relations with Jewish communities can be rebuilt and those fears overcome.
"While I do not accept all of its findings, I trust its recommendations will be swiftly implemented to help move on from this period."
Speaking at his press conference, Sir Keir was also asked about Mr Corbyn's comments, and whether he still belonged in the party.
Avoiding the question, he said: I'll look carefully at what Jeremy Corbyn has said in full.
"Those who deny there's a problem are part of the problem."
Asked if he'd reopen cases involving Mr Corbyn himself, Sir Keir insisted: "We'll look at all cases."
Also responding to the report, Scottish Labour leader Richard Leonard added it was a "saddening and sobering read for everyone in the Labour party".
The Jewish Labour Movement said blame for the "sordid, disgraceful chapter" in the party's history "lies firmly" with Jeremy Corbyn.
A message from the Editor:
Thank you for reading this article. We're more reliant on your support than ever as the shift in consumer habits brought about by Coronavirus impacts our advertisers.
If you haven't already, please consider supporting our trusted, fact-checked journalism by taking out a digital subscription.
Want to join the conversation? Please or to comment on this article.