Short-term lets Scotland: Holiday let owners say they are being made 'scapegoat' for Scotland's housing crisis
Those with a short-term let have until October 1 to apply for a licence
Holiday let owners say they have been made a "scapegoat" for Scotland's housing crisis.
As of Sunday, everyone operating a short-term let will need to apply for an official licence from their local council. The proposal has sparked a furious backlash from holiday let owners, who claim the move could be detrimental to both their business and the wider tourism industry.
However, campaigners like Living Rent say this type of legislation could free up some much-needed housing for families in the area.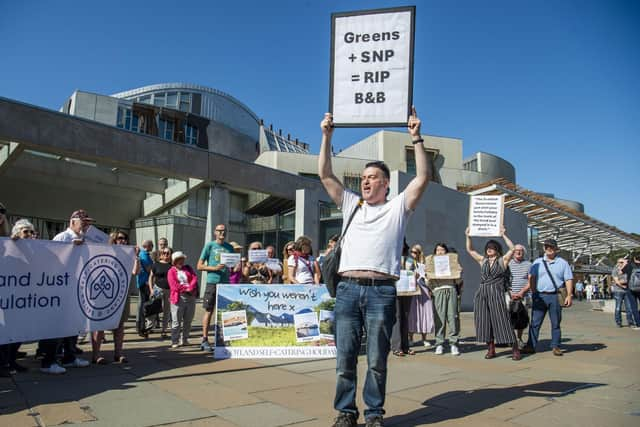 The association says it has analysed housing land audits and found there are 371,612 homes waiting to be built across Scotland. These are all homes earmarked for construction in each council area's local development plan, or those which have already been granted planning permission, but have not yet been built.
In comparison, only 23,620 new homes were completed in Scotland last year, according to the Office of National Statistics. Around 112,000 homes are sitting empty.
The association has argued this shows the housing crisis is caused by the Government's inability to build enough new houses rather than an over-saturation of holiday lets.
Andy Fenner, chief executive of the Short Term Accommodation Association, said: "We want to work with the Scottish Government and local authorities to strengthen tourism in Scotland, but we've long believed that a move against the holiday let industry is a move against tourism itself.
"The relatively high-profile short-term rental sector is a convenient scapegoat for the wider failings that contribute to the housing crisis. The demand is there, the planning permissions are there. But, for some reason, new housing stock just isn't coming forward fast enough."
Mr Fenner added: "Politicians need to address the reasons why and do something about the huge number of empty second homes that plague our communities, rather than blaming holiday let owners who bring colossal sums of money into local economies and create jobs."
Housing minister Paul McLennan has disputed the claims, saying the licensing scheme has never been about trying to solve the shortage of housing.
He said: "I want to be clear that licensing short-term lets is about safety, not housing supply. Licensing ensures accommodation is compliant with consistent gas safety standards and has suitable electrical equipment, as well as responding to community concerns on the impacts such as noise and antisocial behaviour."
The minister said councils were supporting individual holiday let owners to make sure they know how to apply for a licence. He said the Government was looking at proposals to give councils the power to charge up to 100 per cent on council tax for second homes.
"Since 2007, Scotland has seen over 40 per cent more affordable homes delivered per head of population than in England, and over 70 per cent more than in Wales," he said. "We have already delivered 13,354 homes towards our next target of 110,000 affordable homes in Scotland by 2032."
Comments
 0 comments
Want to join the conversation? Please or to comment on this article.