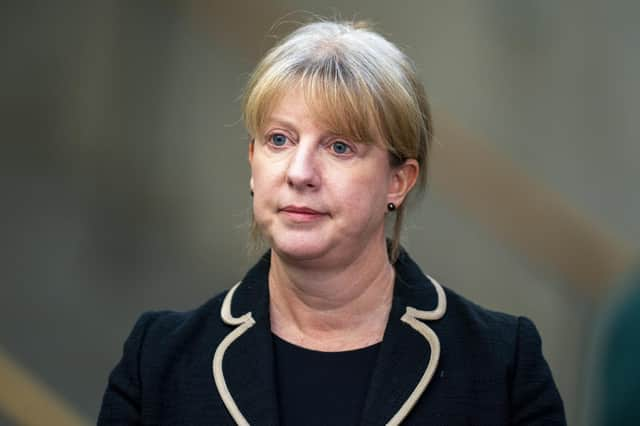 We want to build a Scotland where poverty is a thing of the past, and where a person's life chances aren't defined by the circumstances they were born into.
We want to build an economy that is fair, green and growing, offering more opportunities to work and do business.
And we want to build stronger communities by focusing on the services that matter most to people – from the NHS to social care, schools, housing and transport.
Sound public finances are essential to achieving these missions. As I set out in our policy prospectus, I am committed to ensuring that our finances are on a sustainable path, and this week I unveiled this Government's strategy for doing so.
In setting out this strategy, I have been open and transparent about the financial position and the acute challenges we face.
Readers won't need me to explain the effects of high inflation. We have all seen our bills rise, and we know the strain it puts on household finances – something we are working to address through our cost of living support package.
But inflation is also hitting the Scottish Government's finances. Whether as a result of enhanced – and well deserved – pay awards for public sector workers, or increases in construction costs for infrastructure projects, our money simply does not go as far as it did even a year ago. And the funding we receive from the UK Government is failing to keep pace with these inflationary pressures.
Taken together with the war in Ukraine and the lingering effects of the pandemic, the fact is that we continue to face one of the most difficult financial situations since devolution.
The Scottish Government has a strong track record of delivering a balanced budget every year, while providing a wide range of public services for the people of Scotland. But without further funding this is becoming increasingly challenging.
We estimate that our spending requirements could exceed what we're forecast to receive by £1 billion in the next financial year, and by £1.9 billion in 2027-28.
In the face of this growing gap, our strategy aims to ensure Scotland's finances are on a sustainable footing.
We will have a laser-like focus on spending, ensuring it targets our strategic missions. We are rightly proud of our efforts to tackle poverty – by 2027-28 we will be investing £1.3 billion more on social security than the funding we receive from the UK Government.
We will make no apologies for targeting support at the most vulnerable in our society, particularly when the UK Government has failed to use its full powers to ensure public spending responds to the challenges people are facing.
Our budget is still largely driven by the choices of the UK Government through the Block Grant – which makes up the majority of our funding – which means we will need to take tough decisions so we can focus resources on our three missions. That is why we will be refreshing our longer-term spending plans as part of the 2024-25 Budget.
Our strategy also focuses on growing the economy. Growth is obviously beneficial in and of itself, creating jobs and enabling businesses to invest more, but it is also necessary to generate tax revenues to support sustainable, high-quality public services.
We will prioritise policies and actions from our National Strategy for Economic Transformation with the greatest potential for growth. For example, we will seize opportunities in sectors where Scotland has a competitive advantage. We will support entrepreneurs, start-ups and scale-ups. And we will deliver on our ambitious commitments on childcare to make it easier for parents to re-enter the workforce.
The final pillar of our financial strategy relates to tax. The most recent forecasts show that tax devolution will add an extra £574 million to the Scottish Budget in 2023-24, increasing to almost £1.7 billion by 2027-28, mainly as a result of Income Tax.
While these forecasts are encouraging, sustained action is needed to deliver a strong, growing economy underpinned by sustainable finances.
Scotland already has the most progressive tax system in the UK, ensuring the burden of taxation is placed on those with the broadest shoulders. This progressive system has helped strengthen our social contract with every citizen in Scotland, providing support to those who need it most. Indeed, the respected Institute for Fiscal Studies recently said that, thanks to our devolved benefits system, low-income households with children will see their incomes boosted by about £2,000 a year on average.
We will now work to update our tax strategy, and I will be chairing a new external advisory group on tax which will meet from the summer onwards.
There can be no shying away from the challenges we now face. We are continuing to press the UK Government to provide the funding and powers that we need to address them. But we also continue to do all we can with what we do have at our disposal.
Taking action on the public finances now will allow this Government to deliver its missions and ultimately ensure that Scotland is a land of equality, opportunity and community.
Shona Robison is SNP MSP for Dundee City East and Deputy First Minister of Scotland