But she stood down as leader in 2019, having held the post longer than any of her predecessors, and now she is leaving Holyrood, heading for a seat in the House of Lords.
"It felt like a shift," she says.
"It was a busy period – I think I had seven elections and two referenda. But I love campaigns so that was great for me."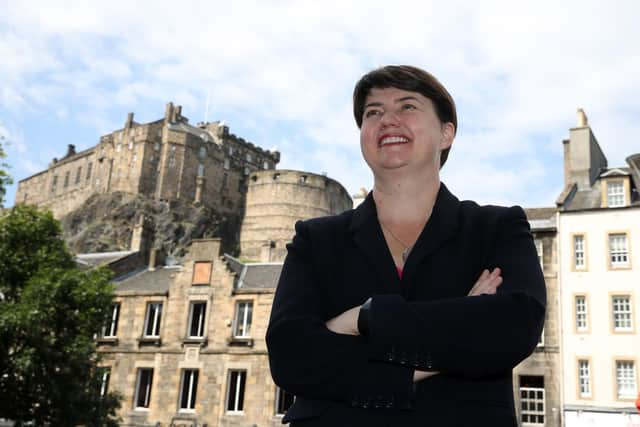 After ten years in the parliament, she admits to "mixed emotions" at saying goodbye. "There's loads I will miss – I had a really challenging and rewarding and exciting period when I was there," she says.
And Covid has restricted the opportunity for proper farewells.
"I feel a bit sad there wasn't anything to mark the end of term – there's no leaving do for anyone and it's a quarter of the parliament standing down," she says.
"You walk out of Holyrood for the last time, hand your office keys over and that's it – you can't even take your staff out for a drink or a meal. It's a wee bit of an anti-climax."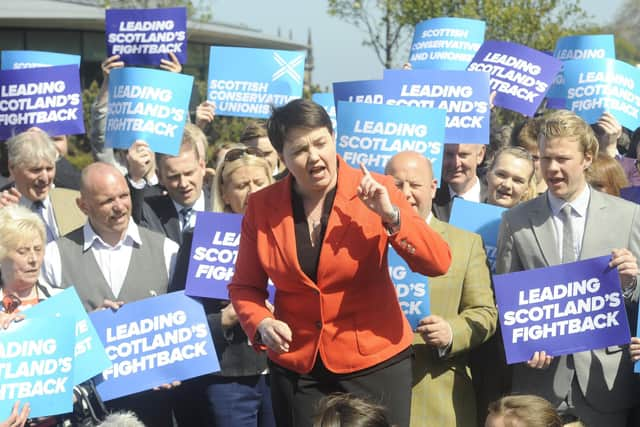 But she says quitting as an MSP is "definitely the right thing for me and my family".
When she resigned as leader, not long after Boris Johnson became Prime Minister, she made clear she wanted to have more time with her partner Jen Wilson and her young son Finn, born in October 2018.
As well as feeling conflicted over Brexit, she said as a new mum the prospect of a possible early general election and then the 2021 Holyrood elections requiring her to spend hundreds of hours away from home filled her with dread.
So how will going to the House of Lords fit with family life?
"What people don't really understand about the House of Lords is, if you look at the last five years, the number of sitting days only averages about 100 and backbenchers aren't expected to go to all of them," she says.
"It will be a different way of working for me, so I will be away a couple of days a week and when I'm away I'll be away away – but when I'm at home I'll actually be present in Jen and Finn's lives and I won't be fielding lots of phone calls and I won't be up till 10 or 11pm doing all the admin and stuff.
"When I'm down there I'll be working and I'll be absorbed and some of the votes are very late at night, but when I come home I can hang all that up with my coat."
During exchanges in the Parliament, First Minister Nicola Sturgeon regularly reminded the chamber Ms Davidson would soon be moving to "the unelected House of Lords".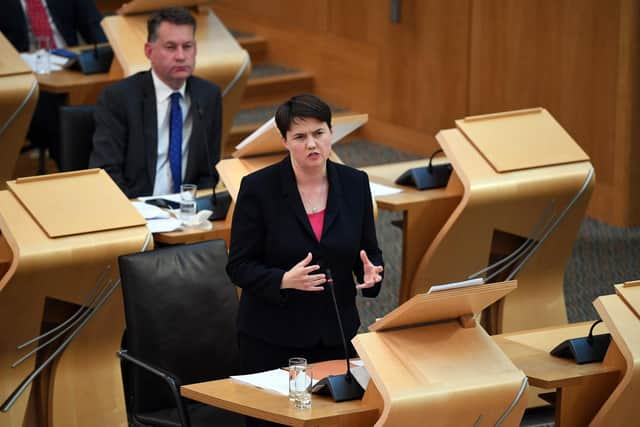 But she shrugs off the barbs.
"It's an election year – of course Nicola's going to shout at me," she says.
"I'm a big girl, I know how politics works. I think down the years there have been plenty of ding-dongs between me and Nicola that no-one's going to take anything personally."
And Ms Davidson is clear she wants to see the Lords changed.
"I think we should have an elected second chamber and will absolutely vote for it and will hopefully help work to establish what an elected second chamber is going to look like," she says.
"I don't think an unelected chamber is going to last very long to be honest because there's pretty much agreement across all the major parties that it should be an elected chamber.
"However, the system we have at the moment exists, it's quite an important function to do legislative scrutiny – we don't have that in Scotland and I think we've seen where that has fallen down – and I don't think the chamber that exists should only be filled with people who live inside the M25 corridor because the legislation it's looking at applies to the whole country."
Ms Davidson also firmly rejects the idea she is being lined up for a ministerial role once she is in the Lords.
"I became [party] leader in Scotland almost immediately after getting elected – I didn't get to learn my trade on the backbenches," she says.
"I'm going to the House of Lords to learn to be a backbencher, to be involved in the House of Lords when I'm there. I'm not looking for, nor would I accept, a role that takes me away from my family when they're just young."
She says she and Jen have made no secret of the fact they want another child.
"I made a promise to my partner when I stepped down from the leadership that I wouldn't be taking on any other big roles before the children were at school, so for this period when Finn's so young and hopefully we're blessed with another, I really want my time at home to be concentrating on my home life," she says.
The family plans to move home from Edinburgh to East Lothian later this year.
Ms Davidson was first elected in 2011 as a list MSP for Glasgow, but switched in 2016 to stand in Lothian and for Edinburgh Central, winning a surprise victory in the constituency, taking it from the SNP.
She says since the start of the Covid crisis, she and her two staff, Andrea Dunkin and Lawrie Carlaw, have worked hard to help businesses and organisation survive the pandemic.
"Edinburgh Central has so many of the things that were most affected by Covid – three universities, every theatre and concert hall, so many bars and restaurants and the headquarters of so many companies that were looking for what the government was doing in terms of their industry or what the rules were," she says.
"We were helping with applications for support, whether the rules applied to them, clarifying, making sure they could get the help they needed.
"I only have the two staff members and we were working evenings, weekends, round-the-clock, particularly in that first lockdown. They helped hundreds and hundreds of people."
After quitting as leader, Ms Davidson became a member of the corporate body, which manages the Parliament.
She says she enjoyed being part of the massive exercise, when coronavirus hit, to decant 1,800 personnel – MSPs, researchers, clerks, catering staff, guides and others – and arrange to run hybrid sessions with about 100 on site.
"It was fascinating to do – I felt really useful," she says.
Now she is helping in the election campaign and predicts the Tories under new leader Douglas Ross will do better than last time – in share of the vote, if not in seats.
"I think he'll do better than I did in 2016," she says.
"We're polling ahead of where we were at this stage in the cycle. At this point in 2016 we were polling 19-20 per cent and ended up with 22 per cent. So I fully expect Douglas to break my record for the best result we've had."
A message from the Editor:
Thank you for reading this article. We're more reliant on your support than ever as the shift in consumer habits brought about by coronavirus impacts our advertisers.
If you haven't already, please consider supporting our trusted, fact-checked journalism by taking out a digital subscription.