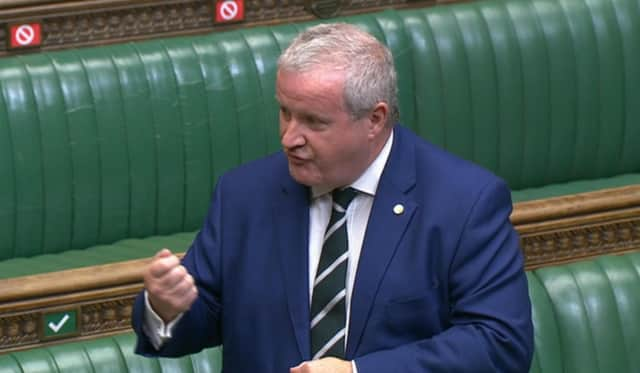 SNP Westminster leader Ian Blackford has warned of a "dangerous concoction" of Brexit and the end of the furlough scheme
The SNP's Westminster leader today accused the UK Government of creating a "dangerous concoction" by failing to get a deal at a time they were ending financial support for the public.
His comments come in a week that has seen Mr Johnson announce Britain is unlikely to come to an arrangement with Brussels, and just two weeks before the end of the furlough scheme.
He said: "We are at a critical juncture at this time as the Tory government prematurely looks to shut down the furlough scheme, the Brexit threat looms, and further difficult restrictions come into force to tackle the virus.
"The Tory government's dangerous concoction of pulling crucial financial support and pursuing its reckless and extreme Brexit plans in the middle of a pandemic is leading the UK to the point of no return - and it will be hard-working employees, businesses and households that will be forced to pay the price of the fallout.
"We are now less than two weeks away from the end of the furlough scheme and two weeks closer to the Brexit cliff-edge."
Mr Johnson and his Chancellor Rishi Sunak have repeatedly refused to extend the furlough scheme, which saw 80 per cent of people's wages paid for by the Government.
With the scheme now scrapped, the Chancellor earlier this month unveiled the "next phase" of his economic plan with the "Jobs support scheme".
Furloughed employees who go back to work for a third of their hours can have their wages subsidised for the next six months.
Earlier this week Mr Blackford wrote to the Chancellor insisting this does not go far enough.The Ross, Skye and Lochaber MP warned businesses will go under without support, and demanded urgent action.
He said: "Thousands of businesses are barely surviving the impact of the pandemic, and it's clear that the added impact of an extreme Tory Brexit could force many to pull down their shutters for good.
"The time to act is running out. The Tory government should be strengthening support, not scrapping it as the threats grow.
"Unless the Tories' economic choices change now, millions on the dole and in poverty will be the direct consequence of the political and moral choices the UK government is now making."
"I urge Boris Johnson and Rishi Sunak to look at the road ahead and recognise the damage they are set to inflict unless they heed the warnings and take action now."
This week PM explained with just ten weeks left until the end of the transition period, he "had to make a judgement" on the likely outcome of talks with the EU.
His comments come after the two sides failed to find terms in time for his self-imposed deadline of October 15.
The PM added: "With high hearts and high confidence we will prepare to embrace the alternative, and we will prosper mightily as an independent free nation country."