Exclusive:

Scrapping CMAL to create dedicated ferries agency to be considered by ministers

The embattled ferry procurement body could be scrapped by ministers
Scotland's ferry procurement body could be scrapped and merged with Transport Scotland to create a new 'Ferries Scotland' agency dedicated to improving ferry services across the country, the government has said.
CMAL has been embroiled in scandal since the broadcast of a BBC Scotland documentary that alleged the contract for hulls 801 and 802, being constructed at Ferguson Marine, was 'rigged'.
Net zero secretary Mairi McAllan confirmed the Scottish Government would consider a merger as a potential solution to ongoing considerations of how to structure Scotland's ferry service structure. However, the recommendation of an independent ferry regulator or commissioner was rejected by the minister.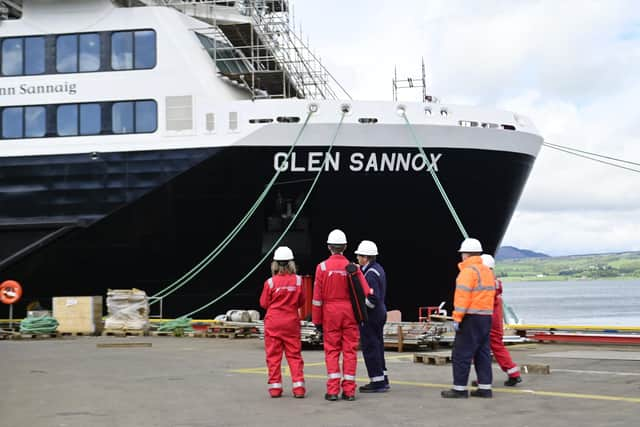 The letter is in response to the publication of the net zero, energy and transport committee's report into future ferry provision for Scotland's islands, which warned communities face an "existential threat" without clear leadership to resolve Scotland's ferry crisis.
In a lengthy letter, Ms McAllan also confirmed the Government was examining whether or not to extend the length of the next contract for the Clyde and Hebrides Ferry Service (CHFS) to at least ten years, stating "contract duration is currently being considered as part of the project".
However, in a potentially significant commitment, the SNP minister also states the Government will consider whether to scrap CMAL and merge it with Transport Scotland, which has some existing responsibility for ferry operations.
This would see responsibility for ferry procurement and management of harbours come under closer government control. Under the existing system, responsibility for ferries are split between Transport Scotland, CMAL and the ferry operator CalMac. The report said the Government should "consider the future of CMAL", adding the "status quo is unacceptable".
Accepting the recommendation, Ms McAllan said: "Work to assess the legal implications of options for structural reform is continuing to take place alongside the consideration of those options. The lawfulness of a merger cannot be properly assessed in the abstract or at a high level.
"This is a matter that can only be meaningfully considered in the context of detailed proposed reforms and with a clear understanding of the policy and delivery objectives being pursued by those reforms."
The report had also recommended that increased regulation of ferry services was required to protect passenger interests, suggesting an independent ferry regulator to take on this work.
However, Ms McAllan rejected this, stating in her letter: "I am not convinced that adding a further layer of bureaucracy such as a commissioner or regulator is aligned with our broader objectives of simplifying the delivery of ferry services in Scotland."
The next CHFS contract is likely to be a direct award to CalMac, with ministers committing to increasing the involvement of and engagement with communities, building this into the central contract. This could include a formal mechanism whereby communities could propose service changes or a variation in the contract to either Transport Scotland or CalMac as the operator.
The letter also confirmed the two new ferries for Islay being constructed in Turkey could be launched by the end of this year and in early 2024, with delivery in October 2024 and February 2025. This could see them delivered before the Glen Sannox or hull 802 are in service.
Scottish Labour Transport spokesperson Alex Rowley said an "overhaul" was necessary and backed the scrapping of CMAL.
He said: "Ferry building in Scotland is in chaos and more of the same won't do. We need to overhaul the procurement process and simplify the current shambolic system, and scrapping CMAL would be a step in the right direction.
"However, the number one reason why islanders don't have a reliable ferry service is because the SNP have failed to invest in a reliable ferry fleet. We need a real National Shipbuilding Plan to support Scottish shipbuilding and deliver the ferries our island communities desperately need."
Scottish Conservative shadow transport minister Graham Simpson said: "We have been saying that CMAL should be scrapped for years now, so it is good that the SNP are finally considering it. However, we must make sure that whatever happens is not just a rebranding, with essentially the same system in place but under another year.
"We also said the next ferry contract should be extended, but the minister should consider a model whereby the ferry operator is responsible for buying their ferries. She should also set out how the Government plans to a fund a rolling programme of ferry renewal because we are decades behind where we should be."
Willie Rennie, economy spokesperson for the Scottish Liberal Democrats, was dismissive of the potential benefits from a structural reorganisation.
He said: "I suspect islanders and shipyard workers will have little truck with bureaucratic reorganisations while their boats and their jobs are still up in the air. Structural changes at public sector bodies are rarely the magical bullet that turns a failing organisation into a successful one.
"If these changes do go ahead, there will need to be a clear plan for why this will deliver better results for those who rely on Scotland's beleaguered island ferries."
A spokesperson for CMAL said: "CMAL is firmly focussed on the delivery of six new major vessels by the end of 2025, as well as getting the small vessel replacement programme (SVRP) underway before the end of this calendar year.
"The SVRP will see seven smaller 'loch class' vessels delivered in the first phase, and three more in the second phase, meaning 50 per cent of the Clyde & Hebrides Ferry Service will be renewed prior to the end of the decade. This will bring the average age of the fleet to below 15 years."
Comments
 0 comments
Want to join the conversation? Please or to comment on this article.