Scottish Tory MSPs questioning Douglas Ross leadership after tactical voting plea 'bombed' among party
Scottish Conservative MSPs are considering whether Douglas Ross is the right man to lead them forward after the party leader's plea for pro-union tactical voting at the next general election.
The Scotsman understands there is "significant disquiet" and "serious anger" among MSPs following Mr Ross's remarks made earlier this month, with some openly questioning whether the Moray MP should remain leader of their party. One senior Scottish Conservative said the party was "not far away" from potentially changing leader.
Mr Ross had told the Sunday Telegraph that voters at the next general election should back whichever candidate is most likely to beat the SNP. This would be "what's best for the country", adding "what would be best is if we see this grip that the SNP have on Scotland at the moment is loosened", the Scottish Tory leader said.
The plan provoked a backlash from the UK party, with a Conservative spokesperson in Westminster stating tactical voting was "emphatically not the view" of the party.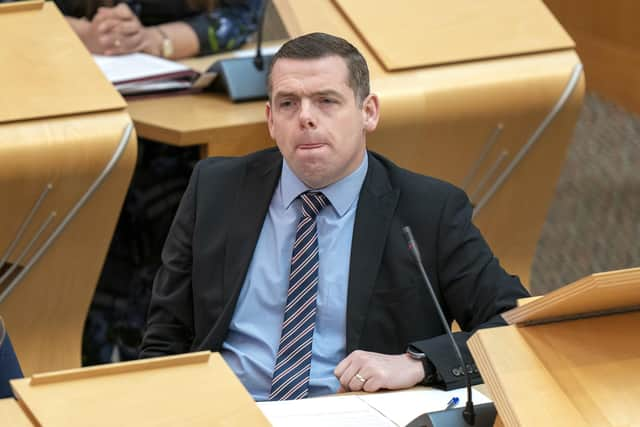 Mr Ross later backtracked, claiming the intervention did not mean he was suggesting Conservative voters should back the opposition. However, the plans also "bombed" among MSPs and activists within the party, it is understood.
Party figures said no-one was aware the leader planned on making the comments until they saw the newspaper reports, leaving many aghast and astounded such an intervention would be made without consultation.
Sources said it was already obvious tactical voting happens, but added it was rarely reciprocated by Labour voters backing the Conservatives, making it a difficult sell to activists.
Another asked how the party could manoeuvre away from telling people to vote Labour in the next general election, back to urging a Tory vote in 2026 when the chances of a unionist First Minister could be at their highest for the past two decades.
One senior figure said there were ongoing "mutterings" among MSPs about the quality of Mr Ross's leadership, which was further dented by his absence at the start of last week due to a Scottish affairs committee trip to the USA for Tartan Week.
Mr Ross's flight home was cancelled, meaning he was late returning to Scotland as the SNP treasurer Colin Beattie was arrested by police. Mr Beattie was later released without charge.
MSPs said this had led to Mr Ross's deputy, Meghan Gallacher, being left "overexposed" and ceded the momentum to Scottish Labour leader Anas Sarwar.
One MSP said of the mood within the party around Mr Ross's leadership that "we are not quite at the point of people doing something, but we are not far away".
Mr Ross has faced a challenging time as Scottish Conservative leader, particularly during the Partygate scandal where he changed his position on the future of the-then prime minister Boris Johnson several times.
There were also reports of two separate groups of MSPs in Holyrood plotting to remove the leader before the end of last year. However, sources said there were no serious moves around this time and no challenge emerged.
Rumbles of discontent have existed since the start of last year, however, with MSPs concerned the advisory circle around Mr Ross is too small and that he does not consult his frontbench or wider party enough when making strategic decisions.
Tory MSPs are expecting a reshuffle of the frontbench soon, most likely after the Scottish Conservative conference in Glasgow next weekend – an event one source said "needs to go well". Rishi Sunak is set to make an appearance, with a keynote speech planned on Friday.
Deputy leader of the SNP, Keith Brown, said: "The fact that not one Tory is willing to publicly say they won't be telling people to vote Labour speaks volumes." He added: "Whether it's Sunak's blue Tories or [Sir Keir] Starmer's red Tories, with both parties backing a pro-Brexit, pro-austerity agenda, it makes no difference to Scottish voters which of the Better Together chums lands the keys to Number 10.
"Quite frankly, why wouldn't the Tories be happy to endorse a fellow Westminster establishment party, intent on denying the democratic will of Scotland? In fairness to Keir Starmer, he is one of the most polished performers for a Tory tribute act we've seen in a long time.
"The truth is neither of the Westminster parties can be trusted to put the priorities of people across Scotland first. The SNP is the only party offering an alternative from the broken Westminster system that has enabled this damaging cost-of-living crisis that's hammering Scottish households."
Scottish Labour's deputy leader Jackie Baillie said Mr Ross was "solely to blame for his own political decisions". She said: "With a hugely unpopular UK Tory party undermining him at every turn and a Holyrood group that have lost all faith in him, it is no wonder that Douglas Ross has already conceded the next election.
"Labour has made it abundantly clear – we will make no deals with the SNP or the Tories. The people of Scotland have been failed by both the UK and Scottish governments and we will work hard to win every vote."
A Scottish Conservative spokesperson said: "Douglas is fully focused on holding this divided and scandal-ridden SNP Government to account. Under his leadership, the Scottish Conservatives are focused on Scotland's real priorities, like the cost-of-living crisis, fixing our NHS and strengthening our economy."
Comments
 0 comments
Want to join the conversation? Please or to comment on this article.