Scottish students 'left in limbo' by SNP failure around 2020 exams results
John Swinney and the SNP have been criticised for leaving students in "limbo" and with no route of appeal for their exam results as another scandal begins to brew.
Following the decision to award teacher estimates as official grades in August, the education secretary said the only route of appeal required the agreement of the school – a decision that has left a small cohort of students with low grades with no route of appeal.
The education secretary has, for eight months, said the situation is "under review".
With the 2021 exams around the corner, the Children and Young Person's Commissioner of Scotland (CYPCS) warned another scandal was brewing if lessons were not learned by the Scottish Government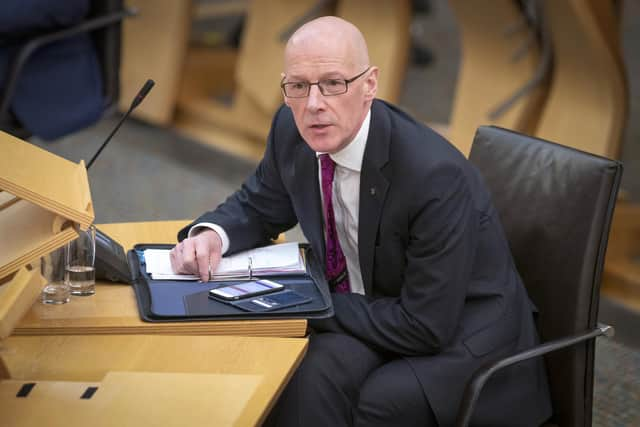 Nick Hobbs, the head of advice and investigations at the CYPCS, said the issue highlighted a "systemic failure" in the Scottish Government's exams process for last year.
Dr Tracy Kirk, a humans rights academic who supports the youth-led SQA Where's Our Say campaign group, told The Scotsman the failure by Mr Swinney to decide whether to provide a direct appeals route was "difficult to justify".
The Priestley Review, which examined the failures of the exams system in 2020, concluded in October that a review of the appeals process was required to ensure compliance with the rights of young people.
However, the situation has not changed since August 2020, leaving students worried they will be forgotten as the next cohort of students are assessed and new problems emerge.
Only the Scottish Government can direct the SQA to accept such appeals, but it has not yet done so.
There is also not yet any clarity on the nature of the appeals process for the 2021 exams.
Crista Arthur missed out on a place at university due to lower than expected grades following her sixth year at St Modan's High School.
The Stirling teenager had been predicted ABB and said personal circumstances and her historically stronger final exam performance than in prelims left her feeling treated "like nothing".
The 18-year-old had hoped to study dentistry, but was hit by a double whammy by the SQA with her original grades having been downgraded to DDC by the infamous algorithm before being returned to their original teacher estimate of BCC.
"Results day is so stressful enough and as I looked at the text, it was really a blow," she said.
"To get a D in RMPS when I was expecting a high grade A was devastating and having to go through this process of what is going to happen next, it was really stressful and to still be fighting this now is really irritating."
Unable to appeal after her school turned her application down on the basis that it had no "grounds", Ms Arthur is part of a small group of students left in limbo due to Scottish Government inaction for at least eight months.
"I cannot believe that I am actually having to fight in a democracy to get the results that I was due," she said.
"I feel like they treated us like nothing. They have just considered the basics and the basics don't apply to everyone. They have not taken real problems that young people go through, it is really hard and frustrating.
"It [the appeal process] needs to be an individualistic, holistic approach. They need to take into account personal circumstances and previous attainment just to judge how an individual can progress in that time."
Should the Scottish Government not make a decision on the 2020 cohort, Ms Arthur could be without a university place for another year.
She said: "I am glad they are considering options, but this time I hope that we get what we deserve. It is not compliant with our human rights and we need for 2020 to be fixed."
Labelling the recent debate around the legal challenge by the UK Government over the incorporation of the UN Convention of the Rights of the Child into Scots law as "politicised", Dr Kirk hit out at the education secretary's handling of the 2020 crisis.
She said: "It is deeply concerning that for more than eight months Mr Swinney has refused to acknowledge the impact the SQA processes of 2020 have had upon these students or make a decision on their appeals, appeals that only he can advise the SQA to accept. This is not a problem the SQA can rectify without his direction.
"Many of the young people and their parents highlight the extent of the difficulties the 2020 results continue to cause, with no end in sight for this particular group.
"It is important the Deputy First Minister rectifies the breach in children's rights by providing the right to redress, which these young people are entitled to under international law and which they quite frankly deserve.
"It is difficult to justify this continued failure to address the breach in rights these children have suffered."
Mr Hobbs, who has supported many students affected by this policy in his role, said the Scottish Government was risking repeating the same mistakes of last year in 2021 and that it had not gone far enough to fix the issues last year's exams process had caused.
He said the lack of a direct appeals process meant children were "left in limbo" with "no prospect of resolution", adding there was another looming scandal if there was no way for students to challenge their teachers' estimates.
Mr Hobbs said: "This is about compliance with children's human rights to education and fair process. The Scottish Government has the obligation under human rights law and has the power to fix it, but has chosen not to fix the issue.
"It would have been better if they had just said we are not going to expand these appeal grounds. They [the children] then could have made a decision on what to do.
"We have to have some mechanism for these honest and genuine mistakes to be corrected and that did not happen last year and it now could also happen this year"
Responding, Mr Swinney claimed there was "no easy solution" to the problem facing these young people and said the SNP had "tried to find a way forward".
He said: "Last year, Covid forced us to cancel the exams and prevented much of the course work that might have formed the basis of evidence from ever being completed.
"Since then, a small number of cases have arisen where the pupils feel the teacher made the wrong judgement or the school is wrong not to progress with an appeal.
"SNP ministers have tried to find a way forward that provides some basis for an appeal that would be valid, but the reality is there is no easy solution given the common absence of evidence and fundamental disagreement with the judgement of school and teachers."
A Scottish Government spokesperson said: "As has previously been said, in light of Professor Mark Priestley's independent review into the events following the cancellation of the 2020 exams, we have asked the SQA to review their appeals system from 2021 to ensure it best meets the needs of young people in line with the principles of the United Nations Convention on the Rights of the Child.
"That review involves working closely with key stakeholders, including learners and their representative groups, as well as the Children's Commissioner. Details of the SQA appeals process for 2021 will be set out in due course.
"Exceptional savings were made by SQA with regards to delivering qualifications in 2020 due to the exam diet needing to be cancelled. These savings were returned to the Scottish Government and have been used to support other critical pressures during the pandemic."
A SQA spokesperson said: "We are currently analysing the responses we received to our consultation on 2021 appeals, which included contributions from the Children and Young People's Commissioner Scotland and the Scottish Youth Parliament. Their views will be fully considered, along with the other responses, in formulating the appeals process that will be published in early May."
A message from the Editor:
Thank you for reading this article. We're more reliant on your support than ever as the shift in consumer habits brought about by coronavirus impacts our advertisers.
If you haven't already, please consider supporting our trusted, fact-checked journalism by taking out a digital subscription.
Comments
 0 comments
Want to join the conversation? Please or to comment on this article.