Scottish Secretary Alister Jack says he will stand down at the next election
Mr Jack said he would not trigger a by-election by taking up the offer of a peerage before then
Scottish Secretary Alister Jack has confirmed he will stand down at the next general election.
It came as he insisted he would not trigger a by-election by taking up the offer of a peerage in Boris Johnson's resignation honours list before then.
There were reports the former prime minister has proposed several Conservative MPs for peerages, but told them to delay accepting them to prevent triggering by-elections.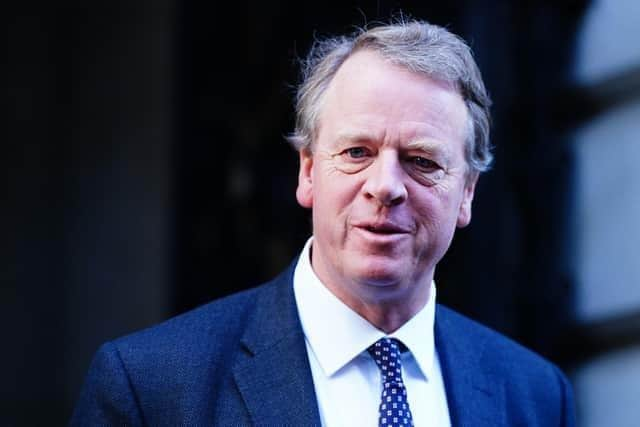 However, The Times said the House of Lords Appointments Commission, the body that vets peerages, had advised this would be constitutionally improper. This means the MPs would have to quit their seats if they wished to take up the offer.
Asked if he planned to take a peerage and go to the House of Lords, Mr Jack told ITV Border: "I've been very clear in saying all along that my responsibility is to represent the people of Dumfries and Galloway, which is a huge honour and privilege. I also said that my – at the permission of the Prime Minister, if you like – job as Secretary of State for Scotland is another enormous privilege, and I intend to continue doing both those jobs until the general election. I'm not going to the House of Lords and causing a by-election."
Asked if he would go to the House of Lords after standing down at the next general election, he said: "Who knows."
Mr Jack added: "I've been very clear in saying that I will not be standing at the next general election. I said that to Boris Johnson, I've said that to Liz Truss when she appointed me as secretary of state for Scotland. And I said it to Rishi Sunak when he also appointed me as Secretary of State for Scotland.
"At each reshuffle I've said 'I want to be honest with you, I'm not standing at the next general election'. But they've factored that in and given me the privilege of continuing to serve."
He said his local party would seek to find a new candidate "in the next couple of months".
First elected to the Commons in 2017, Mr Jack took up his current Government role in July 2019, succeeding David Mundell as Scottish Secretary.
Mhairi Black, the SNP's deputy Westminster leader, said: "Alister Jack must come clean on whether he's done a sleazy backroom deal with Rishi Sunak to delay his peerage in order to avoid another by-election defeat for the Tories.
"The SNP is the main contender in Dumfries and Galloway, and every Tory-held seat in Scotland. We are ready to take the fight to the Tories – and challenge Alister Jack to stand down now, so people in Dumfries and Galloway can have an SNP MP that will stand up for their interests, instead of rubber-stamping every damaging decision from Downing Street."
Comments
 0 comments
Want to join the conversation? Please or to comment on this article.